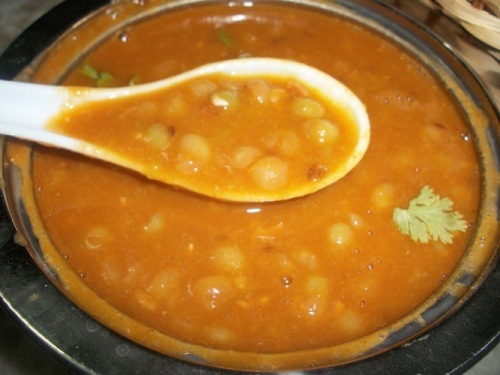 Peas Curry
This is one of the simplest and tastiest curry on record…This recipe is modified from contemplation and rumination by Karen..I tried this and it took me 15 min to finish this curry,but the taste was so good.I added tomato puree and little garam masala to this to make even more tastier..This is one of the dish that you can have it as a soup..I made this in microwave,to make it even more speedy…Please try this dish and let me know what you think…
Ingrediants:
Peas-1 cup cooked
Tomato Puree-1 cup
Red chilli powder-1 tblpsn
Garam masala powder-1 tsp
Coriander powder(malli podi)-1 tsp
Cumin seeds(jeera)-1 tblspn
Garlic-2 tblspn Crushed
Salt to taste
Oil-1 tblspn
Method:
Soak the peas for 4 hours and cook the peas with some salt till the peas are cooked and very soft.
In a kadai add oil and heat it up.Add in cumin seeds and garlic.Let it sizzle for 30 sec.
Add in the spice powder and mix well.Add in the tomato puree and mix well.Cook till oil separates from it.
Add salt to taste and pour in the cooked peas and mix well.Cook for 3 min.
Serve with roti's or rice..