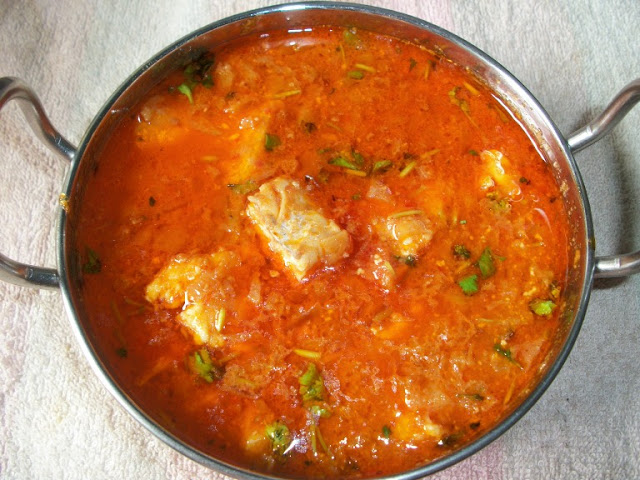 Bengali Yogurt Fish Curry
Hai Guys…I think everyone had a great day.. Hope you all remember the story which I told to you about the cake which I baked for my little sister's friend birthday(To know about the entire story click
here
)… Today my other sister asked for another one cake to bake for her friend birthday(he he).I told her OK I WILL DO THAT…What to do!!! Duty of a caring elder sister..So I am baking a Lemon Cake with Chocolate Frosting(Yum Yum Right)..Don't worry will post the recipe soon…The cake is in the oven and the lovely lemon aroma fills the entire house…
Now coming back to today's recipe…This is the second fish curry I am posting in my blog..This is a yummy tangy fish curry from Bengal(hence the name).I used a boneless fish fillets for this,but you could use any fish in this….This recipe is modified from "Anjum Anand's I love Curry" Cookbook..
Ingrediants:
Fish – 500 gms cubed (Any white fleshed fish)
Onion-2 chopped finely
Tomato -3 pureed
Curd-3 tblspn
Chilli powder-1 tsp
Coriander powder / Malli podi-2 tsp
Green chilli-1 slitted
Ginger Garlic Paste-1 tblspn
Salt to taste
Oil-4 tblspn
Coriander leaves-for garnishing
Method:
Heat oil in a kadai,Add in onions and cook till golden brown.
Add in ginger garlic paste and cook for 1 min.
Add in chilli and coriander powder and mix well.
Throw in the green chilli and tomato puree and cook till oil separates.
Pour in curd and mix well.Pour in a cup of water and bring that to boil.
Add in the fish pieces and simmer for 5 min.
Garnish with coriander leaves and serve hot with rice..
Pictorial:

The book which has this awesome dish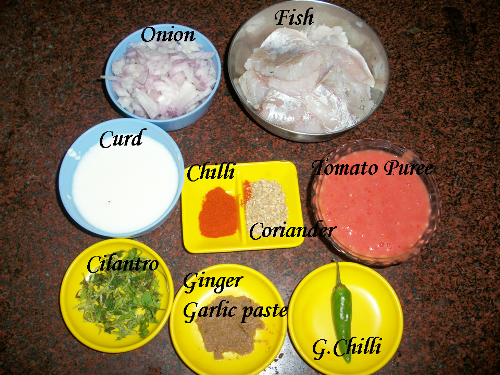 All your stuffs to make this curry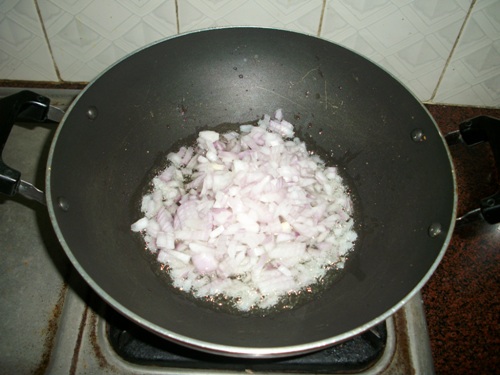 fry onions in oil till golden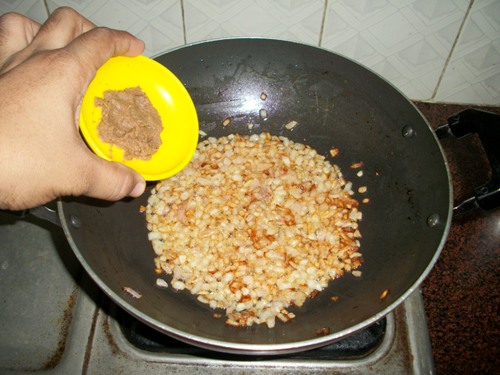 add in ginger garlic paste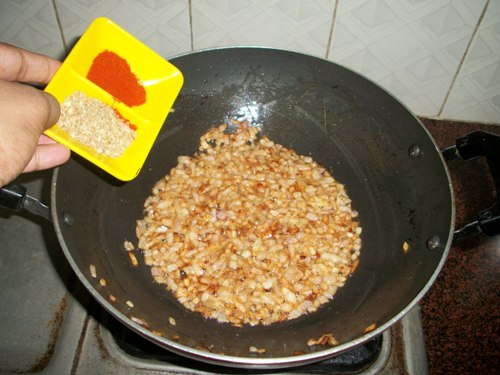 Throw in chilli and coriander powder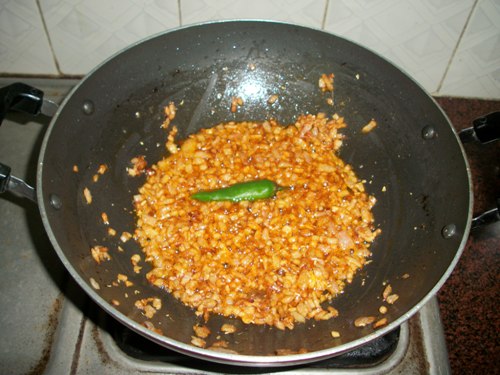 add in green chilli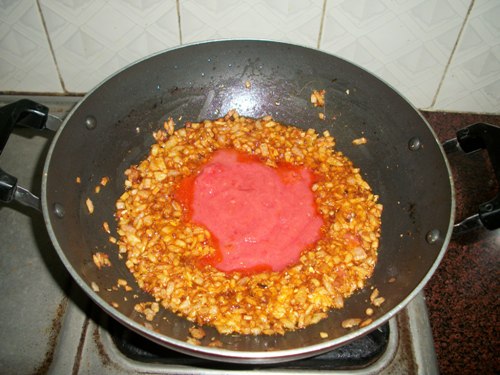 pour in the tomato puree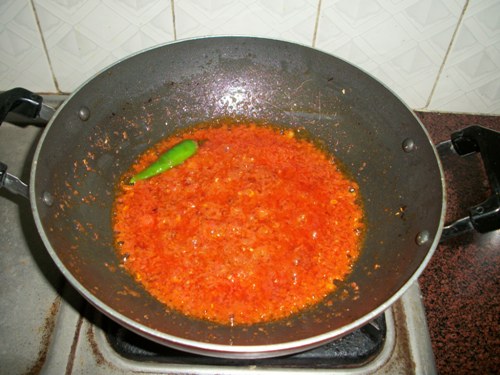 Cook till oil separates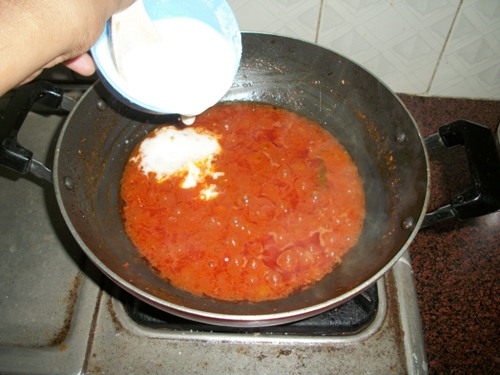 Add enough water and mix in the yogurt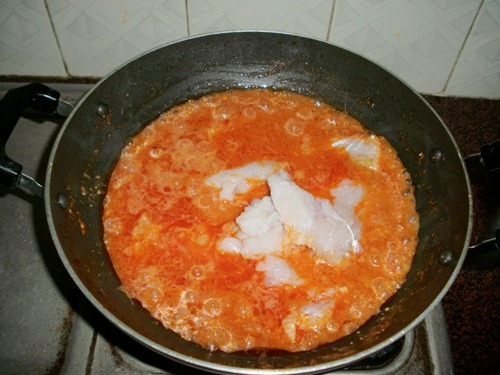 Add in the fish fillets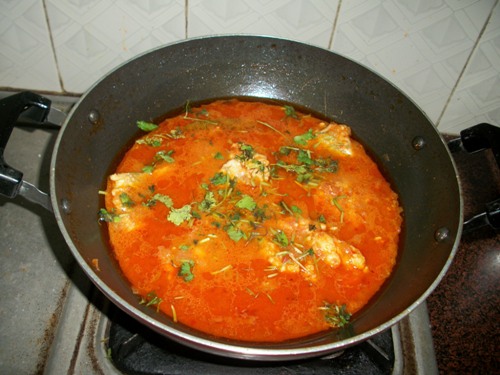 cook on a slow flame till fish gets cooked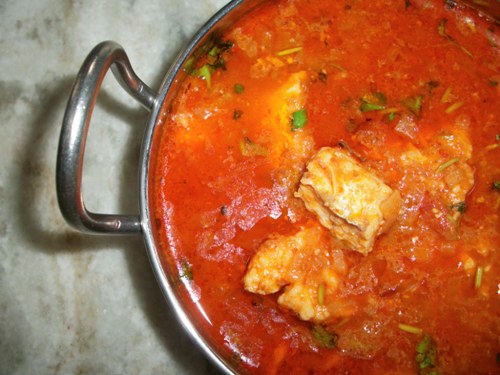 SERVE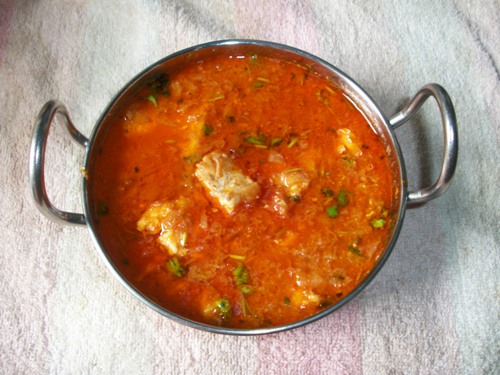 Looks so yummy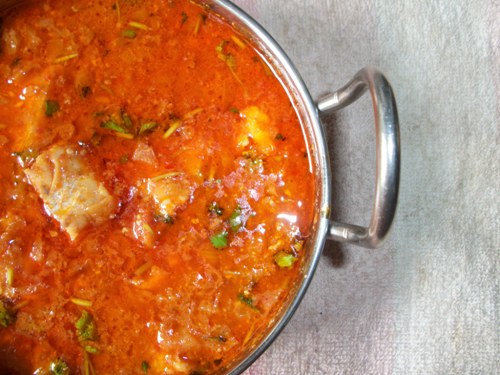 Looks good in all angle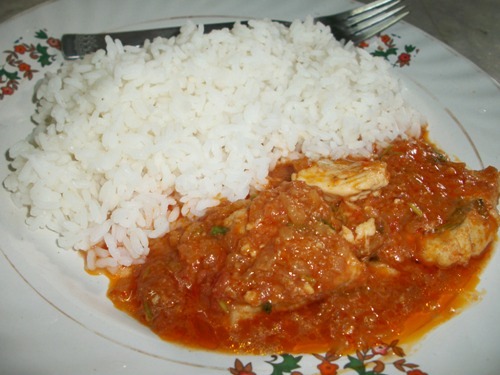 Enjoy with rice
I am Aarthi, a happy homemaker, mom of two beautiful girls, married to my high school sweet heart. My goal is to teach people that cooking can be way more easier and joyful than they think. Yummy Tummy features recipes all over the world with step wise pictures which surely shows the ease of cooking.