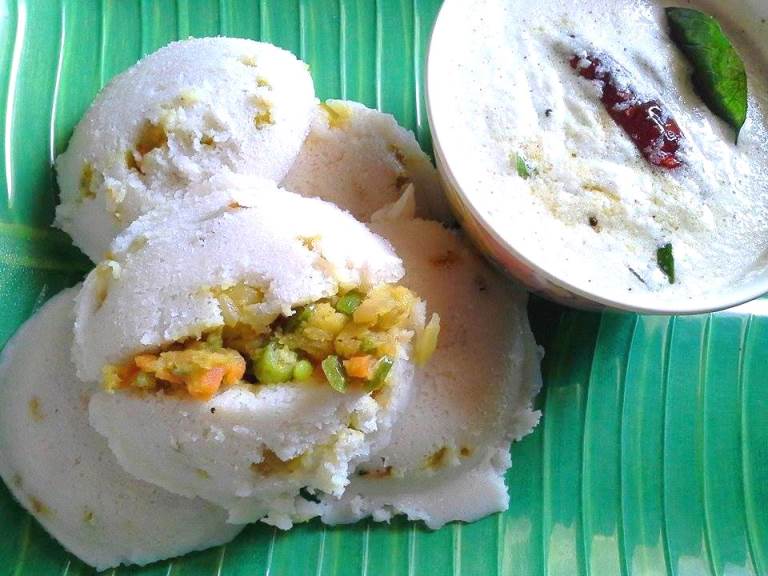 img courtesy: sree devi
Are you bored of having the same idli again and again. Then why not try this recipe which are stuffed with some spicy vegetables which makes you happy in every bite…If your kids don't like to have idlis. i am damn sure that they will love this one. You can use any of your favorite vegetables in this. I served this with my
mum's simple tomato chutney.
These are healthy since they are stuffed with lots of vegetables.
Ingredients:
For Stuffing:
Onion – 1 finely chopped
Carrot – 1 grated
Beans – 10 chopped finely
Capsicum – 1/2 chopped finely
Green Chilli – 1 chopped finely
Chilli powder – 1 tsp
Coriander powder / Malli podi- 1 tblspn
Turmeric powder / Manjal podi- 1 tsp
Salt to taste
For Tempering:
Oil- 1 tblspn
Mustard seeds / Kaduku – 1 tsp
Channa dal / Kadala paruppu- 1 tsp
Urad dal / Ulundu Paruppu – 1 tsp
Curry leaves – 1 spring
Method:
Start by making the filling. Heat oil in a kadai. Add all the tempering ingrediants and sauté for a min.
Add in onions and green chilli and mix well. Cook for 2 mins.
Add in chilli, coriander,salt and turmeric powder and mix well. Add in all the vegetables and sauté for 5 mins.
Pour a splash of water and mix well. Cover the pan and let it cook for 10 mins. Filling is done.
Now take your idli plates and grease it. Spoon a tblspn of batter in the bottom and spoon a tblspn of this vegetable mixture on top. Now spoon a tblspn of batter again on top. Make sure that everything is totally covered.
Put this in the idli stand and let it steam for 15 mins.
Invert it on the plate and serve with chutney.
Pictorial:
Take all your ingrediants
Prep ur veggies
Add all the tempering ingrediants in oil
add in onions and green chilli
now add in salt, turmeric, chilli and coriander powder
mix well
add in all the veggies
mix well
pour a splash of water
cover and cook
till done
Now make idlis..Spoon some batter in the bottom
spoon some filling
cover with some more batter
steam it
all done
Serve
I am Aarthi, a happy homemaker, mom of two beautiful girls, married to my high school sweet heart. My goal is to teach people that cooking can be way more easier and joyful than they think. Yummy Tummy features recipes all over the world with step wise pictures which surely shows the ease of cooking.