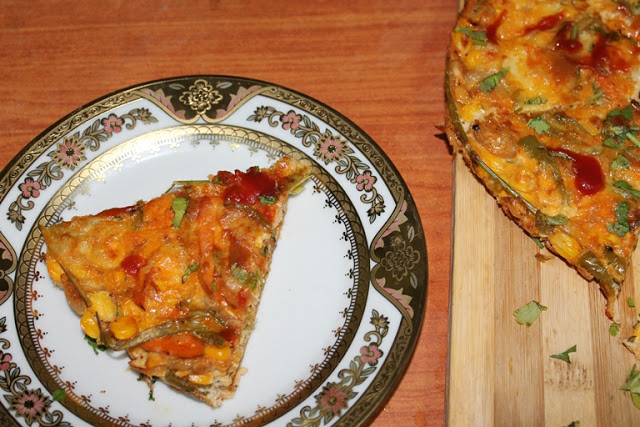 Hope every one had a great weekend.. I wish you all to have a great week ahead too..
I made this for yesterday's dinner and I couldn't wait to share it with you all. So here I am with the post..Normally fritatta's are just made with eggs, but I gave my unique twist in it and added a tortilla( in my case it is a chapati) as a base and made this. So this munch on dish turned into a full meal.
I absolutely have a craze towards frittata specially if they have all my favorite stuffs in it..The cool thing about this is you can add whatever floats your boat, there is no specific rule to make this.. I used my absolute favorite ingredients Corn Kernels..Whole Corn Kernels are so versatile, because those kernels taste so fresh and you don't get those slimy taste which you normally get in some canned stuff. I added some fresh vegetables to brighten the whole dish. I added a healthy splash of Tomato Ketchup to give a tangy taste to this frittata.
Ingredients:
Eggs – 3
Onion – 1 sliced thinly
Spring Onion – 2 sliced thinly lengthwise
Bell pepper – 1/2 sliced thinly
Carrot – 1 small sliced thinly
Whole Corn Kernels – 1 cup drained
Tomato Ketchup – 1 tblspn + extra for topping
Garlic – 1 chopped finely
Oil – 1 tblspn
Salt to taste
Pepper to taste
Tortilla / Chapati – 1
Mozarella Cheese – grated for topping
Cilantro for garnishing
Method:
Heat oil in a pan and add garlic in it. Saute for few seconds.
Add in onions, carrot, capsicum and spring onion.. Toss well
Add in salt, pepper and ketchup and mix well.
Now add in corn and toss well. Filling is done.
Now crack open 3 eggs in a bowl. Add this filling in it and mix well.
Now lets make the frittata. Heat a oven proof frying pan. Add a tsp of oil and spread evenly.
Place a tortilla or chapati over it and pour the egg mixture over this and spread evenly.
Let it cook on a slow flame till the sides get set.
Now take it off the heat and sprinkle some cheese over it.
Place it into the over and grill for 10 mins.
Remove from the oven carefully and carefully slice the frittata to a serving plate.
Garnish with cilantro and some more ketchup.
Slice and serve.
Take all your ingredients
Saute some garlic in oil
add in all the vegetables except corn
let it cook for a while
add salt and pepper
and some ketchup
toss well
add corn kernel in this
and mix well
Crack open 3 eggs in a bowl
add the prepared mixture in this
and mix well
heat oil in a oven proof pan
add tortilla or chapati in that
pour the egg mixture
and cook till the sides starts to set up
remove from fire
i grated some mozarella cheese
sprinkle them over
and put them under grill mode
till they are nicely coloured and cooked
like this
serve with a sprinkle of cilantro and ketchup
Enjoy
I am Aarthi, a happy homemaker, mom of two beautiful girls, married to my high school sweet heart. My goal is to teach people that cooking can be way more easier and joyful than they think. Yummy Tummy features recipes all over the world with step wise pictures which surely shows the ease of cooking.