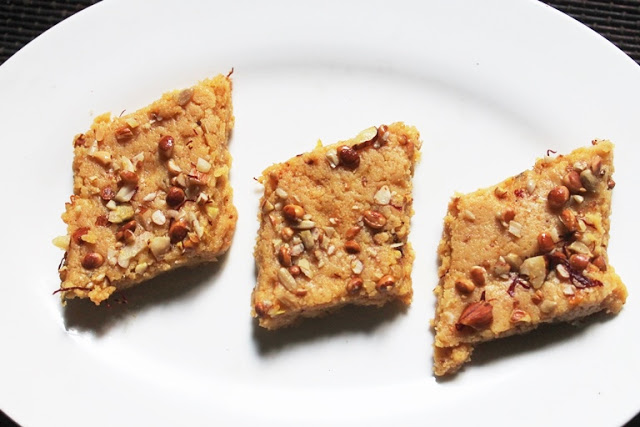 I made this burfi yesterday, i had some leftover khoya and i used that to make this delicious melt in mouth besan khoya burfi..The burfi tasted way different from normal gram flour mysorepak. It tasted so milky and fudgy because of the addition of khoya.
Similar Recipes,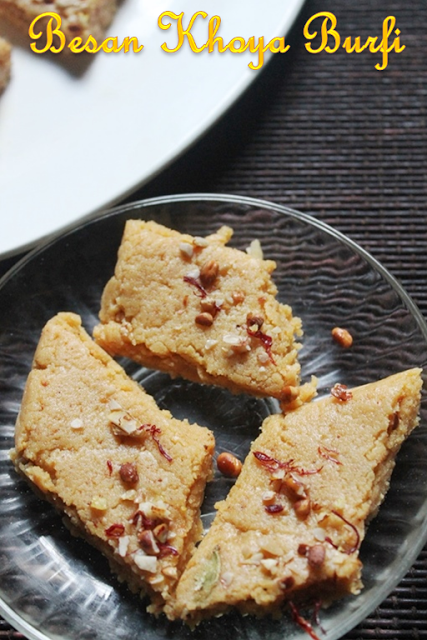 Since diwali is in a few days i have started making so many snacks and sweets for diwali..So i made a big batch of my homemade khoya, For Homemade Khoya, Check out
traditional version
,
instant version
..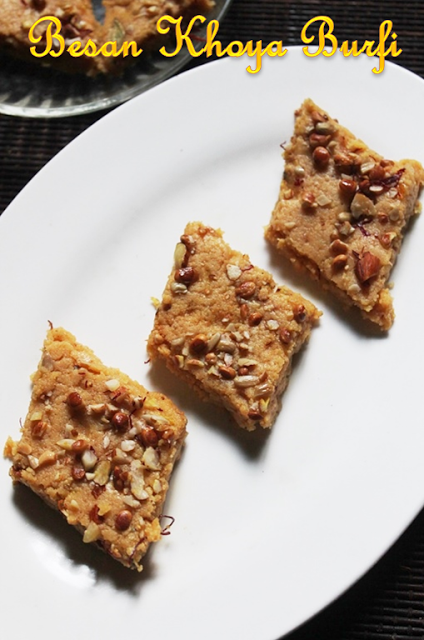 Hope you will give this a try and let me know how it turns out for you..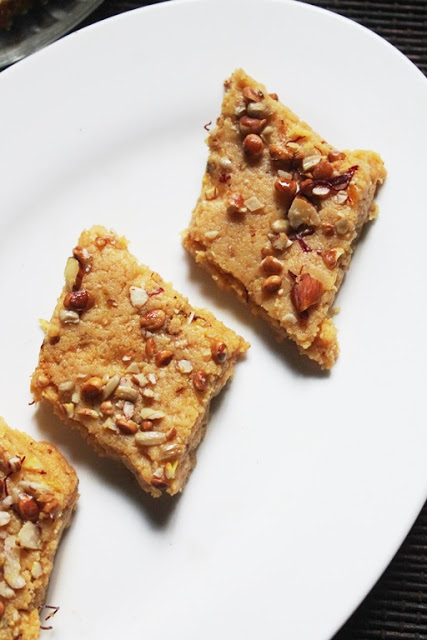 Preparation Time : 10 mins
Cooking Time : 30 mins
Makes: 16 to 20 pieces
Recipe Source : Indian Khana
Ingredients:
Besan / Gram Flour / Kadalai Mavu – 1 cup
Unsweetened Khoya / Mawa – 1/2 cup (
Instant Khoya in Microwave
,
Khoya made in Stove
)
Sweetened Condensed Milk – 1/2 cup
Sugar – 1/2 cup
Ghee – 3 tblspn
Saffron – a pinch
Nuts – 3 tblspn finely chopped
Cardamom Powder – 1 tsp
For Homemade Khoya, Check out traditional version and instant version..
Method:
Heat 2 tblspn of ghee in a pan, add in besan and roast it for 6 to 8 mins on low heat till it smell nicely. Remove this to a bowl, you can sieve this once.
Now in the same pan, add in khoya, condensed milk, sugar and mix well. Cook till it boil.
Now add in besan and mix well. Cook till it thickens.
Now add in the remaining 1 tblspn of ghee, cardamom powder and mix well.
Cook this whole thing till it leaves the sides of the pan and turns little frothy like and nonsticky.
Now spoon this in a greased pan and sprinkle the top with chopped nuts and saffron. Press on top so it sticks to the burfi.
Let it set for few hours. Cut into squares and serve.


Pictorial: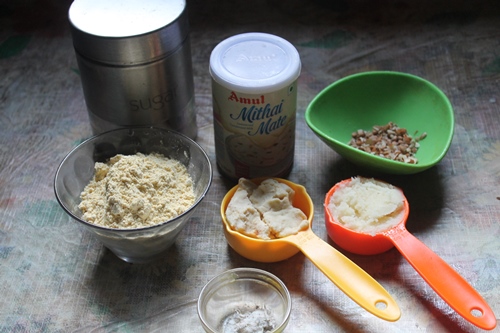 Take all your ingredients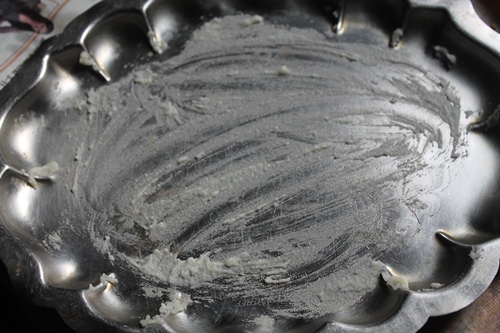 Grease a plate with ghee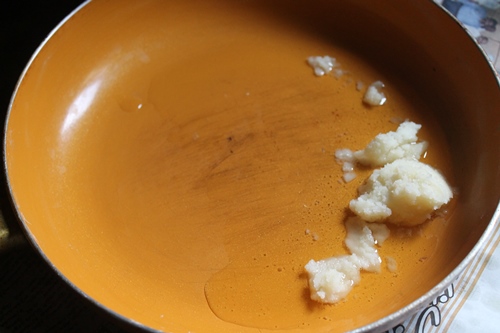 Melt little ghee in a pan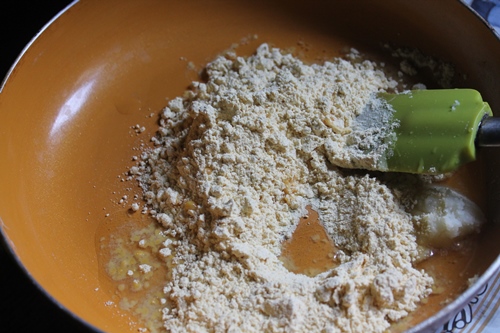 add besan or gram flour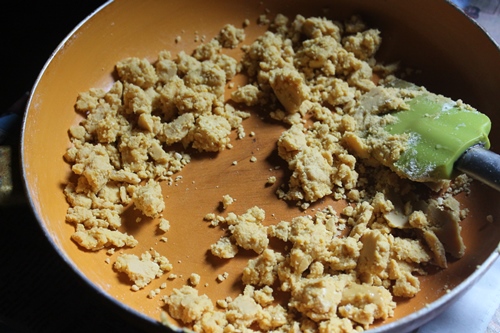 roast them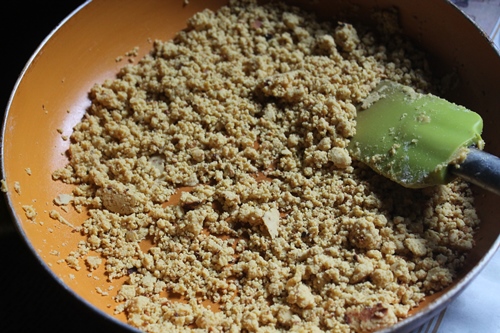 roast them on medium heat, till you get a nice aroma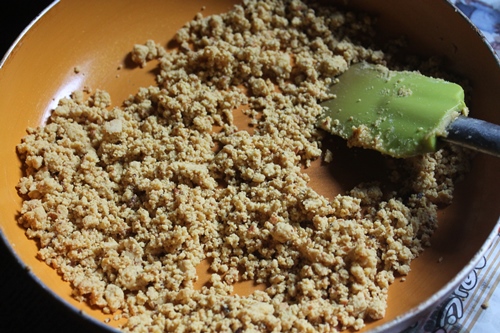 now it is well roasted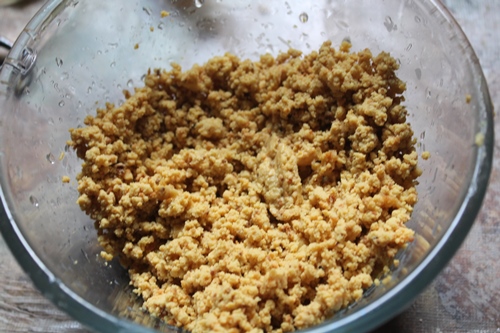 remove to a bowl..you can cool this a bit and sieve it as well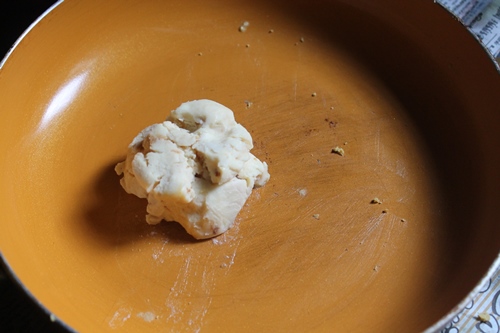 Take khoya in a bowl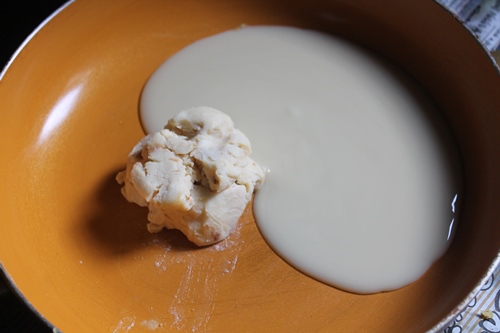 add in condensed milk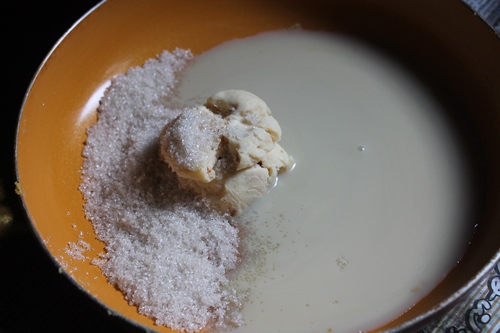 add in sugar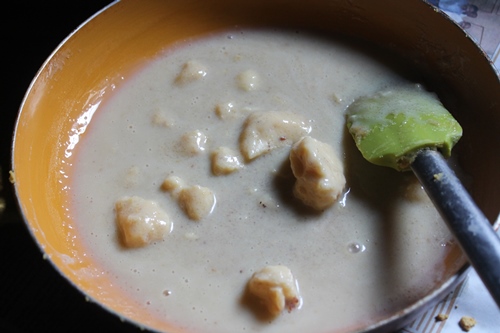 mix well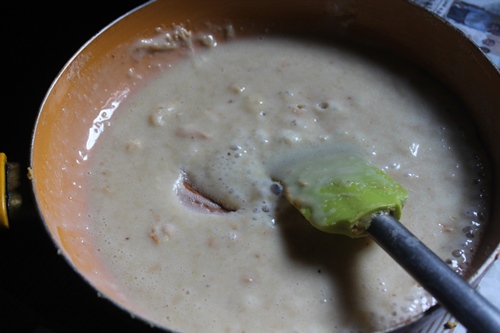 cook till they get thick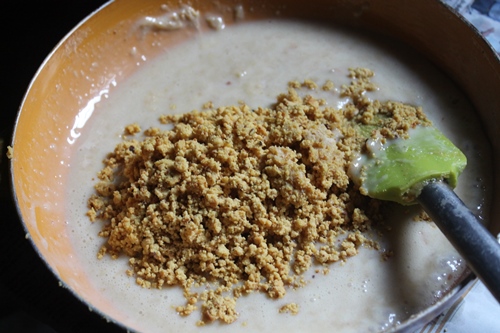 add in besan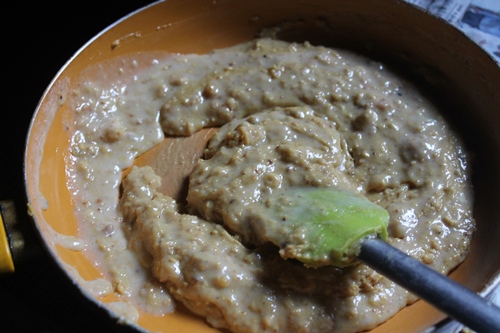 mix well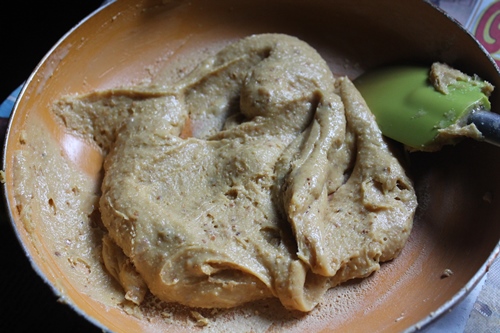 keep cooking them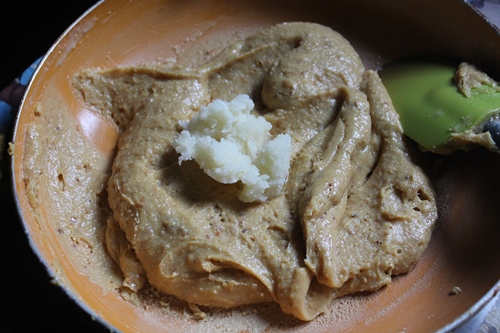 add in ghee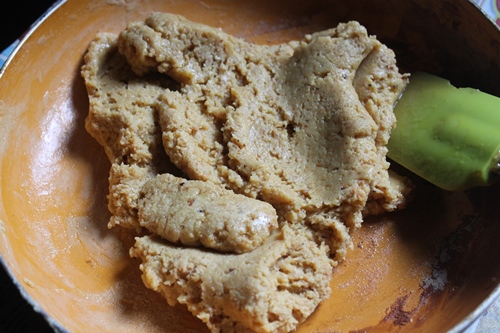 cook till they become little frothy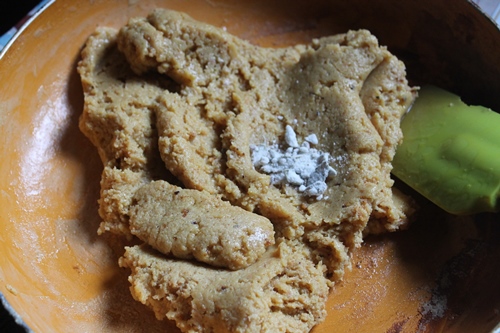 add in cardamom powder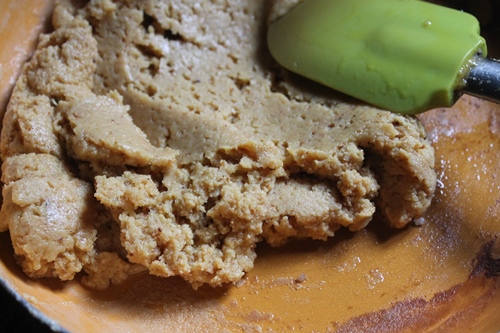 mix well…this is the texture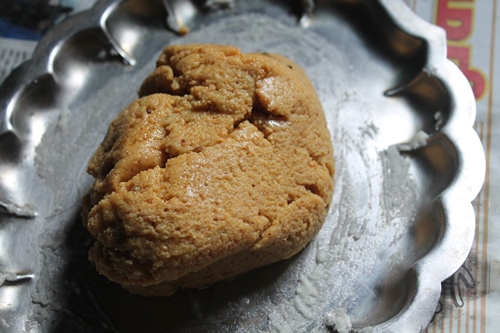 spoon it into the pan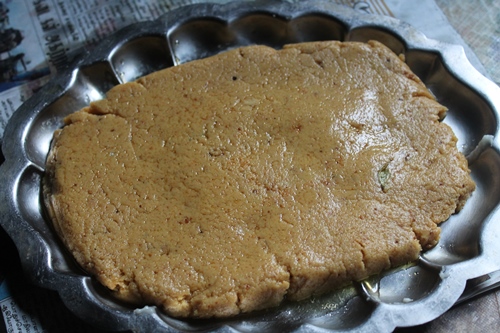 spread it evenly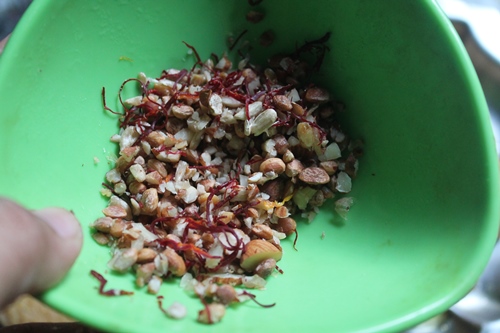 i have some chopped nuts and saffron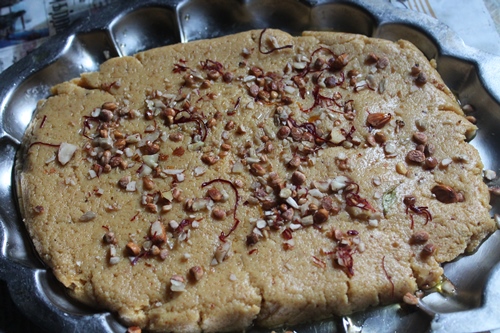 sprinkle on top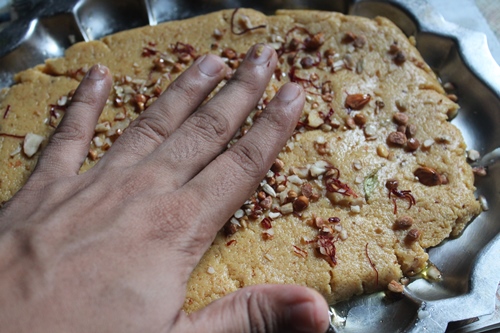 press so it sets over the burfi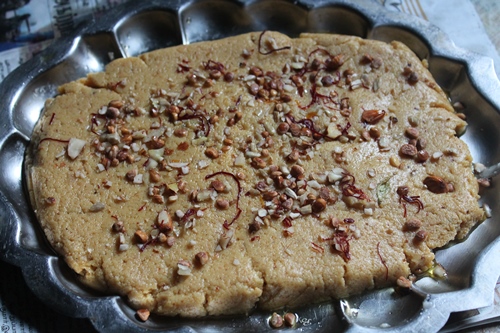 let it set, then slice and serve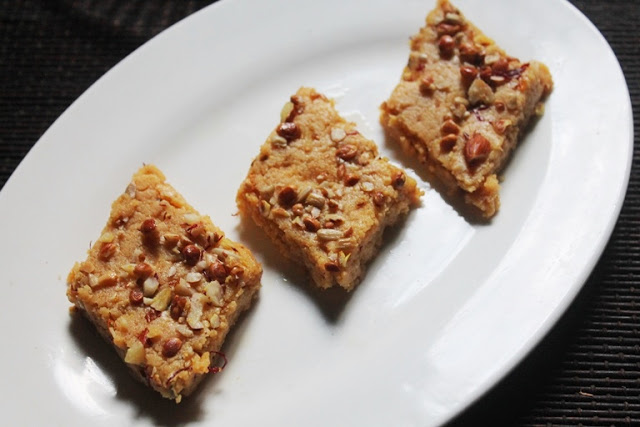 Enjoy
I am Aarthi, a happy homemaker, mom of two beautiful girls, married to my high school sweet heart. My goal is to teach people that cooking can be way more easier and joyful than they think. Yummy Tummy features recipes all over the world with step wise pictures which surely shows the ease of cooking.