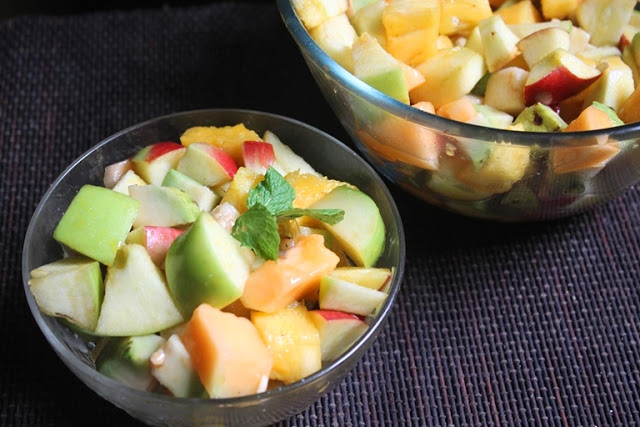 Salads are a great thing to make when you feel like eating healthy. Specially mixed fruit salad is my favourite. I normally chop all my fruits and toss them with little salt and pepper or sugar or honey and eat it.
Similar Recipes,
Sprouts Fruits Salad
Sprouts Veggie Salad
Cold Pasta Salad
Mango Salad
Pineapple Salad
Lettuce Salad
and Many More..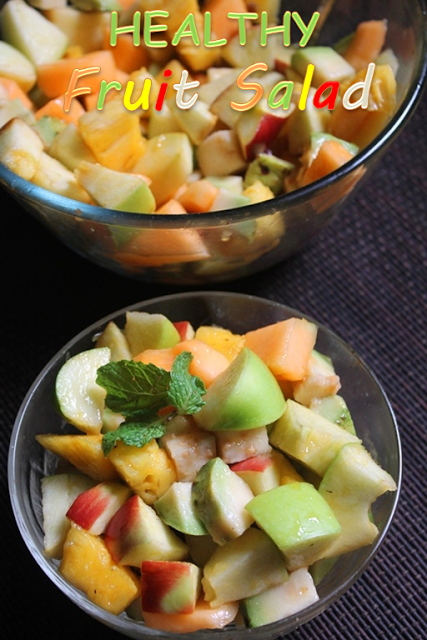 This version is much more elegant one, it has a lovely orange sauce tossed over all the fruits which makes it taste so yum..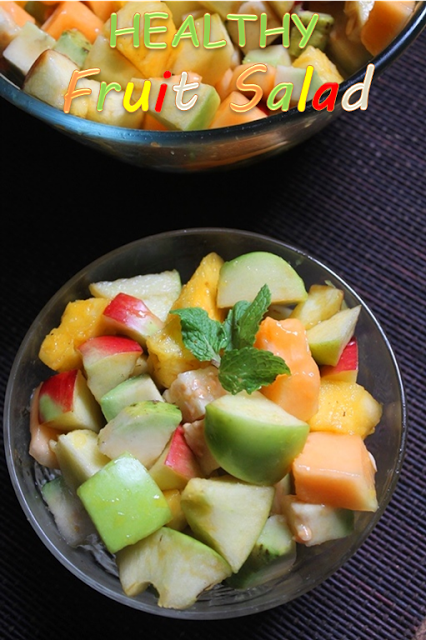 Hope you will give this colourful and healthy salad a try and let me know how it turns out for you..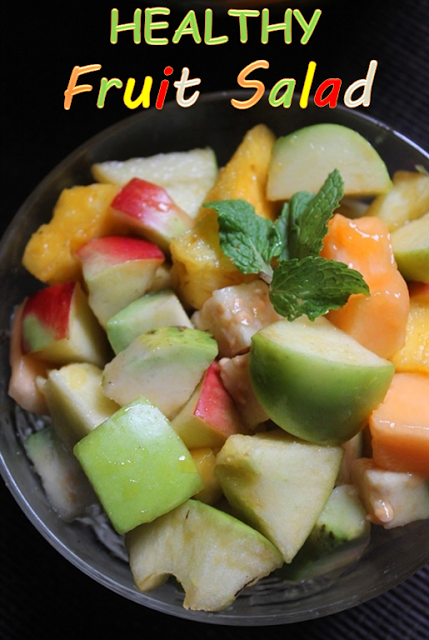 Preparation Time : 15 mins
Serves: 5 to 6
Ingredients:
Pineapple – 3 cups chopped
Muskmelon / Cantaloupe – 2 cups peeled and cubed
Red Apple – 1 chopped
Green Apple – 1 chopped
Guava – 1 chopped
You can use any fruits you like
For Syrup:
Orange Juice – 1 cup
Jaggery or Brown Sugar – 1/4 cup
Lemon Juice – 1 tbspn
Method:
Start by making the syrup, by mixing all the ingredients in a sauce pan and heat it till it is thick and syrupy. Take it in a bowl and chill it in fridge.
Prepare and chop all fruits and take it in a bowl. Pour the cooled syrup over it and toss well.
Serve.
Pictorial: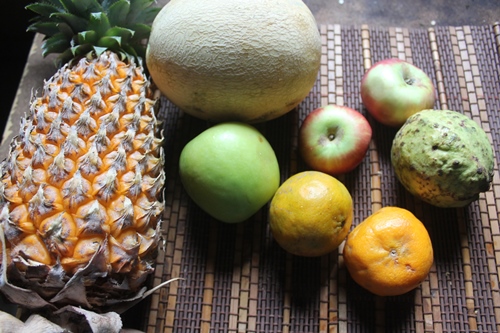 Take all your fruits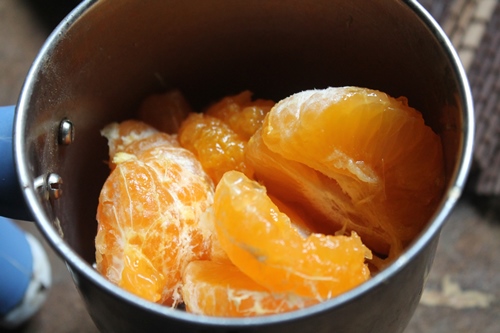 Take oranges in a blender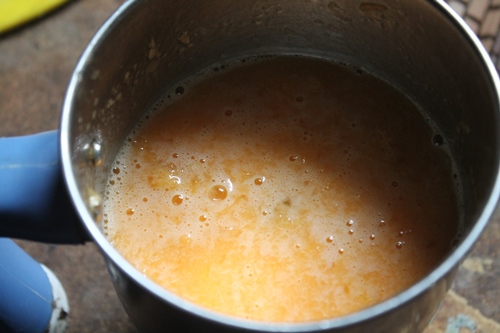 crush them lightly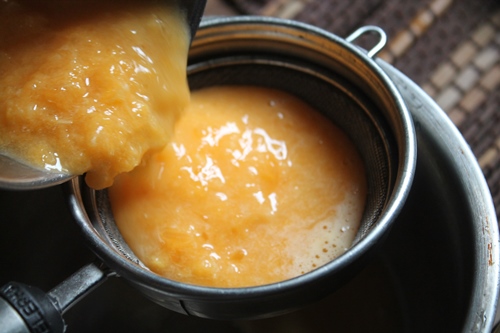 strain them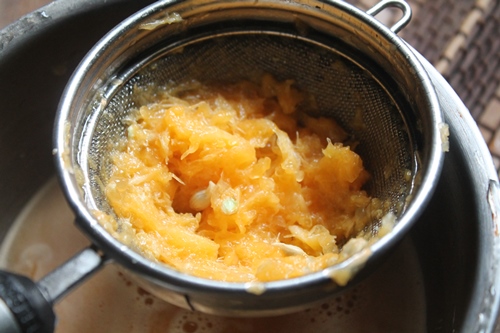 squeeze and remove all the juices
i took all the juices in a sauce pan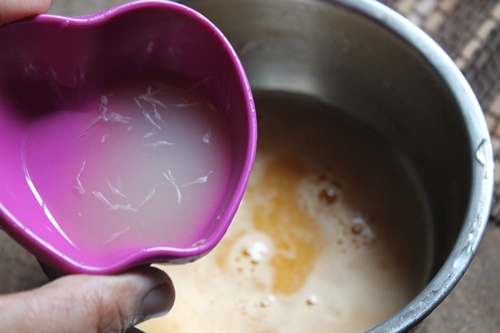 add in lemon juice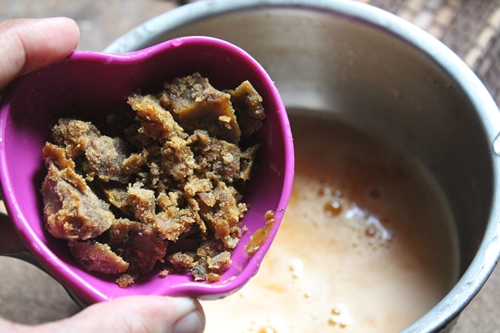 add in palm sugar or jaggery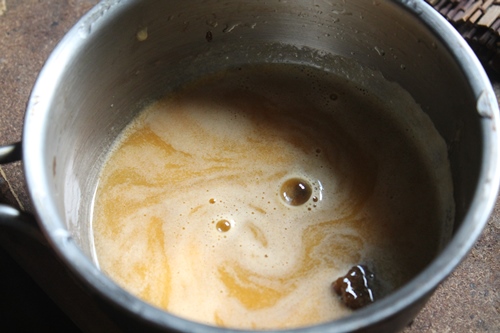 heat this down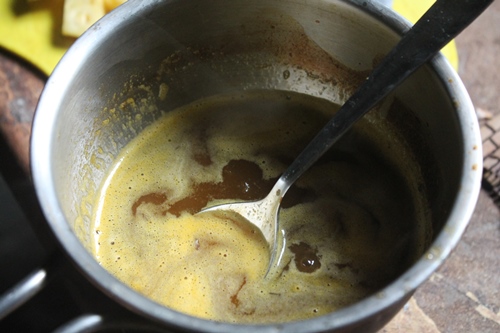 cook till it is syrupy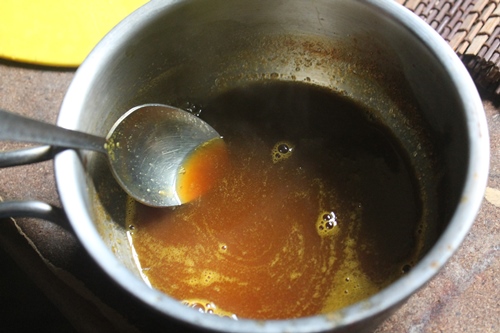 done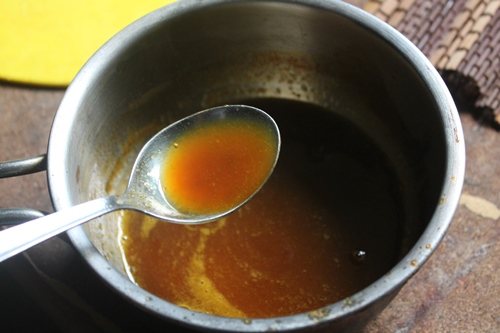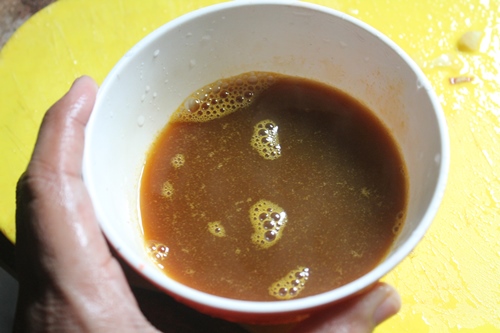 pour this in a bowl and chill this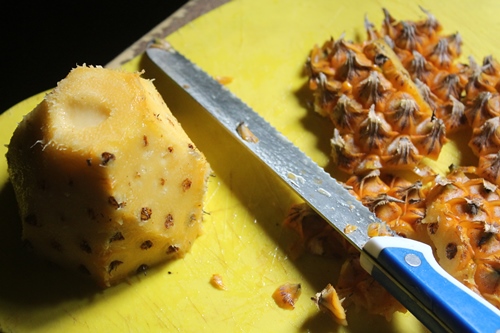 Now lets prepare the fruits..Peel a pineapple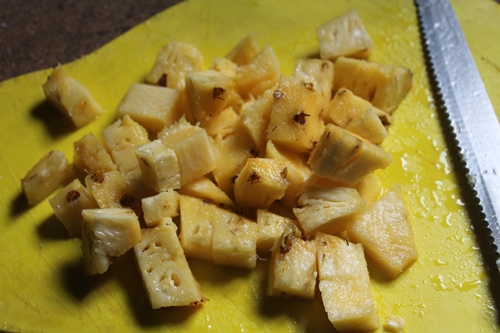 chop them finely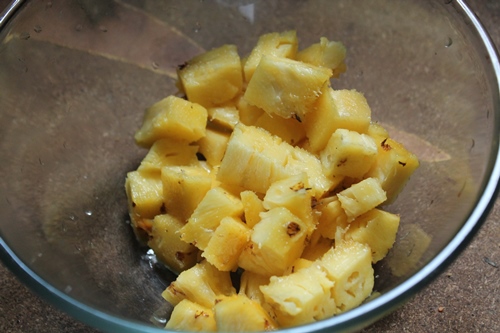 add it to a bowl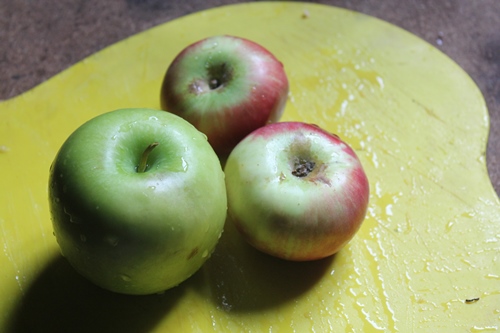 Take your apples..i used both green and red ones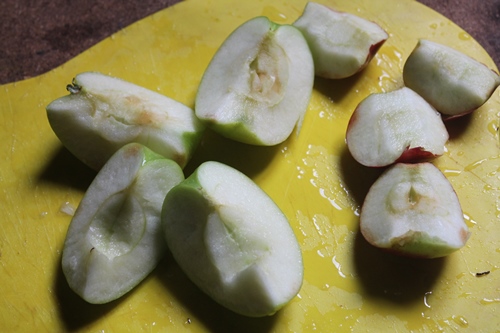 cut them in quarters and deseed them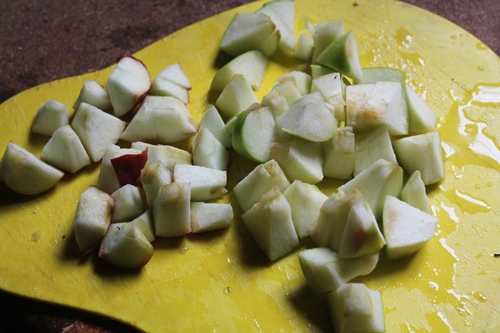 chop them finely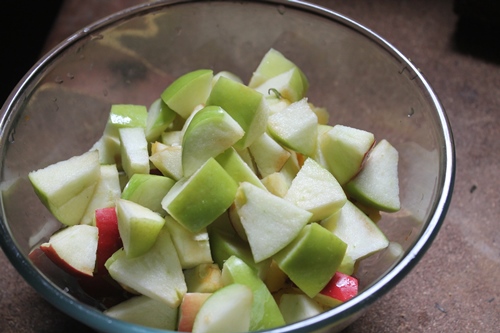 add it to a bowl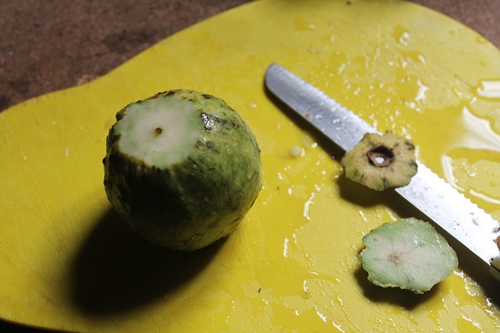 take your guava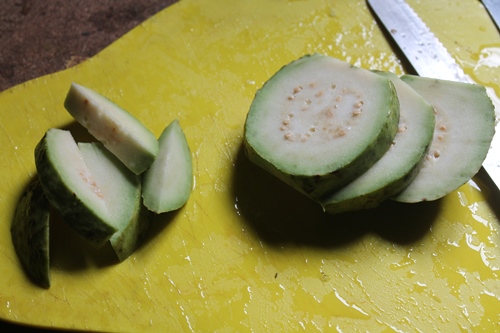 cut like this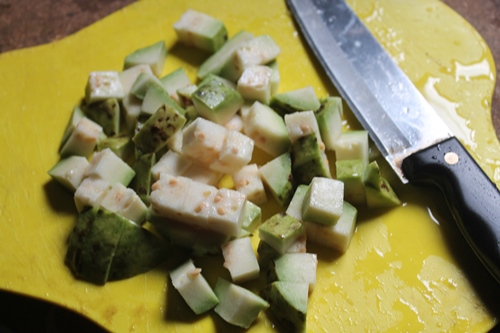 cube them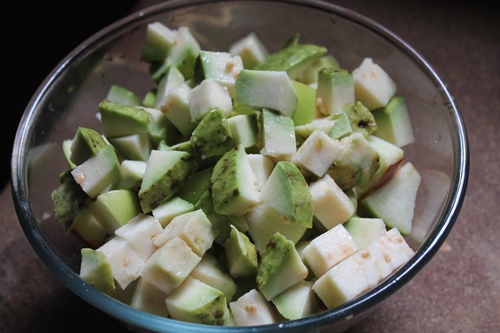 Add it to a bowl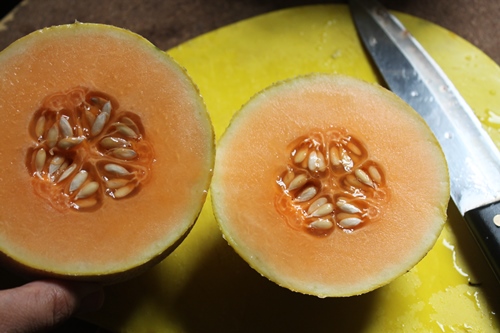 Cut open a muskmelon..scoop the seeds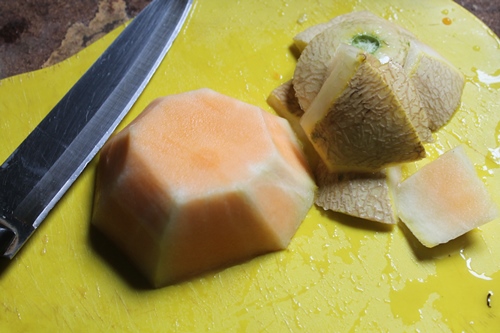 peel them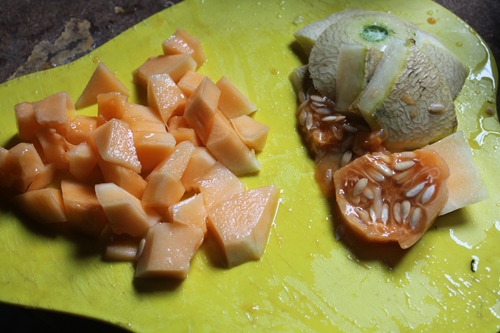 cube them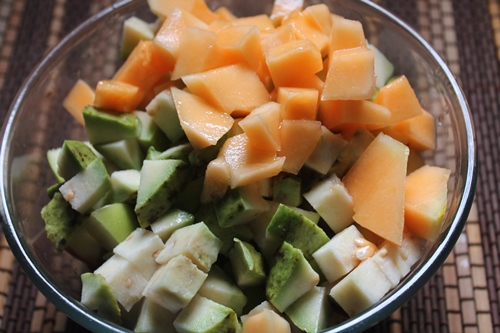 add it to the bowl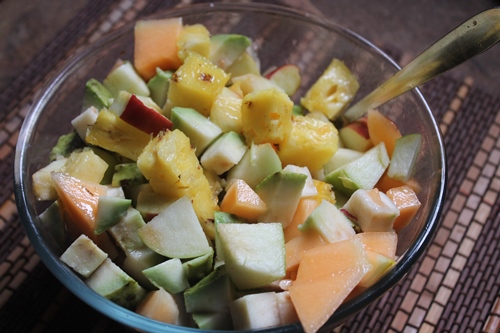 toss well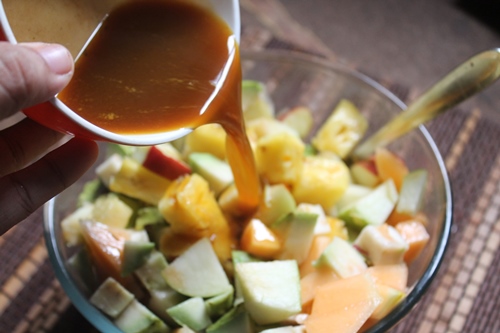 pour the syrup over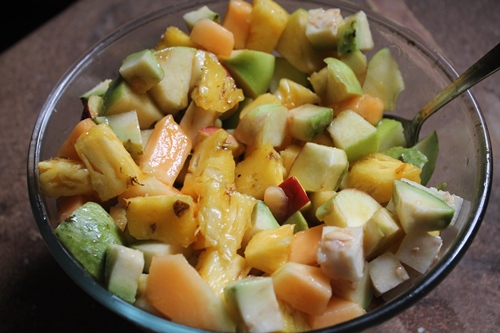 toss gently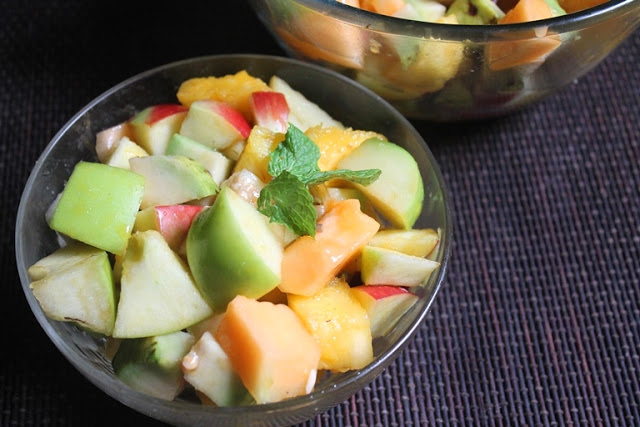 Serve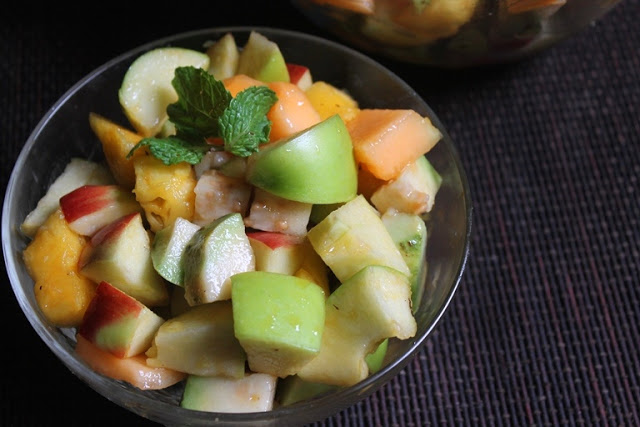 I am Aarthi, a happy homemaker, mom of two beautiful girls, married to my high school sweet heart. My goal is to teach people that cooking can be way more easier and joyful than they think. Yummy Tummy features recipes all over the world with step wise pictures which surely shows the ease of cooking.