First of all, i have to make a confession..This is not a paid review, i just want to share this, because the days when i stayed in this resort is one of the best. Okay now lets get into the review..
You all know that i have been on a vacation few weeks back and i promised you to share the pictures. Here i am with a review of one of the best resort i have ever gone to..When we planned to go on a trip to coorg, the first thing which we asked to our tour agent is to book a comfy luxury resort, because i told hubby that i just dont want to explore the places on this trip. I just want to chill and relax. Thank god our tour agent booked this amazing resorts in coorg. It is the Orange County, Coorg
When you step into the portals of Orange County, Coorg, you leave one world behind, and step seamlessly into another: the bygone era of the Gentleman Planter. Ensconced in the cocooned comforts of a lush 300-acre plantation paradise, the resort is perfumed with the subtly intoxicating aroma of coffee and spice. Come, allow the Spirit of the land to infuse your very being, and coax you gently on a personal voyage of discovery.
We booked a private pool villa..The joy started as soon as we entered into our private villa. The Ambience, the decor, the interior and the complete place felt like home. Here are few pictures inside the villa..Everything has a wood finish and it has a touch of kerala in them.
On that dining table there were locally farmed fruits and homemade cookies, which is refilled in a daily basis..Those cookies were YUM.
This is one of the best bit, this is a sweet box which has homemade traditional sweets in them and it is refilled in a daily basis..One of my favourite sweet is the jackfruit, yum..
And the beds were so cozy and the interior was pretty romantic..Perfect for newly weds and honeymoon couples..
This is the view of the backyard..
Private Pool..YAY..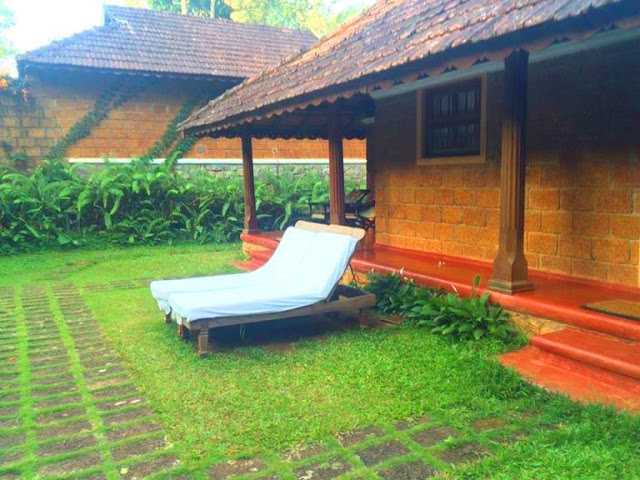 This the tea and coffee making area.The coffee is their own cultivation and it is the best one i have ever tasted..
Around the Property..The place was just filled with nature..You feel that you have entered into another world, after you step into the resort. The resort is completely eco friendly..The service is just extra ordinary. The workers were very friendly and always wishes and greets you with a smiling face..They follow their tradition very seriously, you can read about the that here
There were so many activities happening in the resorts, like birds watching, hiking, village visits, cultural activities, plantation walk, nature walk, coracle rides and so on..
They have a separate play area for kids and adults as well..Maha had fun..
After roaming through the property, we had a nice relaxing massage therapy in the Vaidyasala..It was so wonderful..
Just chilling..To check out more pictures of maha, check out my baby blog..
And one of the excited part is, each time we order a room service, they used to create fun animals with the towels..Each time we will be looking forward for that after we enter the villa..Specially Maha was too excited..
I am Aarthi, a happy homemaker, mom of two beautiful girls, married to my high school sweet heart. My goal is to teach people that cooking can be way more easier and joyful than they think. Yummy Tummy features recipes all over the world with step wise pictures which surely shows the ease of cooking.