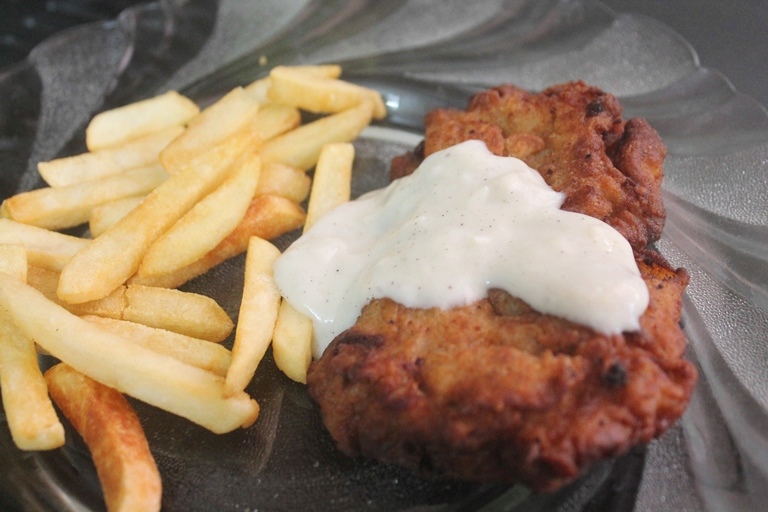 Chicken Fried – Chicken Gravy / Fried Chicken Gravy with Step wise pictures
This is a very unusual recipe for me. But i came across in pinterest i think. It looked so delicious that i wanted to try it immediately. Eventhough the recipe sounds unusual and complicated. It is very easy to make, a delicious crispy fried chicken topped with a creamy garlic flavoured sauce and served with french fries on the side.
I enjoyed it so much that i am gonna make it often.
Similar Recipes,
Top 21 Grilled Chicken Recipes
Barbeque Chicken Over Homemade Barbeque Stand
Grilled Chicken
Thai Sticky Chicken
Oven Fried Chicken
Tandoori Chicken
Tangri Kebab
Grilled Whole Chicken
Honey Lemon Chicken
Garlic Baked Chicken
Grill Cajun Chicken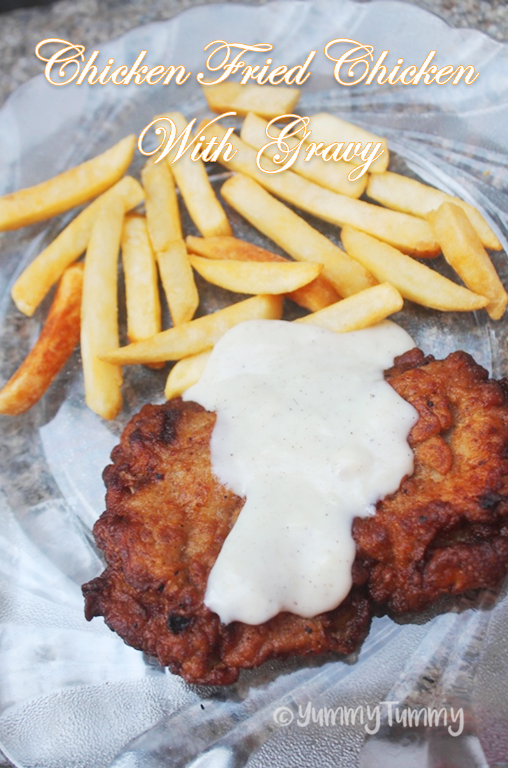 Similar Continental Recipes,
Continental Baked Fish, Mashed Potatoes with Chicken Mustard Cream Sauce, Fried Chicken Sizzler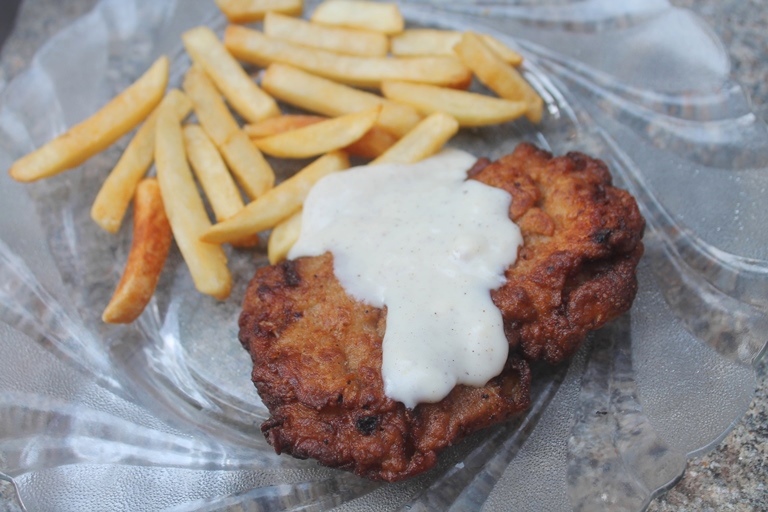 Hope you will give this a try and let me know how it turns out for you.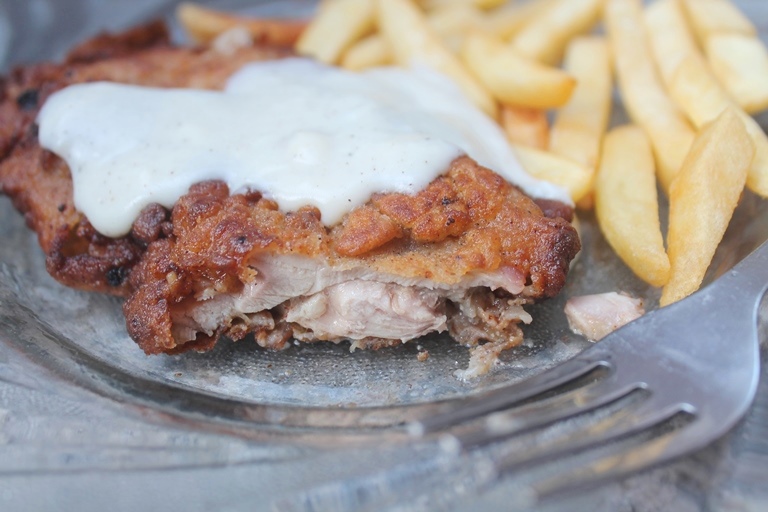 Chicken Fried- Chicken with Gravy
Chicken Fried Chicken with Gravy is an delicious dish to try out when you have friends over. The crispy chicken taste amazing with the sauce and fries on side.
Ingredients
Boneless Chicken Thighs - 6
Buttermilk - 1 cup
Pepper Powder - 1 tsp+ 2 tsp
Paprika Powder - 1 tsp+ 1 tblsp
Salt to taste
All Purpose Flour / Maida - 1.5 cup + 2 tsp
Garlic Powder - 1 tblsp
Butter - 1 tblsp
Milk - 1 cup
Garlic - 1 clove grated
Salt to taste
Pepper to taste
Oil for deep frying
French Fries for serving
Instructions
First prepare marinate for chicken. Bash chicken thighs into little thin cutlets. Set aside.
Take buttermilk, 1 tsp of black pepper, paprika and salt and mix well.
Add chicken thigh in and mix well. Leave to marinate for 2 hours in fridge. Remove from fridge 30 mins before making.
Now make the outer coating, take all purpose flour in a bowl, add 2 tsp of black pepper, 1 tblsp of paprika, 1 tblsp of garlic powder and salt to taste. Mix well. Set aside.
Now make sauce. Take butter in a nonstick pan, add 1 tsp of flour and mix well. Stir fry till flour is cooked little. Add in garlic and mix well. Add in milk slowly and mix well. Add salt and pepper to taste and mix well. Set aside.
Take chicken from marinate, coat it in flour and set aside to dry for 5 mins.
Heat oil for frying, once the oil is hot, add chicken in and fry till golden brown on both sides about 5 to 6 mins on each side.
Serve it in a plate, along side with french fries and the sauce.
Pictorial:
1)I used some boneless chicken thighs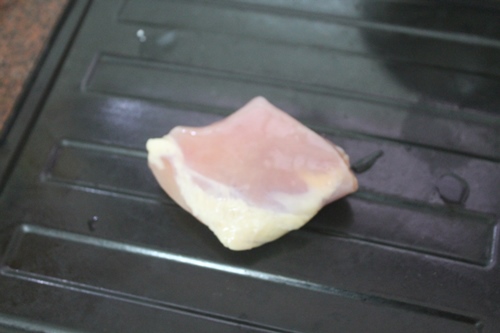 2)Use a rolling pin to bash the chicken and flatten it out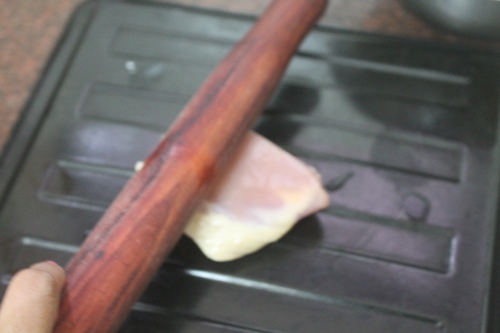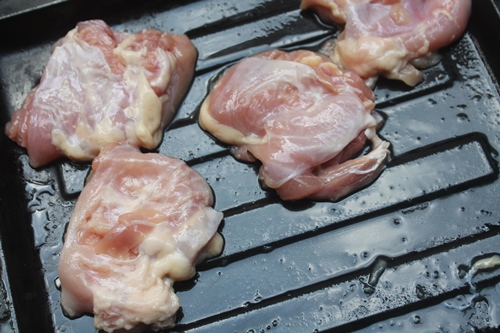 3)For the marinate, take some buttermilk or add some water to plain yogurt / curd to thin it out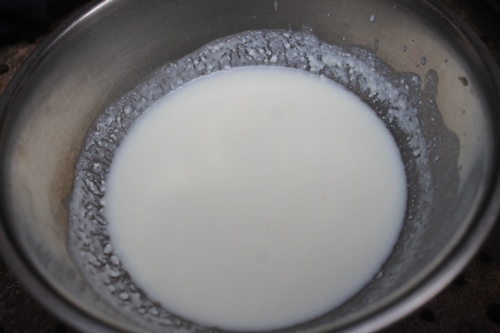 4)Add salt to taste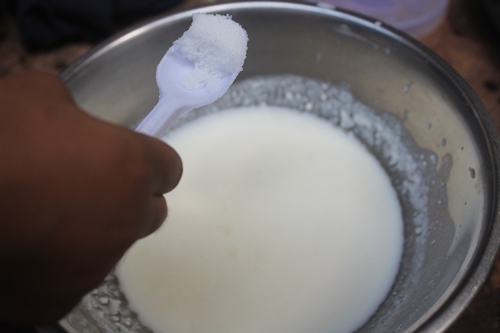 5)Add some paprika and black pepper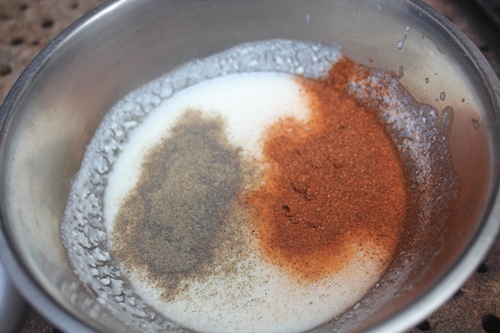 6)Mix well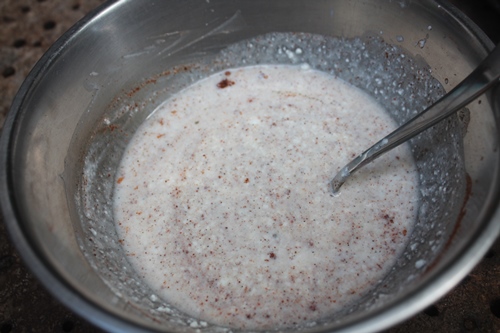 7)Add the chicken in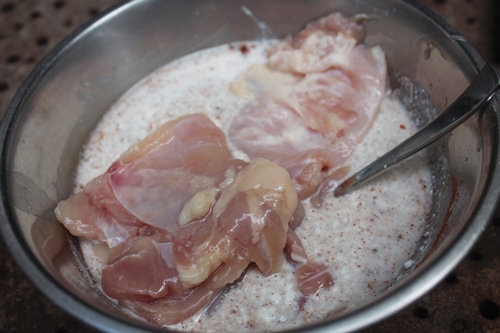 8)mix well and leave it to marinate for 2 hours or overnight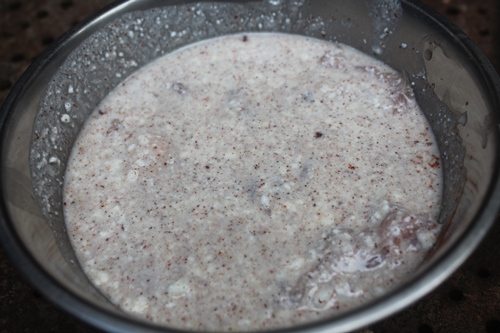 9)Now make the outer flour coating. Take all purpose flour in a bowl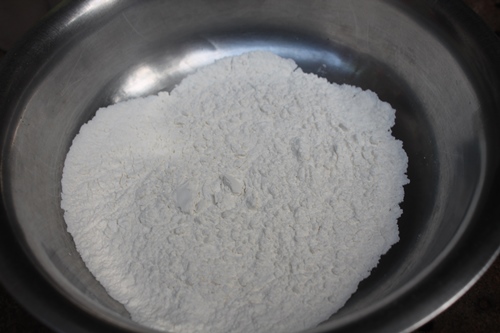 10)Add in salt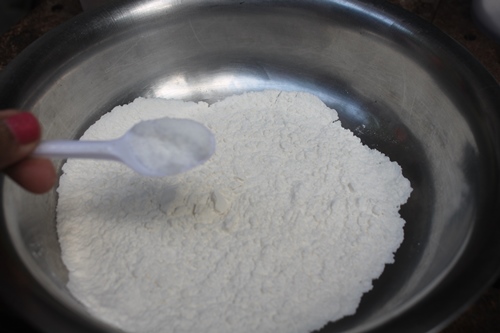 11)Add in paprika and pepper powder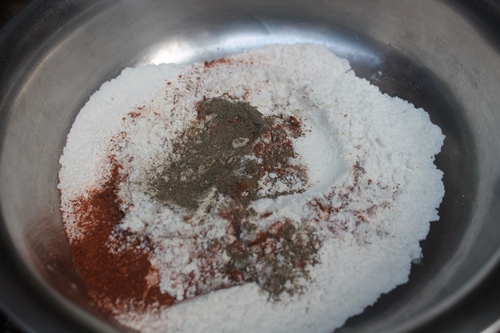 12)Add in garlic powder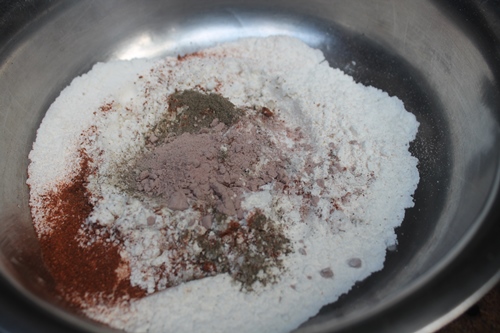 13)Mix well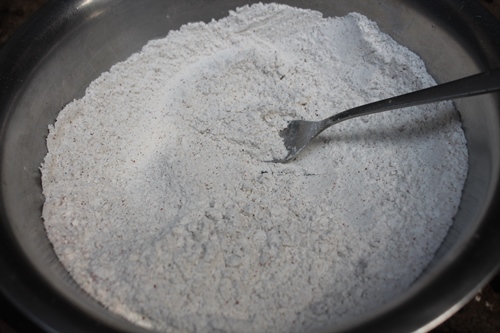 14)Now make the gravy. Heat butter in a pan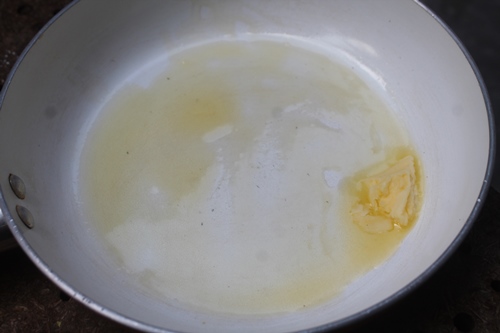 15)Add in some flour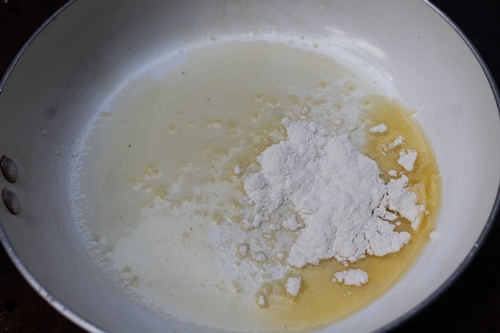 16)Whisk well and cook for 2 mins till raw smell leaves from it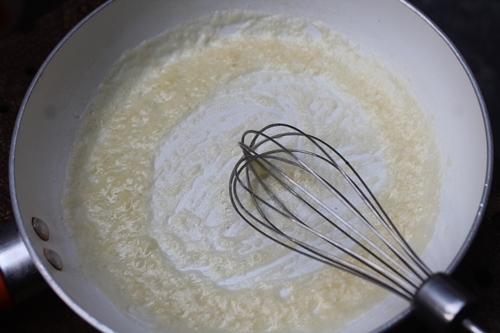 17)Add in some garlic, you can use some garlic powder as well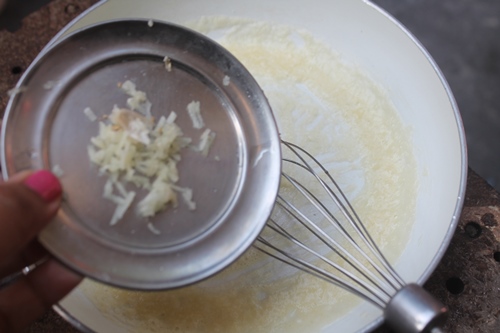 18)Add in some milk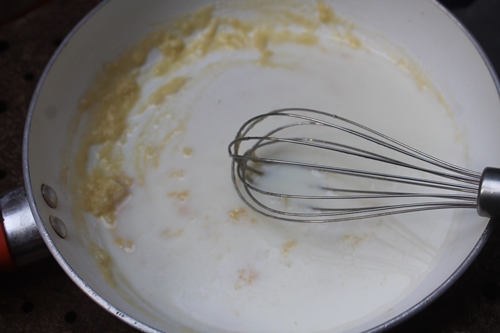 19)Whisk till smooth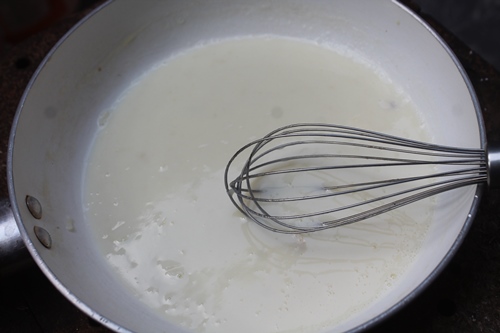 20)Take sauce should coat the spoon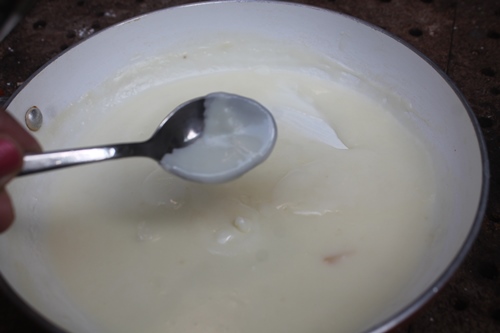 21)Add salt and pepper to taste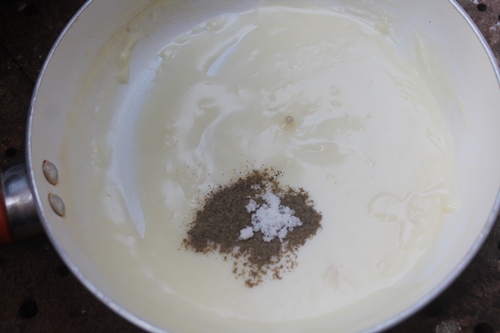 22)Mix well..gravy is done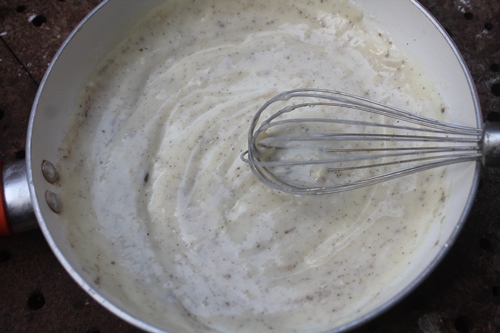 23)Take chicken from the marinate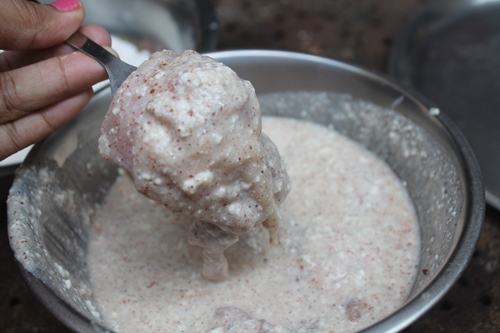 24)Coat it in the flour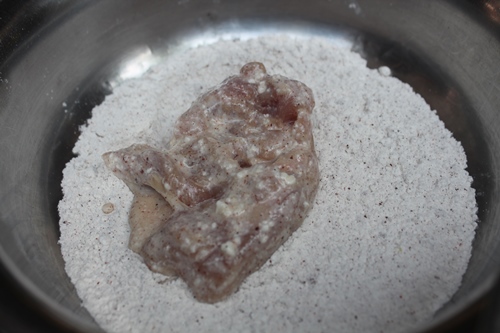 25)Coat it well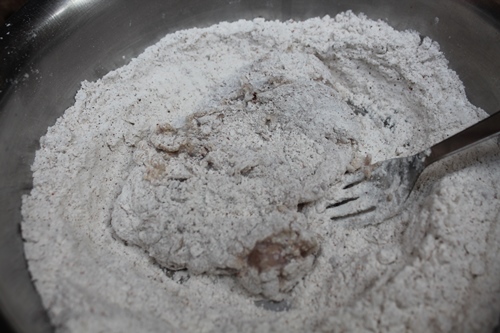 26)Let it sit and dry for 5 mins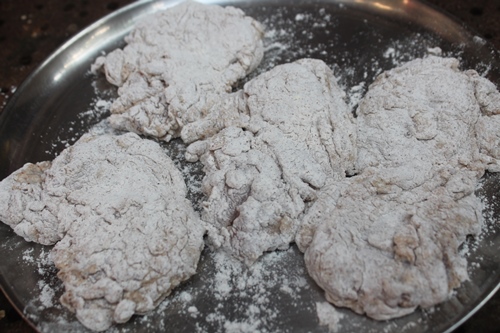 27)Heat oil for frying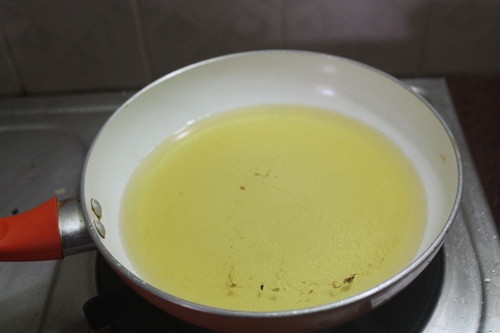 28)Drop chicken in hot oil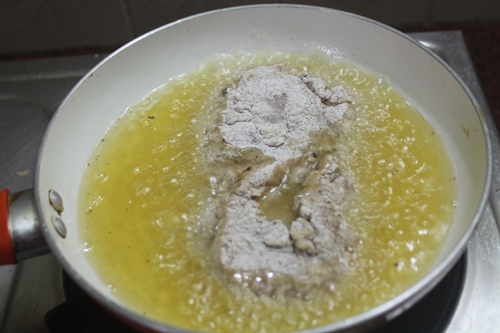 29)Fry till golden in the bottom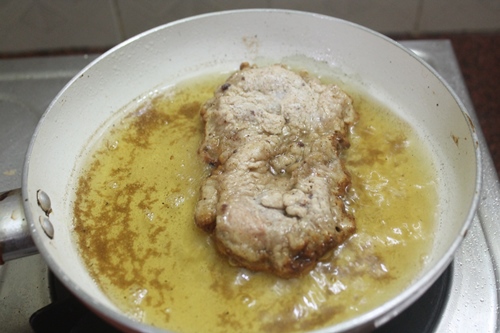 30)Flip and cook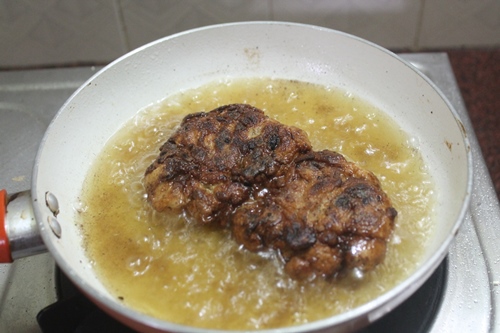 31)Drain in some paper towel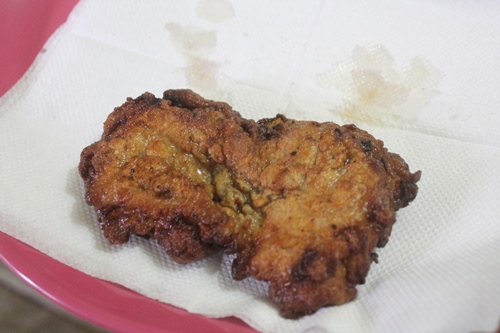 32) I fried some french fries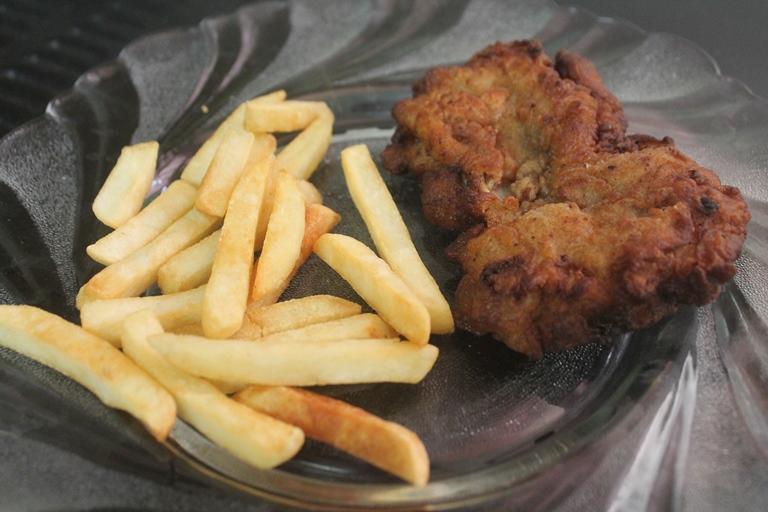 33)Serve chicken with some gravy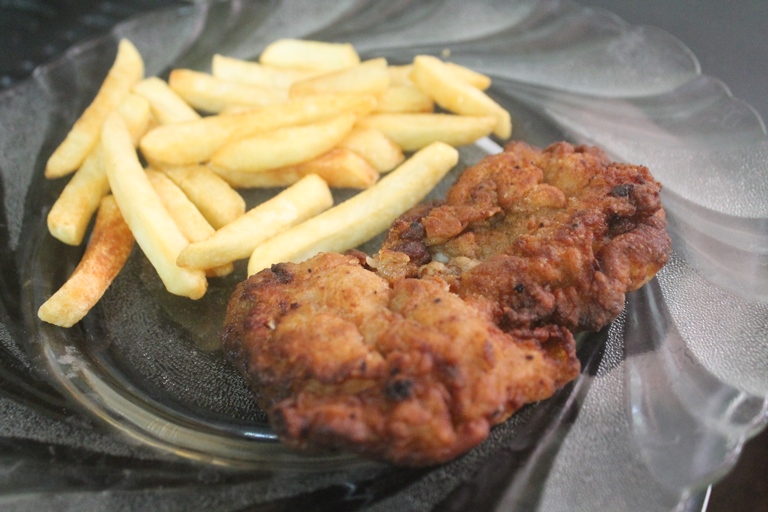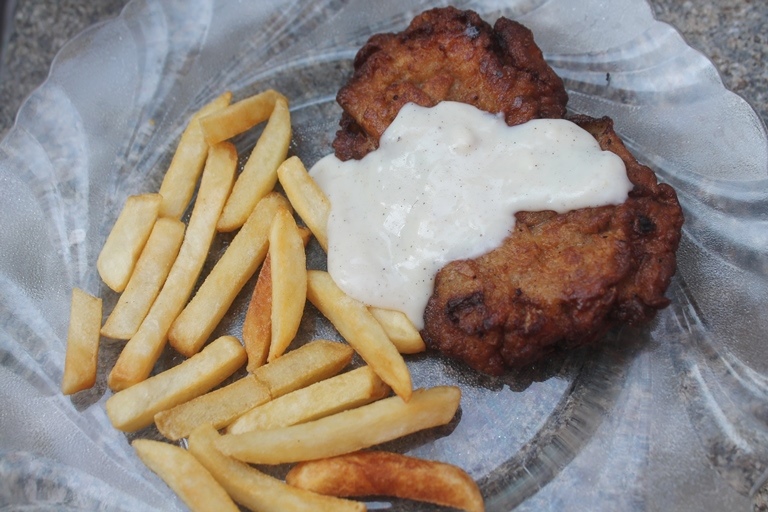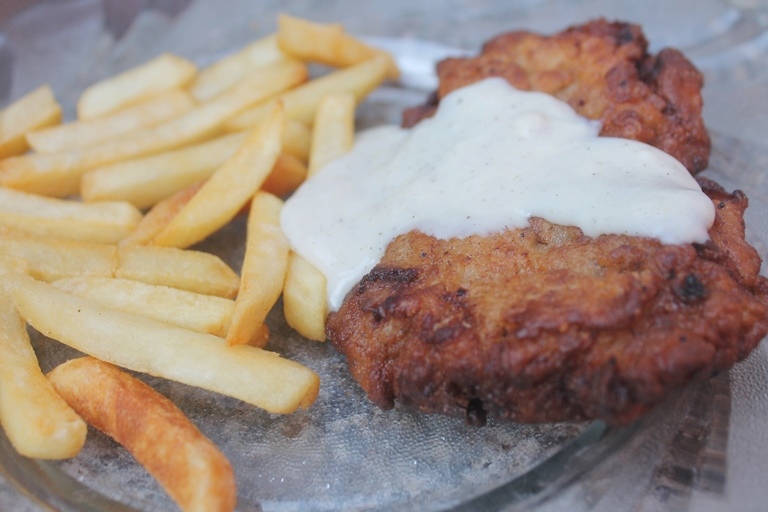 I am Aarthi, a happy homemaker, mom of two beautiful girls, married to my high school sweet heart. My goal is to teach people that cooking can be way more easier and joyful than they think. Yummy Tummy features recipes all over the world with step wise pictures which surely shows the ease of cooking.