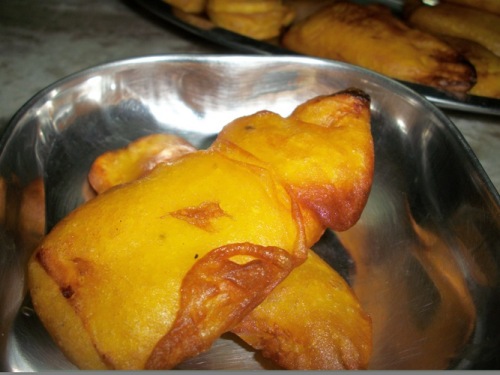 Crispy Banana Fritters
My first week of blogging marathon is over…Welcome to another week of blogging marathon..This week I am cooking on a theme of "Regional Specials"..I selected kerala as this weeks region,because I love keralan foods…Their food has a lovely flavour with lots of coconut in it…I have selected 7 dishes to make all over this week…So I decided to start with a famous keralan dish called nentram palam appam..It is one of the typical keralan snacks..I recommend you all to give this a try because It is so good..You can have this warm or at room temperature.try to use the ripe banana for this,that what makes this dish unique..You can increase the amount of sugar in this…I fried this in plain refined oil,but you could fry this in coconut oil,that's how they make this in kerala.. So please try this and let me know what you think..
I have a round up of previous weeks recipes on the theme "15 min Quick Breakfast"
Ingrediants:
Banana(Nentram palam)-3 sliced
Oil for deep frying
For Batter:
Flour(Maida)-1 cup
Rice flour-1 tblspn
Sugar-3 tblpsn
Salt a pinch
Red colour a pinch
Cardamom pod-2 crushed
Method:
Heat oil for deep frying..Slice the banana lengthwise or in round slices.
Mix the ingrediants for batter with water to make a thick paste.
Dip each slices of banana in the batter and fry them in hot oil till they are crisp.Serve them warm or cold.
Pictorial: