If you've ever been to Arlington, you should know the food here is on another level.  From delicious local treats to southern comfort food that will leave you sated and happy, there's no end to the fantastic meals you can find here.
If you're figuring out where to eat in Arlington and can't come to a decision: these are the top eateries to consider!
Pioneer Restaurant
Location: 306 109th St.
Rating: 4.5 stars out of 5 stars.
Cuisine: classic Americana from taco salad to burgers.
Affordability: extremely affordable.
The pioneering restaurant works hard to give you fantastic food without any of the fuss.  Offering classic American fares like taco salad and hot chocolate that's been rated the best in the city, you won't want to leave once you stop in!  Every meal is well made, fast, and hits exactly what you're craving.
Bay 34th Street Diner
Location: 3330 Matlock Rd Suite 100.
Rating: 4.6 stars out of 5 stars.
Cuisine: fantastic American breakfast food and baked goods.
Affordability: affordable.
If you love diner food, the Bay 34th street diner has everything you can want.  The breakfast food is good enough that you'll feel like you stumbled into an
Arlington apartment's kitchen and someone cooked you breakfast with love.  Every meal here is tasty and a little greasy, but it's worth it for how much flavor it packs.
Dino's Subs
Location: 2221 S Collins St.
Rating: 4.9 stars out of 5 stars.
Cuisine: fresh and delicious sandwiches.
Affordability: extremely affordable.
There's nothing to cure middle-of-the-day hunger pains quite like a sub from Dino's.  Although this is in Arlington, many have compared it to famous shops in cities like NYC and Chicago. Fresh bread and ingredients, and delicious flavor pairings, make these the best restaurants you'll find in the city. So if you want to try some new food with some soft, delicious bread, this is the place to go.
Toms Burgers & Grill
Location: 1530 N Cooper St.
Rating: 4.7 stars out of 5 stars.
Cuisine: Delicious diner fare and comfort food.
Affordability: very affordable.
Tom's is a staple in Arlington that's made a name for itself over the last ten years.  Their burgers, shakes, and fries are often extremely highly rated, and it's possibly the best burger place in the city. So if you have no lunch or dinner plans and want to get a bite in Arlington's best grill restaurant: this is hands-down the place to go.  The affordable prices make it even better!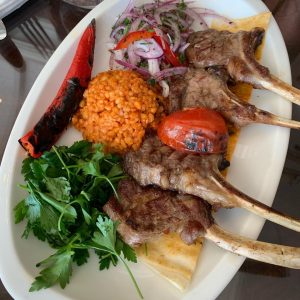 Pin
Rudy's Country Store and Bar-B-Q
Location: .451 E Interstate, I-20
Rating: 4.6 stars out of 5 stars.
Cuisine: well smoked and barbecued meat with comfort food sides.
Affordability: slightly expensive.
If you're tired of restaurants that take themselves too seriously, Rudy's Country Store and Bar-B-Q will surprise you!  Serving at indoor picnic tables, this store has something for everyone.  Locals rave about the delicious brisket and ribs, while others claim that they've never had fried mashed potatoes and greens as good as the ones they find here.