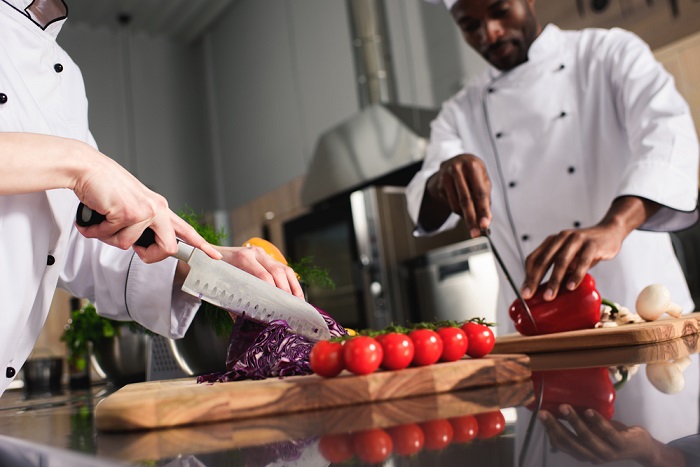 Pin
You don't need to be a gourmet expert to know that it only takes a good chef knife to make most of the kitchen work. Such a knife is the soul of your cooking as it also helps you chop, dice, mince and slice just about anything – fruit, vegetables, large volumes of meat and even root herbs. You only need to find the best chef knife for your needs and cook your way to cuisine mastery.
Chef knives can help you change the cooking game – once you know how to buy and use them. These tools come in different shapes, sizes and use different materials. This is the field where one size doesn't fit all. However, your size turns cooking into a pleasant activity that leads to excellent food serving ideas.
Types of Chef Knives
Chef knives usually come with long and thick blades and metallic or wooden handles. Blades' length range from 8 to 12 inches, while their width stays around 1 ½ inches. A chef knife is a multi-purpose tool which should perform with surgical precision, minimal effort and maximum strength. There are brands which are so popular that they come with chef recommendations for the best all steel chef knives, as per specialized website ChefKnives. Their standard features should also be found in your next kitchen product.
Chef knives are:
Western:
French-style products have straight edge and curves up to the tip.
The most popular knives in this category are German. You will recognize them due to the noticeable weight and simple design. They have deeper curves which continue along the cutting edge.
Eastern:
Japanese gyutos work well for cutting large volumes of meat, especially beef. They have similar designs with the French knife.
Japanese Santoku knife is the most popular of its country. It's lighter and sharper.
Chinese chef knives resemble cleavers.
The most appreciated styles are German and Japanese Santoku, which we will discuss below.
Specs of Chef Knives
Handle: It needs to be secure and comfortable. It provides the knife with balance and clearance.
Collar or bolster: The small portion of metal that makes blades and handles communicate supports the entire knife with strength and stability. However, not all product have them. The space they treat ensures a firm grip of the blade.
Spine: The top part of the blade should have squared edges that don't irritate your grip.
Edge: The blade's side needs to be completely sharp to make clean cuts.
Material: Most chef knives are made of carbon or stainless steel. While the first one is more resistant, the second type is resistant to corrosion. There are also ceramic knives which are impressively sharp but lack the strength of the above materials.
How to Choose the Best Chef Knife
Size matters most. Popular models usually have an 8-inch blade. However, 10-inch products cut more volume, while 6-inch sizes turn out to come with even more agility. Consider the most comfortable size and your most common cooking needs.
Balance ensures safety. Holding the knife is the essential part of the cooking process. The ideal weight should allow you to operate the cutter freely and skillfully according to your strength. Above all, the knife needs to fall instead of requiring a lot of maneuvering.
The design is a personal choice. You will notice that German-style products have simple designs, while Santoku products have multiple layers and come with handcrafted models. The two require the same attentive maintenance.
Think about the budget. Quality chef knives are not the ones you find in the corner shop, discounted until their price tag outlines a few dollars. Since they are sharp and edgy kitchen tools, the best chef knives usually require a budget of $30 - $130 (for high-end products).
There's nothing like a test. Test the tool in a specialized shop before purchasing it from an online store. Buying a product without checking it may lead to an uncomfortable feeling that leaves you with an unsafe product.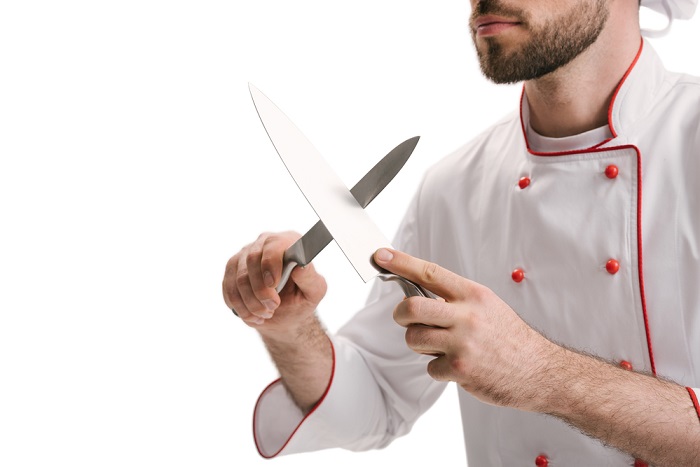 Pin
How to Test the Knives
Typically, sellers should allow you to test the knives by slicing melon, cutting a chicken leg or dicing an onion. However, if such a test isn't possible, you should try to get a feeling of the knife in your hand. See if the hold is balanced and you're comfortable with it.
Ask for a sheet of paper and cut it using the knife. Then, notice if the cut is straight. The knife's blade should fly through the paper and cut a straight line. If the test succeeds, take note that it might take a few days until you get used to operating the knife.
After-Purchase Tips
Usage: Operate the knife whenever you need to slice, dice, chop or mince vegetables, fruits, legumes, herb roots or meat. Use the tool for both small and artistic and massive cuts. Along with a paring knife, the chef product comes in handy for all kitchen needs.
Maintenance: Wash the knife immediately after use to prevent alteration of layers. However, don't place it in a dishwasher as it might damage the machine. Use a soft sponge to wash it before it dries thoroughly. Follow the instructions given by the manufacturer to sharpen the knife.
Storage: Chef knives usually come in designated boxes which can be used for storage. If you accidentally lose its box, store it individually in a wooden case.
How to Impress with the Best Chef Knife
The best chef knives are your surgically-precise allies in the kitchen. Finding a chef knife is a matter of research and testing. Once you've seen your best chef knife, explore it. You might even notice that you can crack coconuts or scale fish just by using the other side of the blade. Also, how about crashing cucumbers with the handle end?
Chef knives are so impressive that they are popular among both gourmet experts and average cooking amateurs. Find your tool and use it on each occasion!
Images Source: Depositphotos.com.