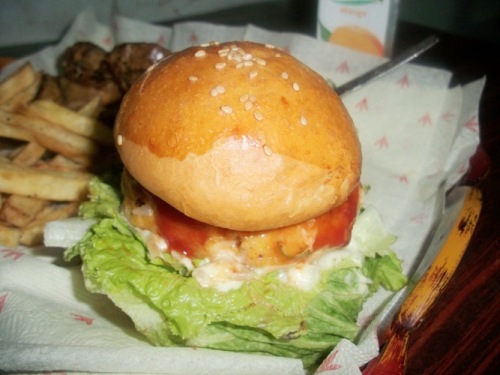 Chicken Burger
Last weekend we had a Burger party at Home,I made these chicken Burgers with French Fries and Onion Rings….It tasted Awesome..and the cheese sauce was divine…You could literally use any cheese but I used Amul cheese cubes.The Burger ended up so Juicy and Tender.The best thing is after you made those Burger pattice if you have any leftover,you could freeze them by wrapping it in some Clingfilm or any plastic wrap,So that when ever you want just defrost and you can have it.I forgot to mention one thing,this Burger is Finger Licking good because of the Cheese Sauce.It is great for a get together or a party.So Are you ready for the Burger party….Just make it and invite some friends and have FUN..So please try it and let me know what you think.
Ingrediants:
For Patties:
Minced chicken-250 gm
Onion-1/2 minced
Egg-1
Breadcrumbs-1/2 cup
Tomato Ketchup-1 tblspn
Green chilli-2 minced
Red chilli powder-1 tsp
Curry powder-2 tsp
Salt to taste
For Cheese Sauce:
Butter-1 tblspn
Onion-1/2 sliced thinly
Cheese-1 cup shredded
Salt a pinch
Peppar-1/2 tsp
Milk-1 cup
Method:
Mix all the Patties ingredients together.You can make patties small or big its really up to you.Cover it and refrigerate it atleast 1 hour,so that the flavours will meld together.
In a frying pan,Add Butter and fry some onions till golden brown,Then remove it and put it in a microwave safe bowl and add in the cheese and microwave for 1-2 min.Take it out of the oven and slowly add in the milk and whisk together till it forms a smooth sauce.Season with salt and pepper and set aside.
In a tawa add a tsp of oil and let it heat up,Place the burger and cook on a slow flame till it is golden brown,Flip it over and cook till the other side is done.
In the mean time you can Grab some Crunchy Lettuce,slice up some Tomatoes and onions,Toast some Burger Buns.
Now Assemble the Burger,Put some lettuce over the Buns and add a dollop of cheese Sauce,Now the Burger Pattice,Top it with a slice of Tomatoes and Onion,squeeze some Tomato Ketchup and cover it with the other half of Bun and Dig in…..Enjoy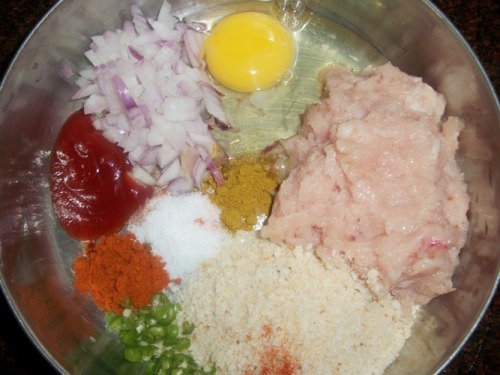 Mix every ingrediants in pattice list together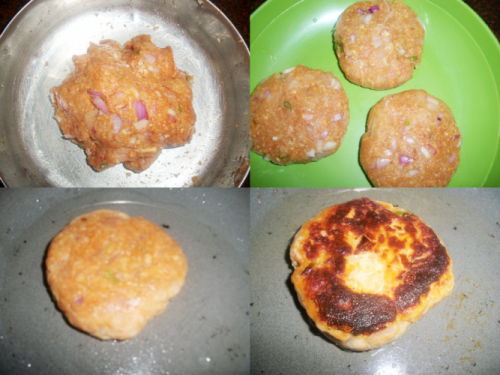 Make pattice and fry in a pan till done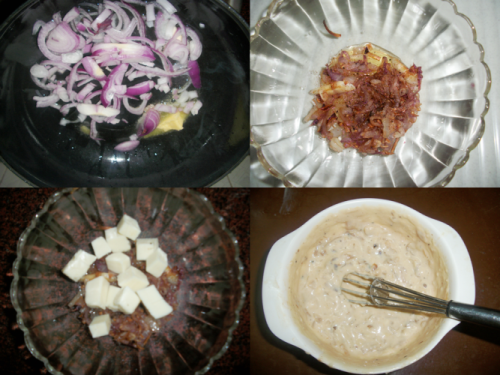 add cheese cubes to caramalized onions with some salt and pepper and melt together..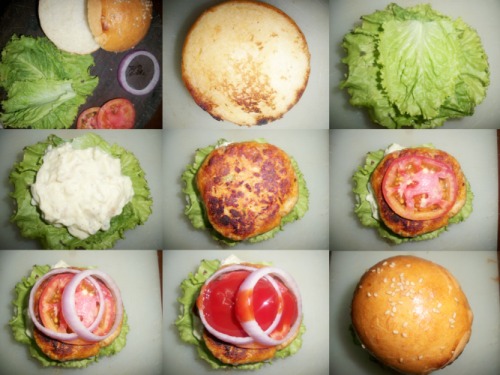 Assemble the burger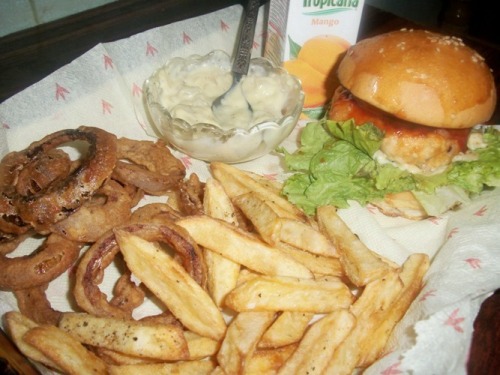 ENJOY