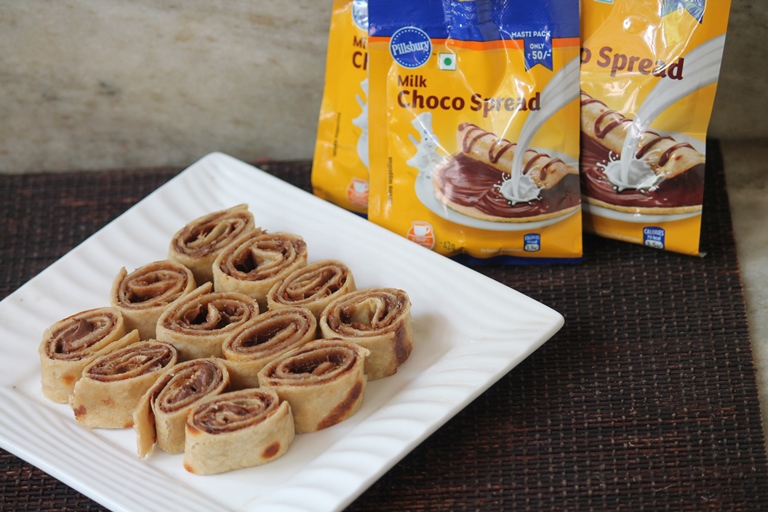 Pin
Chocolate Pinwheels Recipe using Pillsbury Milk Choco Spread with Stepwise Pictures.
As a mom our first concern would be feeding our kids proper nutritious food. I have been so busy after my second baby. Now i find it so hard to make maha eat. Because i have to constantly run around her to feed her something. She is such a fussy eater. Give her a plate of french fries and popcorn chicken, she eats it so happily and never complains at all. But with vegetables, grains, rice and roti, i am constantly struggling to make her atleast take a bite.
She has started going to school this year and i have to pack her food. I have been looking around the internet and trying new recipes and new dishes for her. Did she eat? The answer is probably NO. My only worry is to make her eat properly. She is too fussy to even drink a cup of milk. I have written about that struggle in my rosemilk post.
Similar Recipes,
Pizza Pinwheels, Jelly Pinwheels, Tortilla Roll Ups.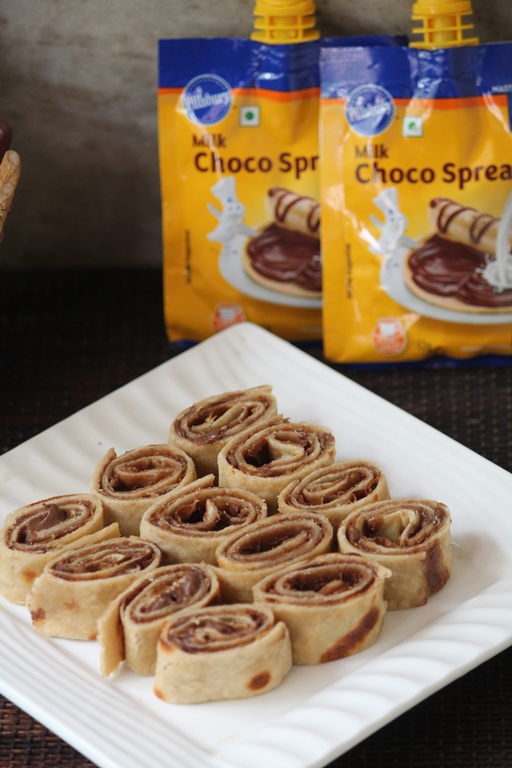 Pin
This recipe is a life saver for me. Luckily my 4 year old daughter loves chocolate (just like her mumma). This pinwheels recipe has become her favourite. Before i discovered this recipe, its been such a nightmare to feed her even a single roti. But now she happily eats it without complaining.
I used Pillsbury Milk Choco Spread as filling in these rotis. I rolled it up and cut it into bite size pieces. This way it looks cute for kids to eat. This choco spread has made my life so easy because all i have to do now is spread this over some rotis and lunch is done. Maha loves to eat this for breakfast too. Not only for breakfast, she enjoys it as a after school snack. Somedays i give this spread as a dip with some apples and pears, she enjoys it to the core.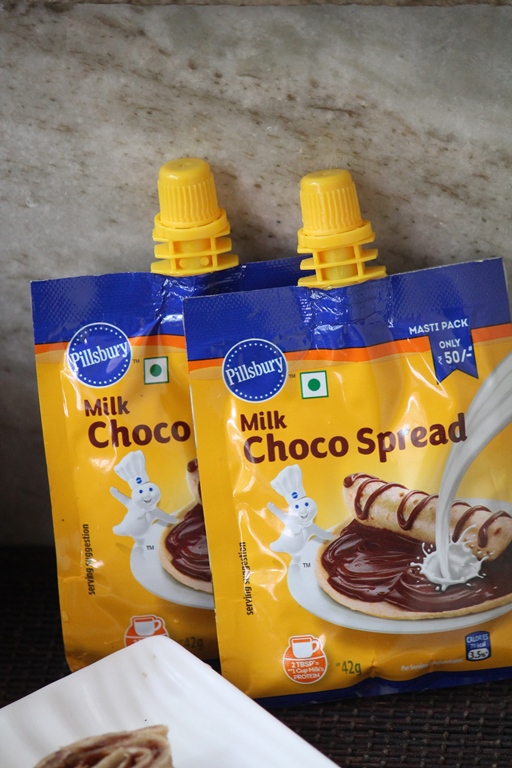 Pin
I have teamed up with Pillsbury Milk Choco Spread to bring you this post. You all know i will never promote a product if i don't use it. This Pillsbury choco spread is so good that my little one sucks it straight from the pouch.
Pillsbury Milk Choco Spread has a goodness of 1 cup milk's protein in just 2 tblsp of the spread. I feel really happy that now i don't have to run behind my little one to make her finish those rotis. This spread will take care of it, You can even spread it over some bread slices and make sandwiches using this.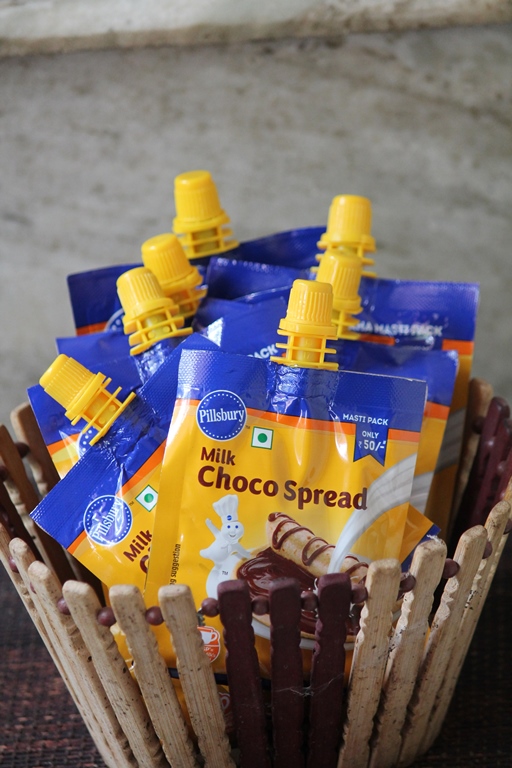 Pin
Similar Recipes for Kids,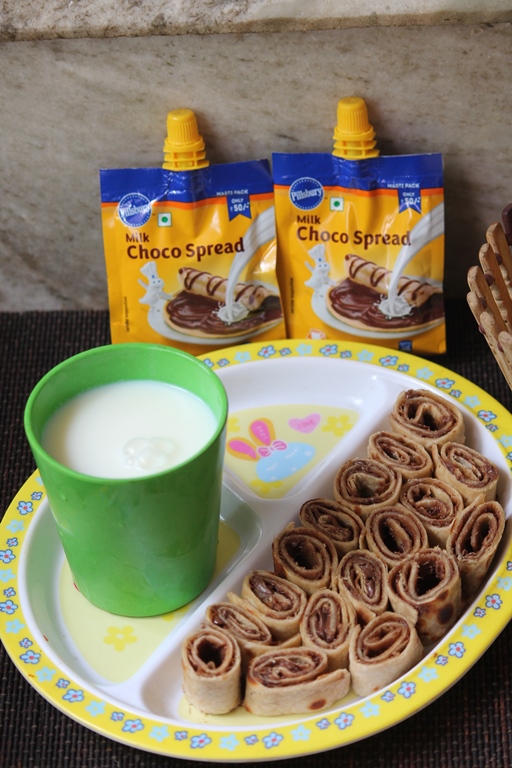 Pin
Hope you will give this a try and let me know how it turns out for you.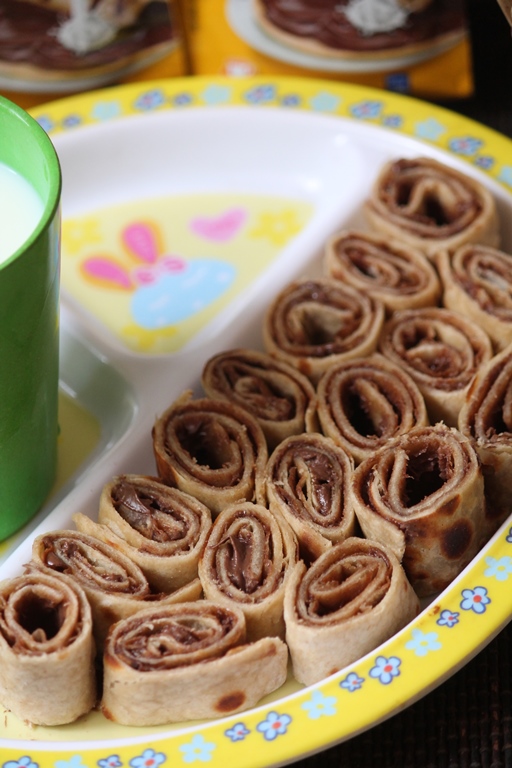 Pin
NEED A PROOF THAT YOUR LITTLE ONE WILL LOVE THIS RECIPE FOR SURE. HERE YOU GO!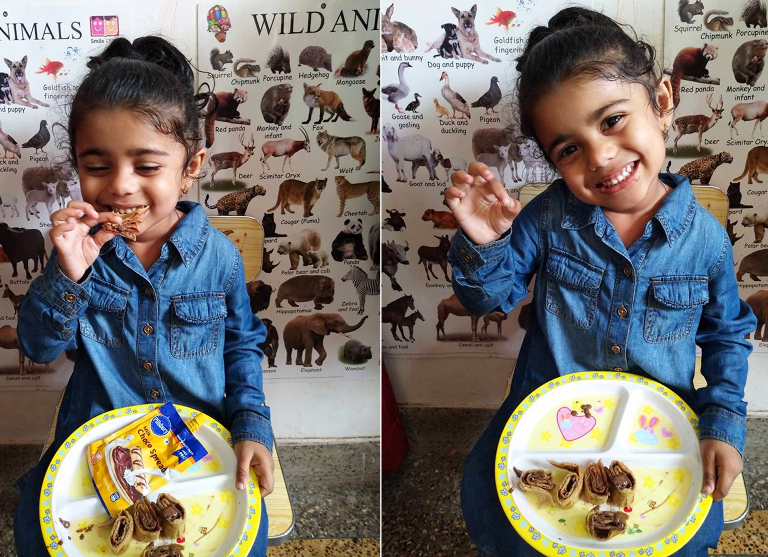 Pin
📖 Recipe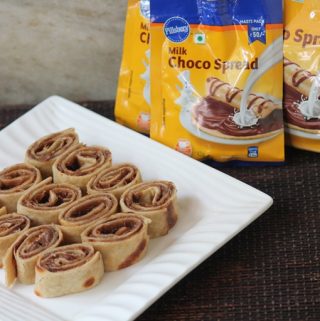 Chocolate Pinwheels Recipe using Pillsbury Milk Choco Spread
Delicious chocolate pinwheels made using healthy chapati and pillsbury choco spread. This cute tasty bites makes a great lunch box recipe.
Ingredients
Whole Wheat Flour - 1 cup

Salt to taste

Milk as needed for making dough

Pillsbury Milk Choco Spread as needed
Instructions
Take wheat flour and salt in a bowl and mix well.

Add milk slowly and knead to a soft dough.

Take small portion of dough and roll it into a chapati.

Cook chapati in a pan till done. Remove and cool it down.

Now take a chapati, spread pillsbury choco spread over it and roll it tightly.

Cut into small pieces and serve.

This makes a great lunch box recipe too.
 Pictorial:
1)Start by making chapati dough. Take whole wheat flour in a bowl.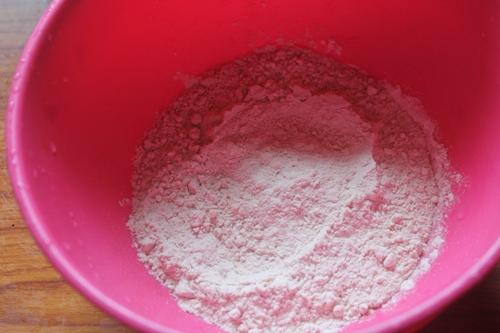 Pin
2)Add salt to taste.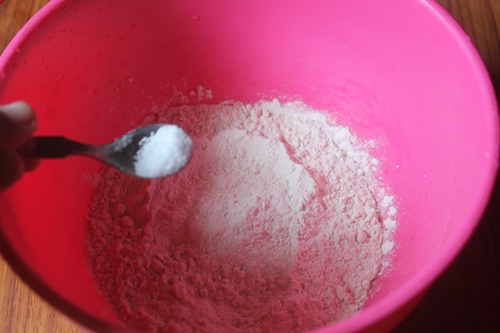 Pin
3)Mix well.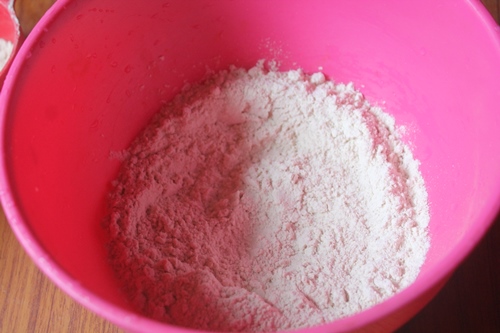 Pin
4)Add in milk, you can use water to make the dough as well.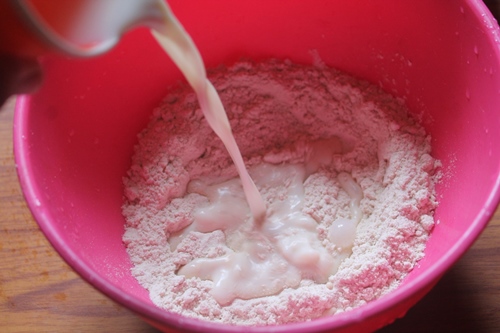 Pin
5)Mix well using a fork.
Pin
6)Now bring the dough together using your hands and knead to a soft dough.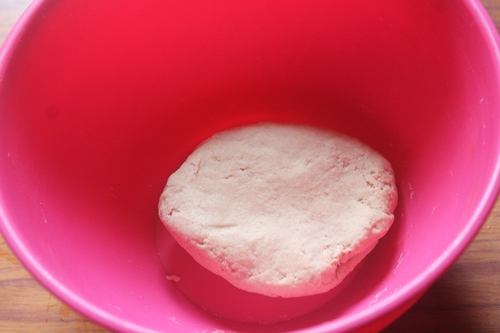 Pin
7)Take a portion of dough.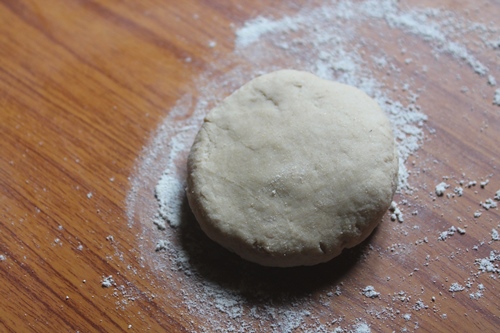 Pin
8)Roll it on a floured surface.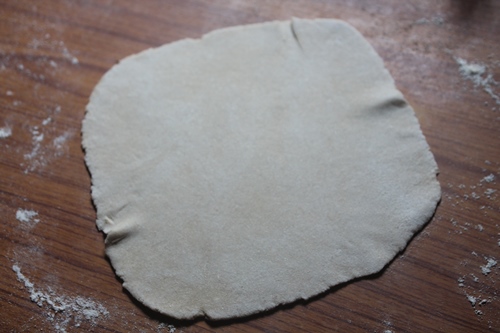 Pin
9)Cook it on a tawa till it is cooked on both sides.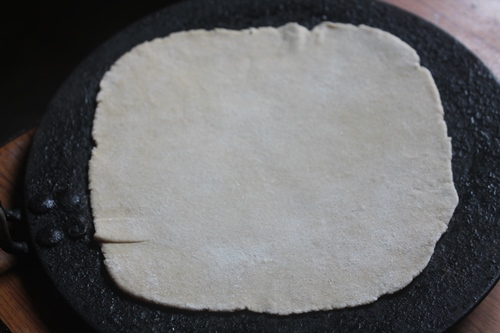 Pin
10)When you see small bubbles on top, flip over the roti.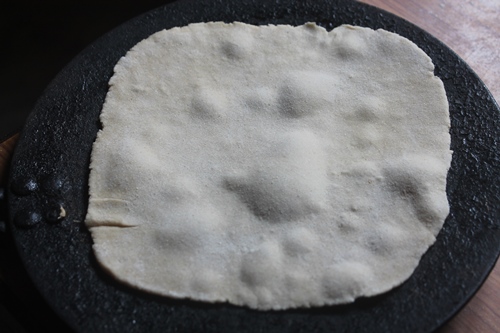 Pin
11)Cook on other side too. Remove the rotis and set aside to cool down.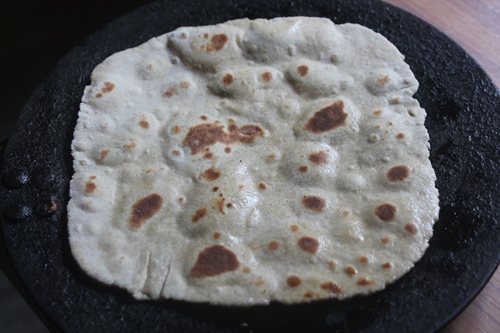 Pin
12)Now lets make the tasty pinwheels. For that i used Pillsbury Milk Choco Spread.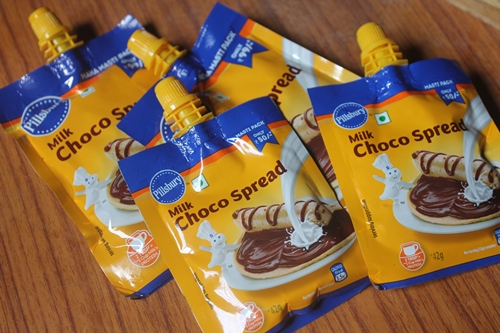 Pin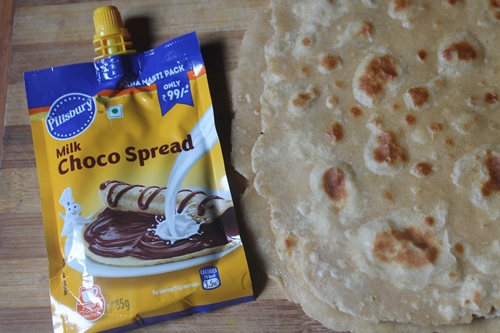 Pin
13)Spread it over the roti.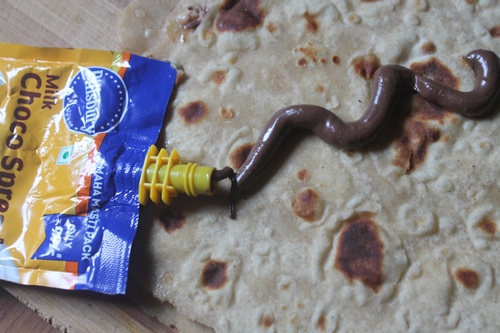 Pin
14)Spread it evenly.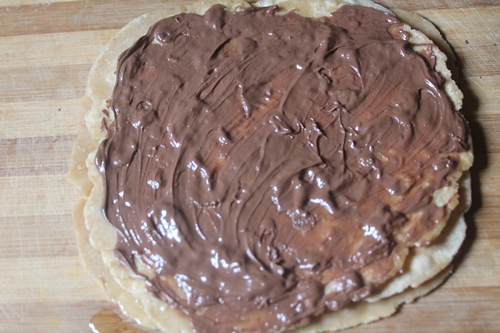 Pin
15)Roll it tightly.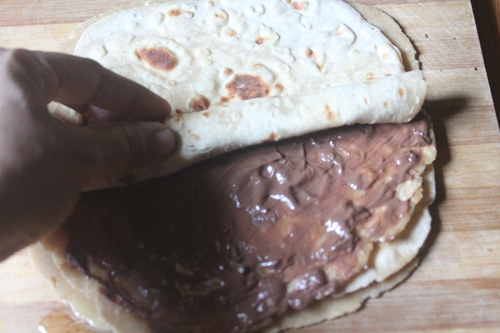 Pin
16)Done.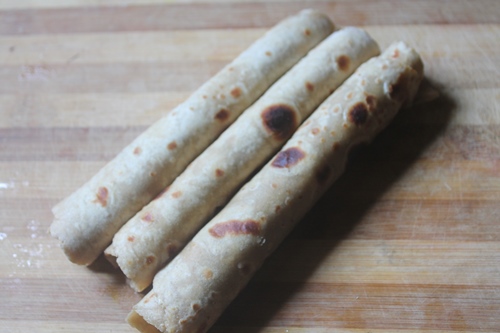 Pin
17)Cut into small pieces.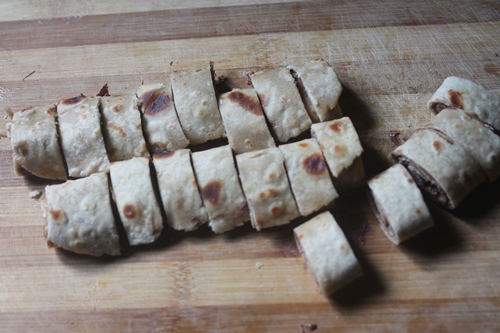 Pin
18)Serve.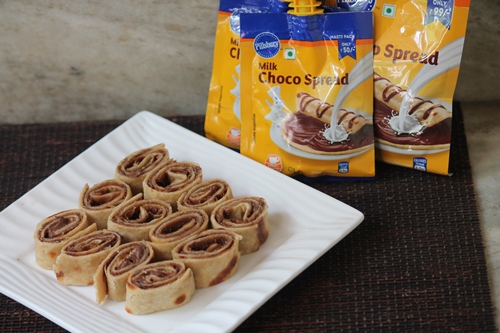 Pin