Ultimate Christmas Pudding Recipe - Christmas Special Recipes with step wise pictures.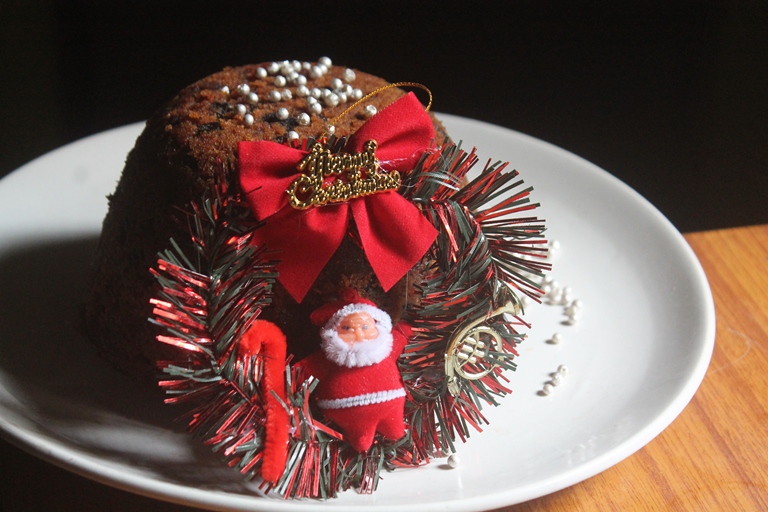 Pin
Delicious christmas pudding which is super easy to put together. But it taste so delicious, moist and full of flavour.
About Christmas Pudding Recipe
This is one of the classic pudding recipe. It is so good, when i say it is good then it is wonderful. I am not a big cake eater, but this one is total different it is delicious very fruity and tasty. This pudding is just so moist and decadent.
I have never tasted christmas pudding before, this is my first time in trying and tasting it. The taste is similar to a rich fruit cake. It has a very rich fruit aroma of raisans in them.
What is Christmas Pudding?
Christmas pudding is a type of pudding traditionally served as part of the Christmas dinner in the UK, Ireland and in other countries where it has been brought by British emigrants. It has its origins in medieval England, and is sometimes known as plum pudding or just "pud",though this can also refer to other kinds of boiled pudding involving dried fruit.
Despite the name "plum pudding," the pudding contains no actual plums due to the pre-Victorian use of the word "plums" as a term for raisins.The pudding is composed of many dried fruits held together by egg and suet, sometimes moistened by treacle or molasses and flavoured with cinnamon, nutmeg, cloves, ginger, and other spices.
The pudding is usually aged for a month or more,or even a year; the high alcohol content of the pudding prevents it from spoiling during this time.
Similar Recipes,
Steamed Chocolate Cake
Steamed Idli Cake
Orange Jelly
Strawberry Jelly
Mango Pudding
Sago Pudding
Apple Pudding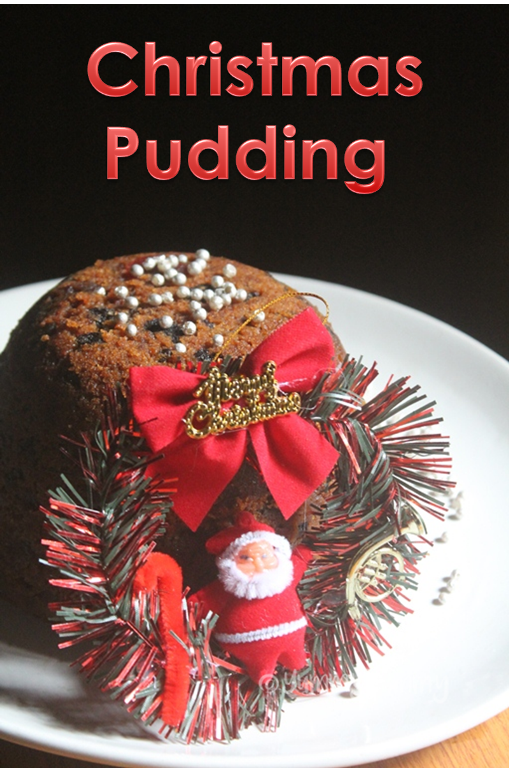 Pin
How to Light Christmas Pudding (Video)
Place pudding over a heat safe plate.
Take a small sauce pan, add some alcohol in it. I used rum. You can use vodka for longer burning, since vodka has higher alcohol content.
Once the liquor gets hot. Light fire over it using a lighter.
Pour the alcohol over the pudding slowly.
Enjoy the magical moment.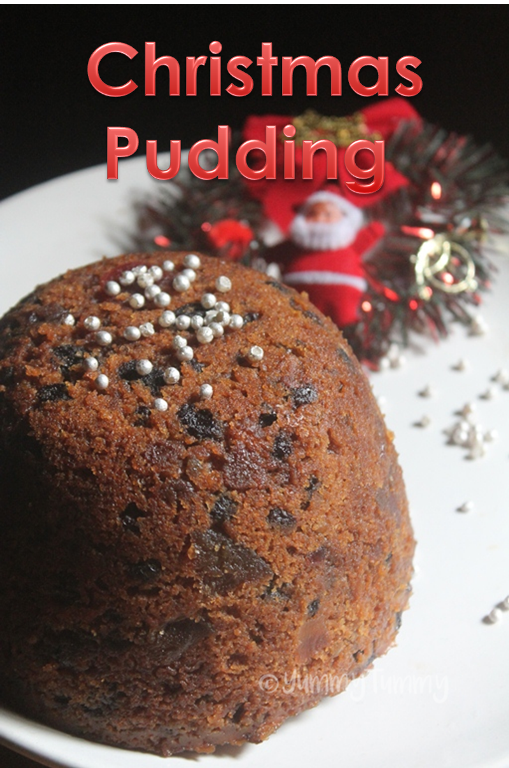 Pin
The tradiational way of making christmas pudding is. the mixture is placed in several layers of pudding cloth and boiled in lots of water. A huge amount of alcohol is added which prevents it from getting spoiled. The pudding will be made weeks before and then it is re-steamed to make it soft. Then when the time of serving, the pudding is placed in a heat safe pan and rum or any alcohol is poured over it and is flamed. Then it is served with rum butter or icecream or cream.
Check this video to see how to flame this christmas pudding.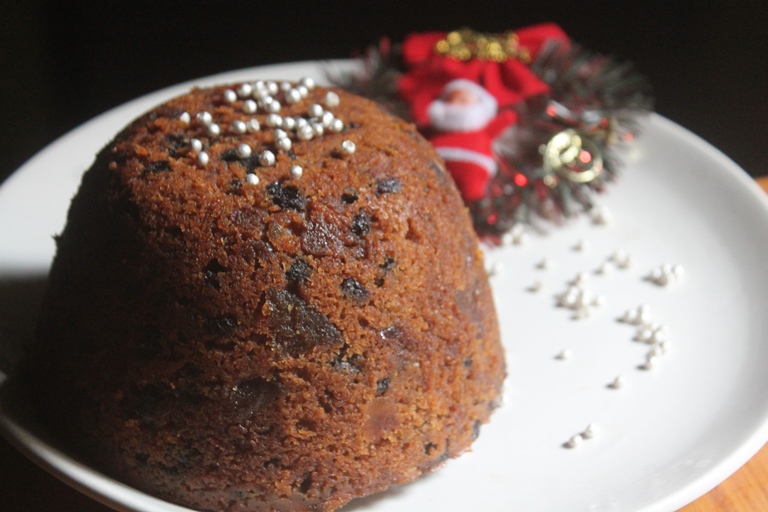 Pin
Hope you will give this a try and let me know how it turns out for you.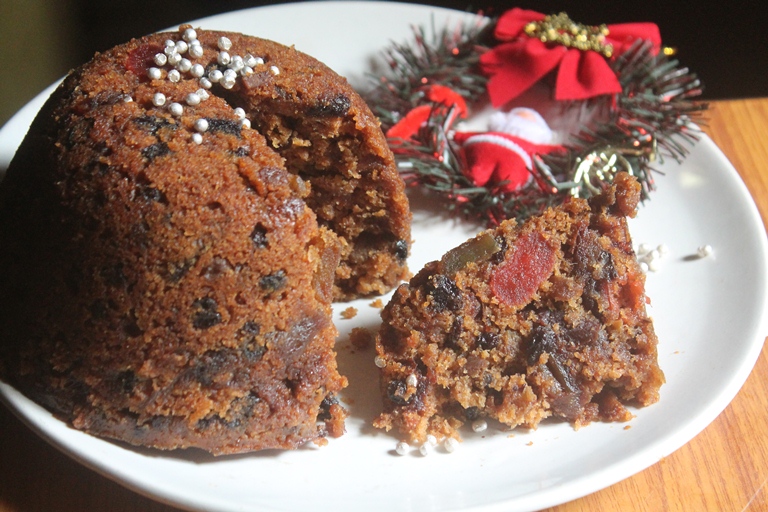 Pin
📖 Recipe Card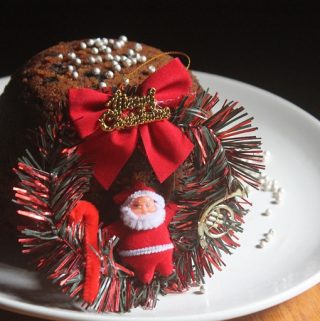 Christmas Pudding Recipe (Plum Pudding Recipe)
Delicious christmas pudding which is super easy to put together. But it taste so delicous, moist and full of flavour.
Print
Pin
Rate
Ingredients
Dried Fruits - 2.5 cups to 3 cups
(I used 1.5 cup raisans,¼ cup sultanas, ¼ cup currants, ⅛ cup dates, ⅛ cup candied peels, ⅛ cup prunes & ⅛ cup of mixed dried fruits like strawberries, kiwi, ginger, pineapple & cherries)
Rum or Orange Juice or Wine - ¼ cup

All Purpose Flour / Maida - ½ cup

Breadcrumbs - ½ cup

Unsalted Cold Butter - 75 grams grated and kept cold

Brown Sugar - ⅓ cup

Cinnamon Power - ½ tsp

Ground Cloves - ¼ tsp

Baking Powder - ½ tsp

Lemon Zest from 1 lemon

Egg - 1

Apples - ½ a grated apple

Honey - 1 tblsp
Instructions
Mix all ingredients in a bowl except dried fruits.

Once it is combined. Add in dried fruits along with the liquid.

Fold gently.

Spoon it in a well greased 0.5 liter oven safe glass bowl.

Take a parchment paper and grease it with oil or butter. Place it over the pudding bowl and place a sheet of foil over it and press it well. Now seal with a elastic band

Place it in a sauce pan, which has a small bowl or saucer in the bottom. Place the pudding bowl over it. Cover it with water till it comes half way through the bowl. Cover and steam the pudding for 1 hour and 45 mins.

Now insert a toothpick to check whether the pudding is done.

Now remove it from pot and cool for 5 mins. Now run a knife around the edges.

Now invert it to a plate.

Serve.
Video
Join us on Facebook
Follow us on Facebook
Share by Email
Share on Facebook
Christmas Pudding Recipe Step by Step Pictures
1)Take your dried fruits. I used more than i needed for this recipe because i wanted to makes some other recipes using these fruits too.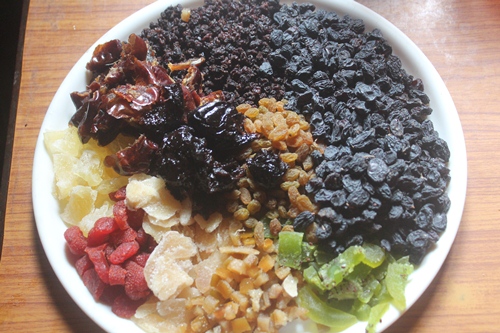 Pin
2)Take it in a container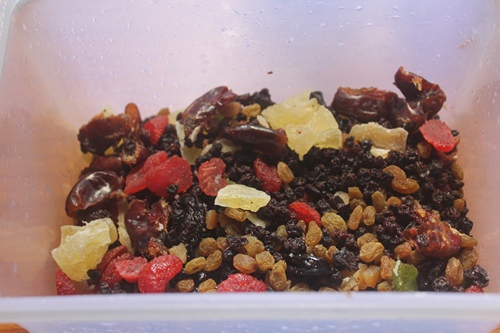 Pin
3)Add in rum or wine or orange juice.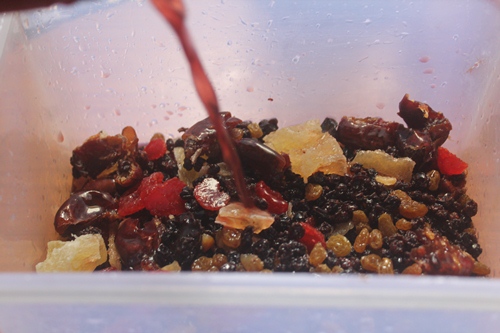 Pin
4)Mix well and leave to steep in fridge for a week or atleast 2 days.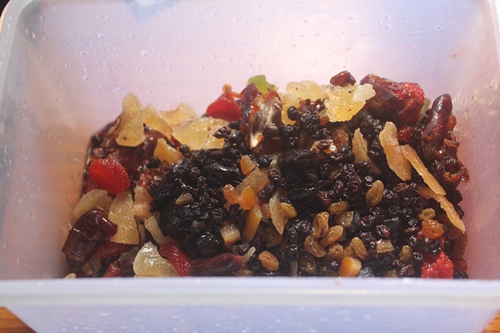 Pin
5)This is how it looks after it is been steeping for 1 week.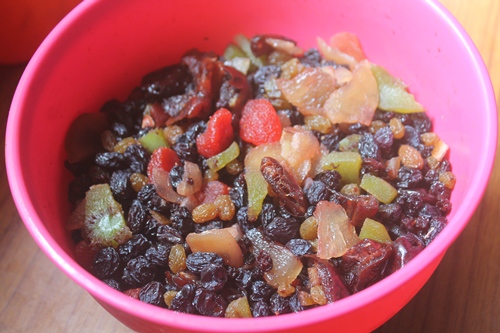 Pin
6)Butter a 0.5 liter pudding bowl. The bowl has to be oven safe.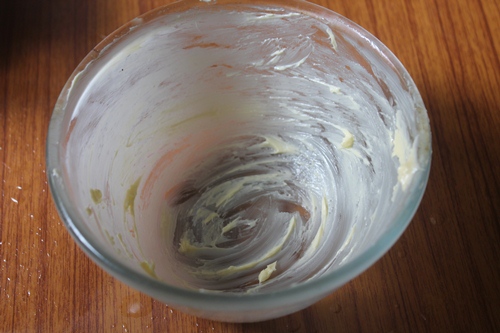 Pin
7)Take all purpose flour in a bowl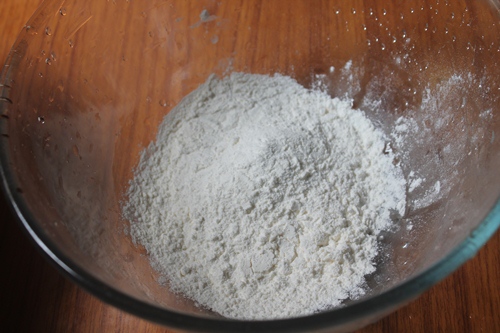 Pin
8)Add in breadcrumbs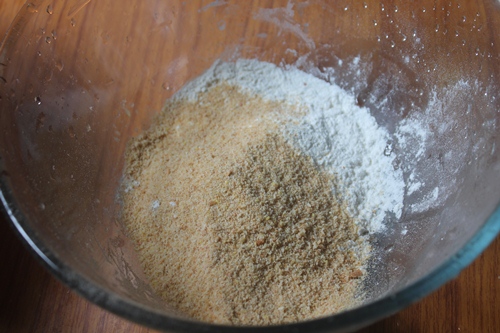 Pin
9)Add in brown sugar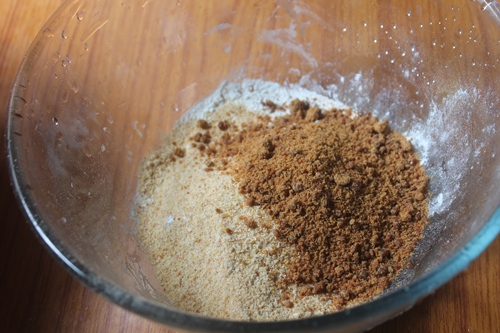 Pin
10)Add in baking powder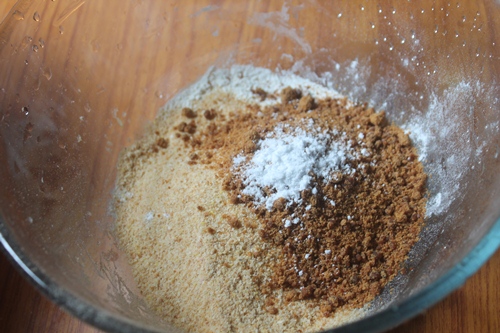 Pin
11)Add in cinnamon powder and nutmeg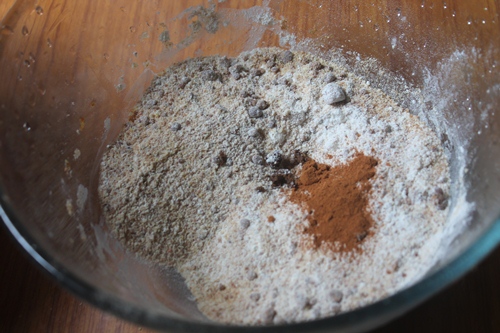 Pin
12)Add in grated apple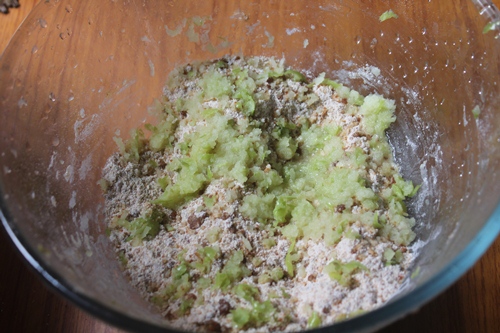 Pin
13)Add in honey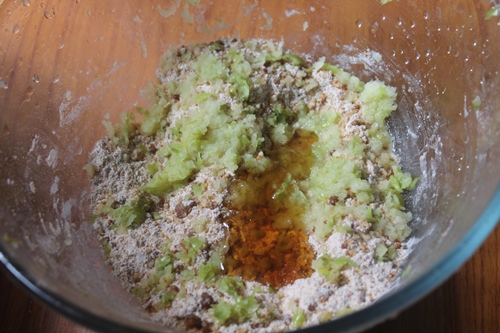 Pin
14)Add in egg
Pin
15)Add in lemon zest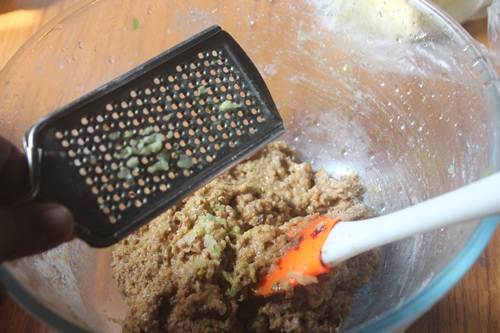 Pin
16)Add in grated cold butter.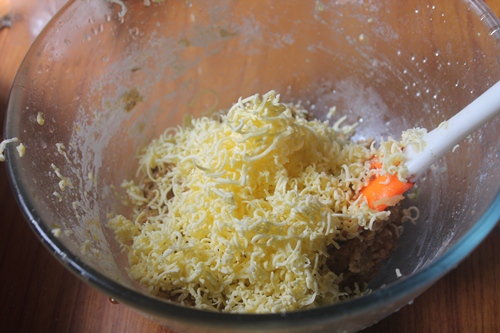 Pin
17)Add in soaked fruits along with rum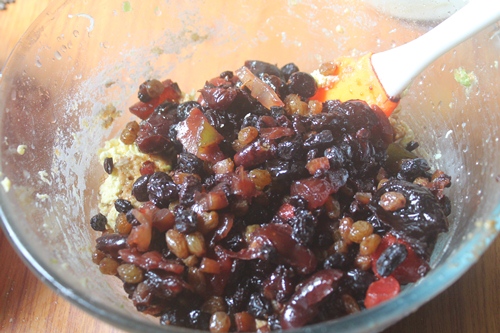 Pin
18)Mix well.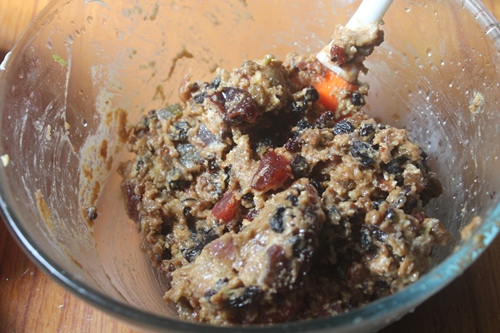 Pin
19)Spoon it in the pudding bowl.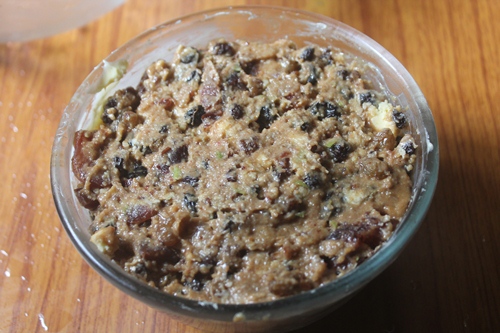 Pin
20)Cover with parchment paper.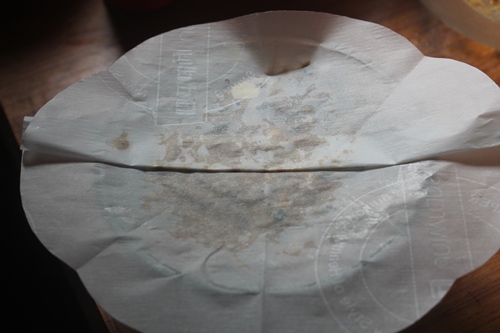 Pin
21)Cover with foil.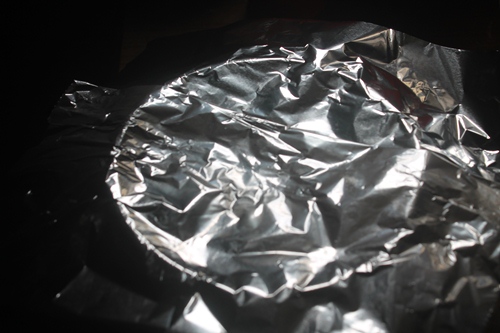 Pin
22) cover it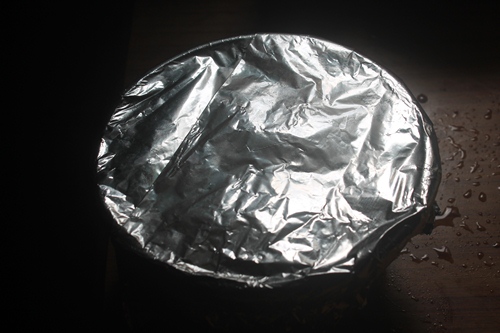 Pin
23)seal it with a elastic band
24)take a pot and fill with water , place a plate
25)place the pudding bowl in a sauce pan.
26)Cover with a lid and steam for 1 hour 45 mins
27) This is how it looks.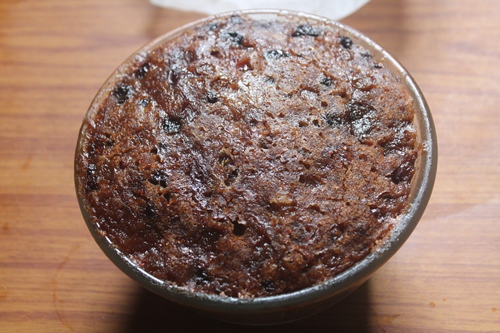 Pin
28)Invert it to a plate.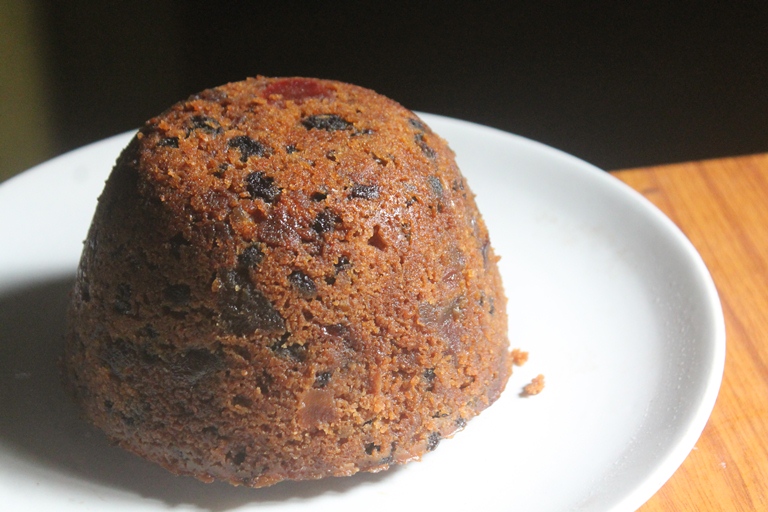 Pin
29)Serve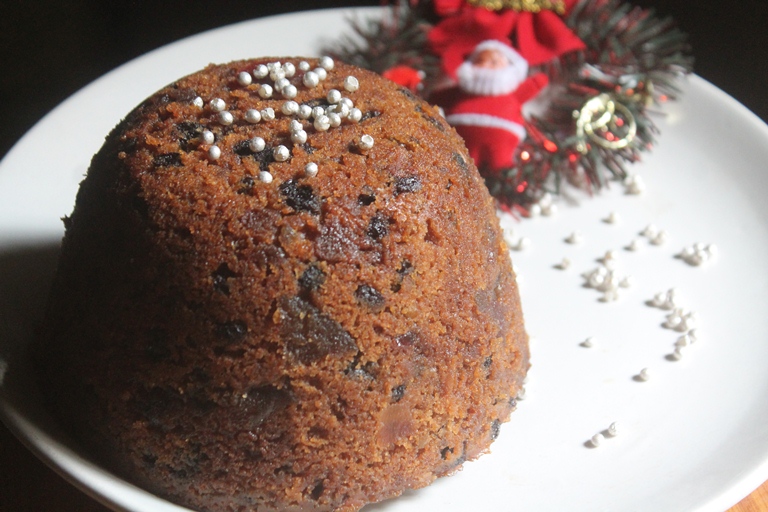 Pin