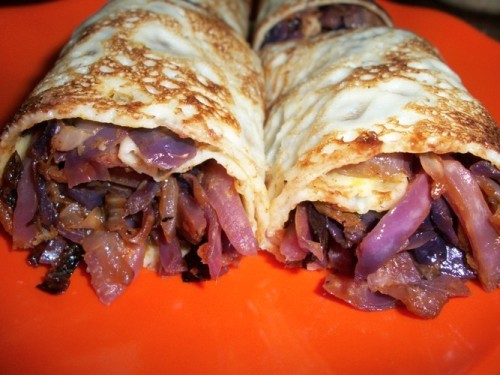 Crepes Roll
Crepes is a very thin pancake made with flour,eggs and milk.This dish is originated from france.The main thing for this crepes is the pancake should be very thin.For that make the batter very watery,but not so watery..Dont add water to this batter,make the batter entirely with milk.I recommend to make the batter the day before so that you will get the perfect crepes.(ie)If you are planning to make this in the morning,just whip up this batter in the night and set it in the fridge.You could literally use any filling like chicken,mushroom,paneer or anything…You could even sprinkle some sugar in this and eat it..If you like to try any other filling just check this link…This is perfect for breakfast,lunch,dinner any time.This recipe is modified from Showmethecurry.com….So Hope you try this and let me know what you think
Ingrediants:
For Batter:
Flour(Maida)-1 cup/250 gm
Egg-1
Milk-300 ml
Salt-1 tsp
Butter-1 tblspn(melted)
For Vegetable filling:
Onion-1 sliced
Cabbage-1 cup shredded
Carrot-1 shredded
Salt-to taste
Pepper-1 tsp
For Egg filling:
Egg-2
Spring onion-2 chopped
Tomato-1 chopped
Green chilli-1 chopped
Salt to taste
For Sweet Filling:
Nutella-2 tblspn
Desiccated Coconut-2 tblspn
Banana-1 chopped
Method:
Mix the ingrediants for batter and let it sit for 2-3 hours in fridge(over night is best).
In a non stick frying pan add a tsp of oil and heat it up.Then pour a ladleful of batter in the hot tawa and swirl the pan,so that the batter spreads evenly and thinly..
Cook on both sides till crisp and cooked.Remove the crepes and place it on a plate.Continue this process till all batter is finished.
For vegetable filling,Add oil in a kadai and cook all the vegetables till completely cooked.Season with salt and pepper.
For Egg Filling,Take a bowl and whisk every ingrediants together.Heat a kadai and scramble this till done.
Now assemble the crepes by adding a spoonful of any filling inside the crepes and roll it.
For Sweet Crepes,take the crepes and add a tblspn of nutella and spread it evenly.Then add coconut and banana and then roll the crepes.
Enjoy your crepes.
Pictorial:

Start by making the batter for crepes(And for your information..I wrongly arranged the picture while editing…The first one should come last..He He…Excuse me..)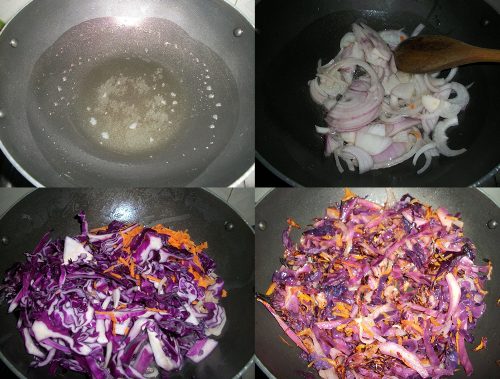 Make the veggie filling by sauteing vegetables in oil …

and some chilli powder and some salt…1st filling Done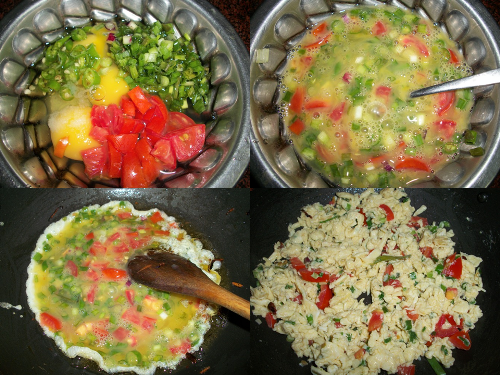 Now make the Egg filling by scrambling eggs with veggies….2 nd filling Done….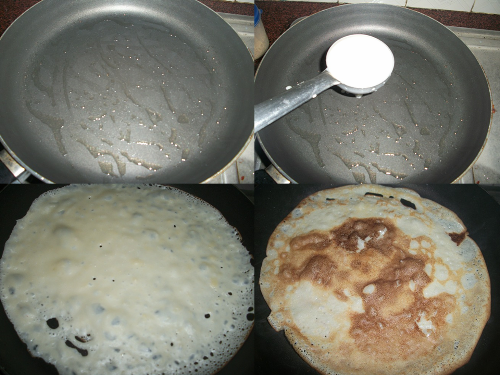 Make crepes by pouring a ladleful of batter in the tawa and cook on both sides…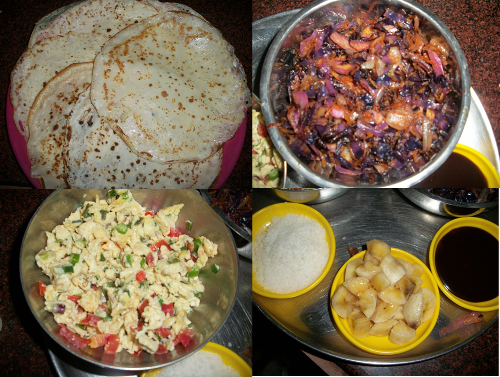 Now take everything ready…Crepes, Veggie Filling, Egg Filling and your sweet filling (banana,coconut,chocolate syrup)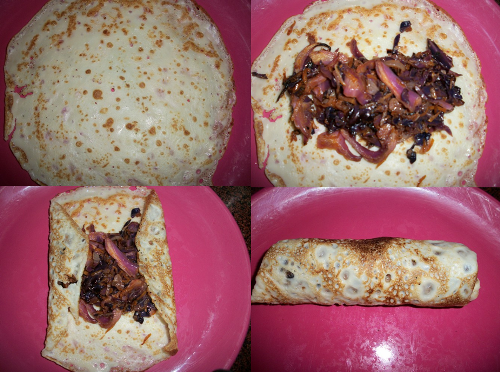 Put your filling inside crepes and roll it

Do the same…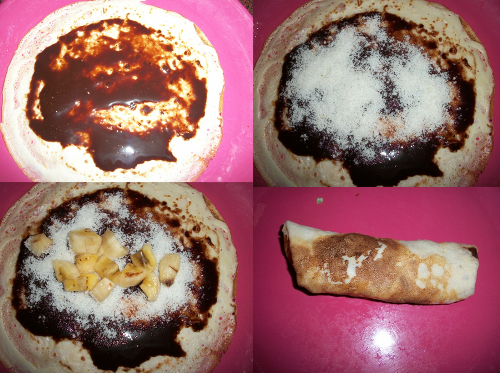 Here too….