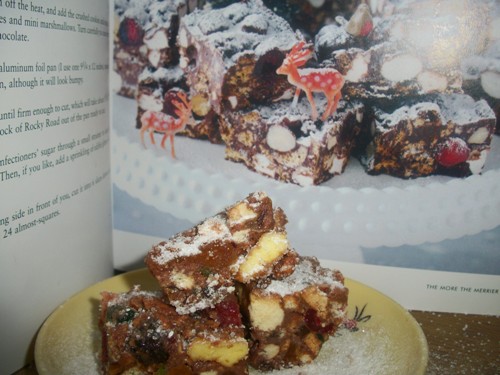 Crunchy Nutty Chocolate
Hope everyone had a Great weekend..I enjoyed this weekend by Cooking(ofcourse),had a Great Shopping and Slept a lot(Yes,tired of Shopping).Lets start this week with a Delicious Simple Chocolate.I know everyone loves chocolate.But I love it it anyform especially this one.I made this for my
Sister
, She was asking me to do this for such a long time for her friends.This week I thought of making it and I Made it.
This is one of Nigella Lawson's Recipe,I got this from one of her Best selling book "Nigella Christmas".But I made slight modifications as usual..But it still looks like the same thing in the picture(check out the picture down).YAY..I DONE IT AGAIN….The cool thing in this recipe is with a little amount of good Chocolate you could get a massive amount of chocolate bars.Totally I got around 40 bars of chocolate pieces(Imp:Most of them I finished that day itself…Yippee).This is great as giving presents or for a party.The original recipe calls for dark chocolate chips,I couldn't find that amazing thing anywhere over here…So I used Bournville Dark chocolate Bar(80rs pack),If any of you find that wonderful chocolate chips anywhere here,please let me know.Also you could use any nuts as per your wish or skip any nuts if you don't like them.This is a extremely flexible recipe,You could make it as per your taste.Ok Give it a try and please leave comments.
Ingrediants:
Dark chocolate-1 bar / 100 gms
Milkmaid / Condensed milk-1 Tin / 400 gms
Marie Biscuit – 30-40 Pieces
Butter-100 gm
Apricot-1/2 cup sliced
Tutti fruity-1 cup(I used mixed colours)
Raisans-3/4 cup
Badam / Almonds -1/2 cup chopped
Cashew-1/2 cup chopped
Cherry-1/2 cup chopped
Dates-1/2 cup chopped
Marshmallow-1/2 cup chopped in to small pieces(optional)
Icing Sugar-to dust on top
Method:
In a Microwave safe bowl,add in broken Dark chocolate and Butter and melt for 1 min,Give it a stir.At this point the chocolate mixture will look like a molten pool of chocolate.
Crush the biscuit roughly(ther should be some dust and some crumble).
In the chocolate pool,add milkmaid and mix well.
Add in all the nuts,Cherry and mix well.
Fold in the crushed biscuit and give everything a good mix,until every thing is shinely combined.
Tip the mixture in Aluminum Tins or any Greased tray.Cover and set it in the Deep freeze over night.
When ready cut it into squares and Dust it with icing Sugar.Eat it atonce or you can even give as presents.
Enjoy..
Pictorial: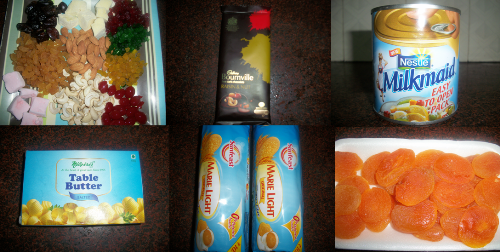 Ur ingrediants

Crush biscuits and chop up nuts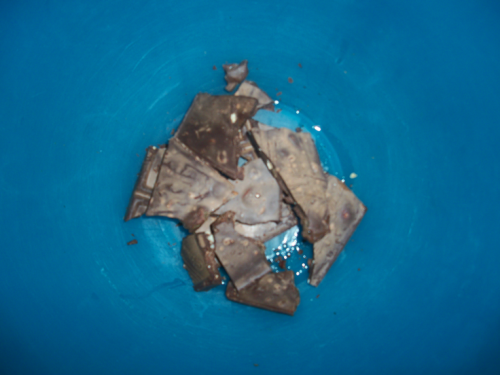 Take Chocolate in your mixing bowl..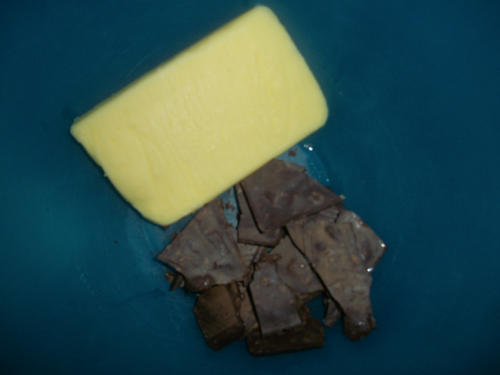 add some butter to it..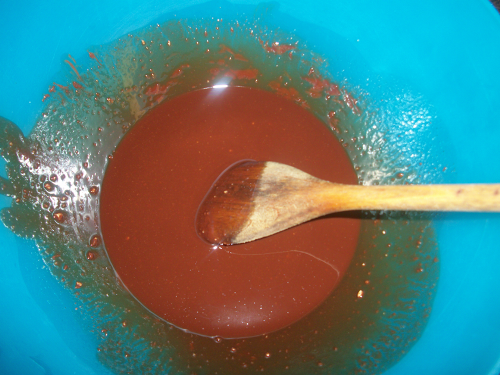 Melt your chocolate and Butter…Looks glossy right…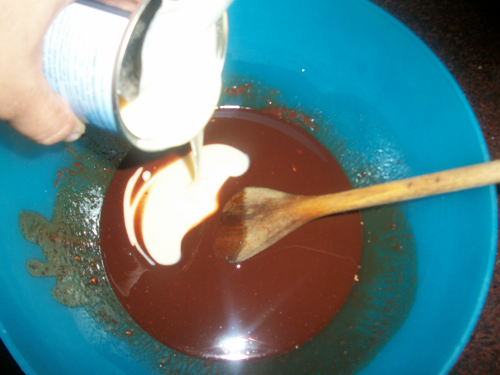 Pour in your condensed milk..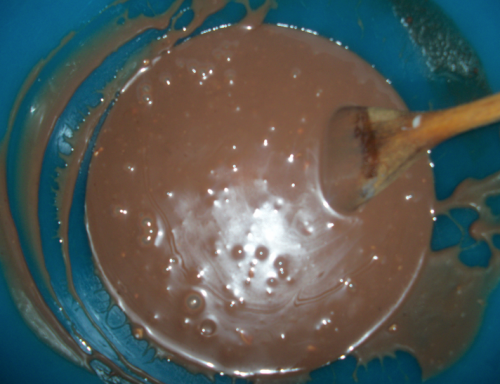 Mix well…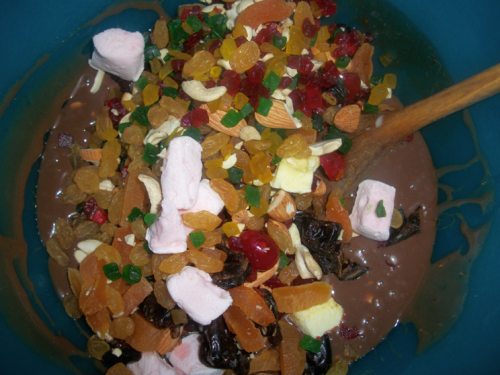 Add all your nuts…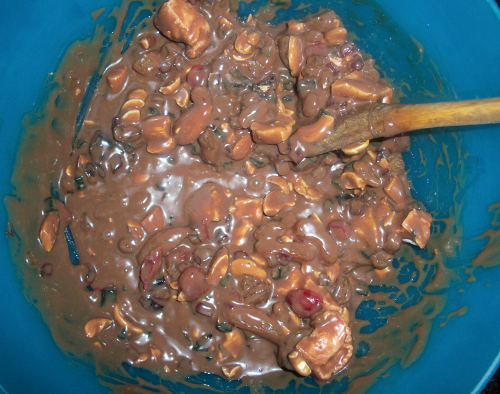 Mix till combined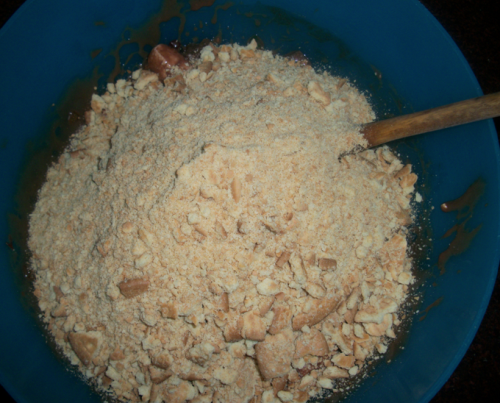 Now throw in the crushed Biscuits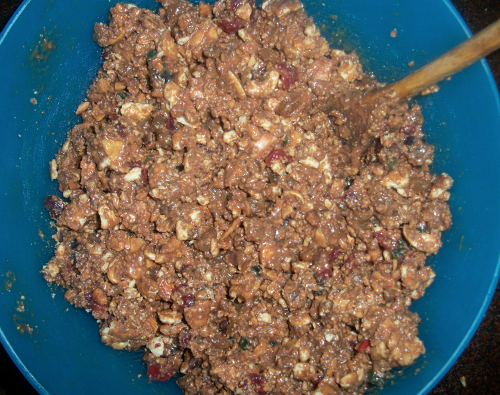 and mix well…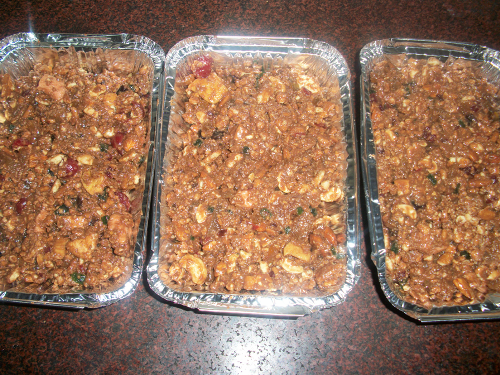 Empty it in three tins…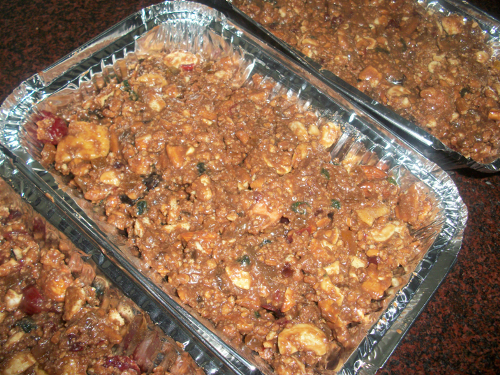 Looks great right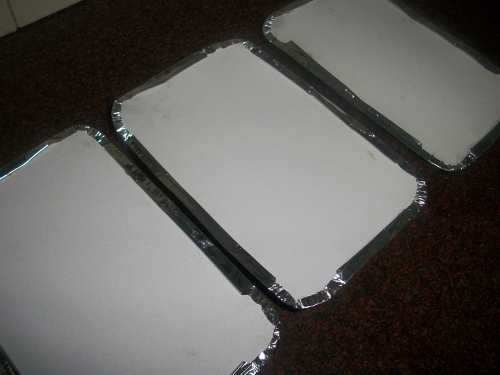 Cover it…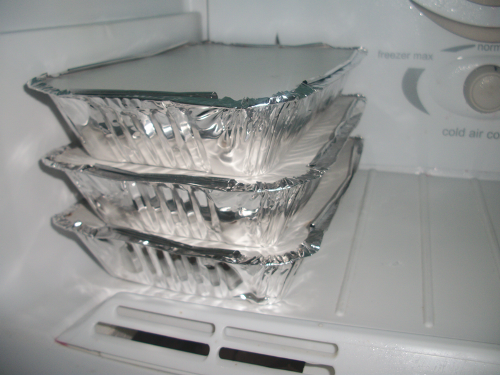 Set it in deep freeze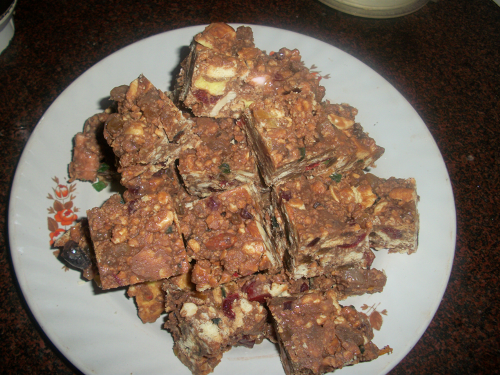 Cut them into pieces and arrange them in platter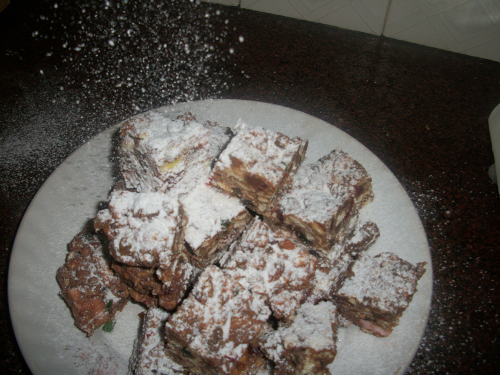 Dust some icing sugar on top…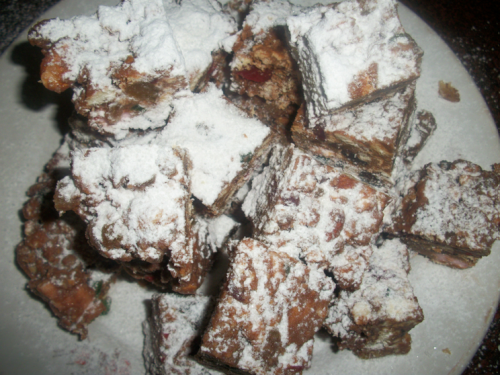 YUM YUM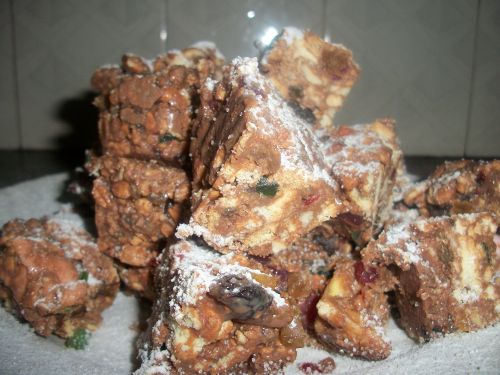 And DIG IN…