Custard Powder Cake Recipe - Eggless Loaf Cake Recipes with step wise pictures.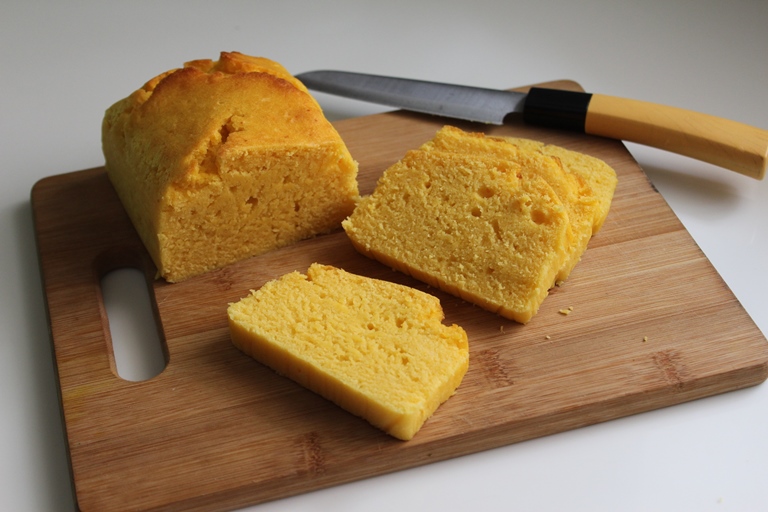 Pin
This delicious eggless cake which is not only easy to make but is so moist and soft. The cake has custard powder as an egg substitute and it add a nice texture and kids will love it for sure.
About Custard Powder Cake Recipe
I love baking loaf cake more than anything else. Not only because it is easy to make, but it makes a great thing to have as morning breakfast. I am not a big morning person, but i like to enjoy a warm slice of cake in the morning along with a cup of tea, coffee or in my case a cup of green tea.
Loaf cakes are always baked in a loaf pan, whereas other square or round tins are used for other cakes. Even though both cakes and loaf cakes contain similar ingredients, the proportions of flour, fat, sugar, and mixing methods differ and affect the final product.
Loaf cakes are also known as pound cakes because they were
traditionally made with one pound of each of the following ingredients: butter, eggs, flour, and sugar. This cake is made with five ingredients, as I've added some vanilla extract for wonderful flavour.
Banana Cinnamon Muffins
Banana Cornflakes Muffins
Citrus Mango Muffins
Banana Chocolate Muffins
Eggless Banana Nuts Muffins
Eggless Banana Oats & Dates Muffins
Oats Bran Muffins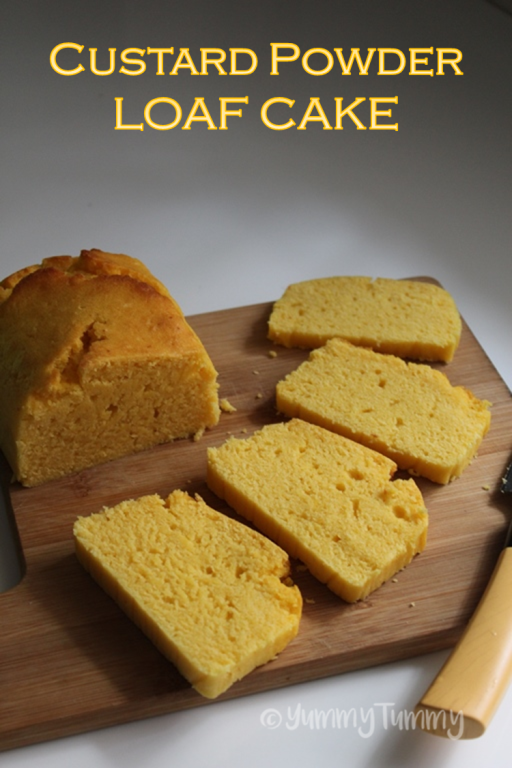 Pin
Ingredients for Custard Powder Loaf Cake Recipe 
Custard Powder 
Custard Powder is a flavoured thickening agent used to make desserts. It is made up of cornflour, table salt, annatto (derived from the achiote tree), and flavouring agents. Vanilla is one of the most commonly used flavourings in Custard Powder. Custard Powder typically has a yellowish tint.
Baking Powder 
Baking powder is used in baked goods to increase volume and lighten the texture. It works by releasing carbon dioxide gas into a batter or dough via an acid-base reaction, which causes bubbles in the wet mixture to expand and leaven the mixture.
Vanilla Extract 
Vanilla extract is always added to desserts because it adds flavour chemically and also brings out the flavours of other ingredients in the mixture.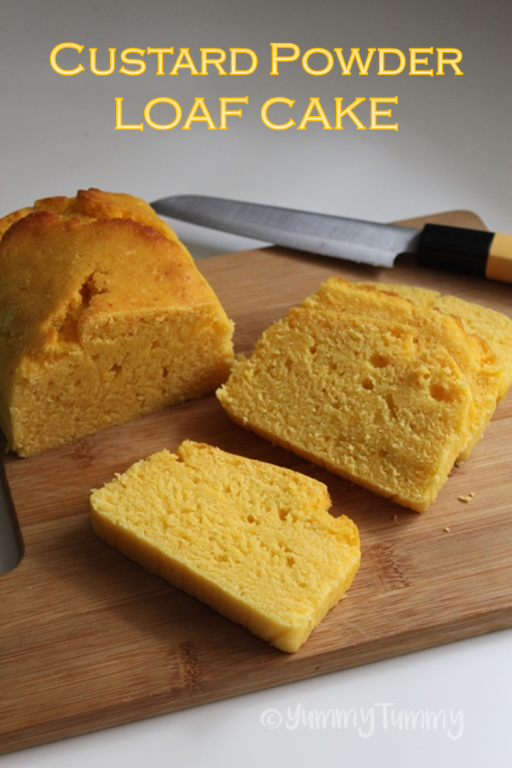 Pin
Hope you will give this a try and let me know how it turns out for you.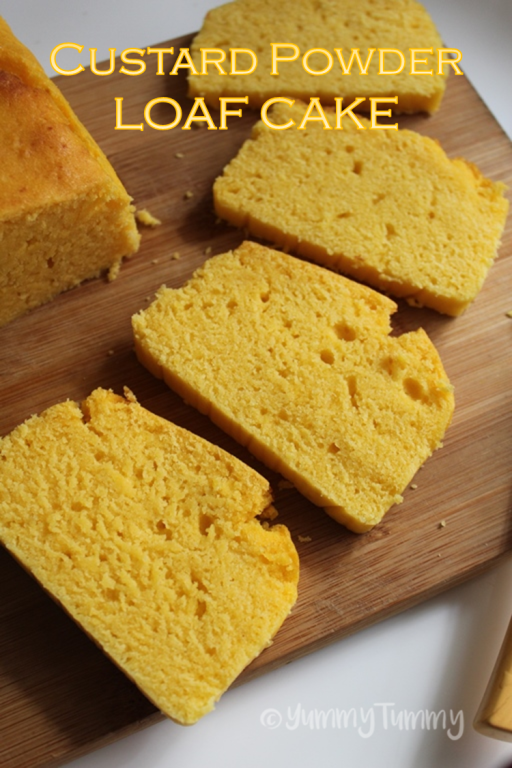 Pin
If you have any questions not covered in this post and if you need help, leave me a comment or mail me @[email protected] and I'll help as soon as I can.
Follow me on Instagram, Facebook, Pinterest ,Youtube and Twitter for more Yummy Tummy inspiration.
IF YOU MAKE THIS RECIPE OR ANYTHING FROM YUMMY TUMMY, MAKE SURE TO POST IT AND TAG ME SO I CAN SEE ALL OF YOUR CREATIONS!! #YUMMYTUMMYAARTHI AND @YUMMYTUMMYAARTHI ON INSTAGRAM!
📖 Recipe Card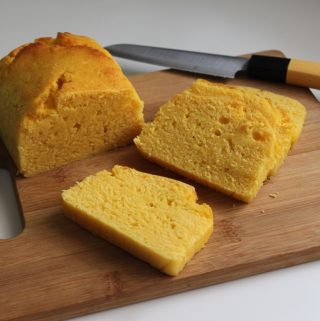 Custard Powder Cake Recipe
This delicious eggless muffins which is not only easy to make but is so moist and soft. The tutti fruity in this muffin add a nice texture and kids will love it for sure.
Print
Pin
Rate
Ingredients
All Purpose flour / Maida - 1 ½ cup

180 grams

Custard Powder - ½ cup

Sugar - ¾ cup

150 grams

Baking powder - 1 ½ tsp

Vanilla Extract - 1 tsp

Milk - 1 ½ cup

360 ml

Butter - 100 grams

½ cup
Instructions
Preheat oven to 180 degree C. LIne a loaf pan with parchment paper.

Mix flour, custard powder, baking powder and sugar in a bowl and mix well.

In another bowl. Take butter, vanilla and milk. Mix well.

Pour this over the dry ingredients and fold gently.

Spoon this into the parchment lined baking pan and bake for 40 to 45 mins.

Remove and cool completely.

Serve.
Join us on Facebook
Follow us on Facebook
Share by Email
Share on Facebook
Custard Powder Cake Recipe Step by Step Pictures
1)Take flour in a bowl
Pin
2)Add custard powder
Pin
3)Add sugar
Pin
4)Add baking powder
Pin
5)Mix well
Pin
6)I transferred to a bowl for easy mixing
Pin
7)Take soft butter in a bowl
Pin
8)Add in vanilla
Pin
9)Add milk
Pin
10)Mix well
Pin
11)Pour this into the dry ingredients
Pin
12)Fold gently
Pin
13)Line a loaf pan with parchment paper.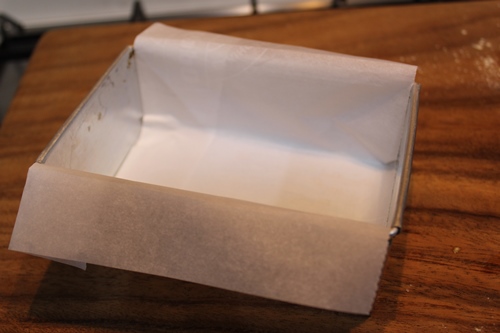 Pin
14)Spoon batter into the pan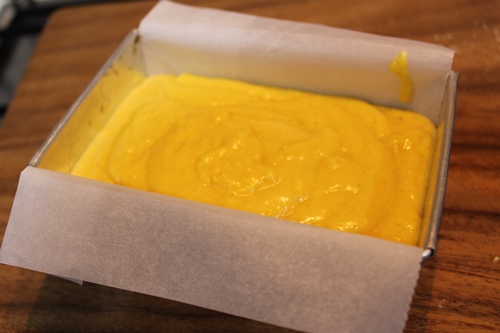 Pin
15)Bake till done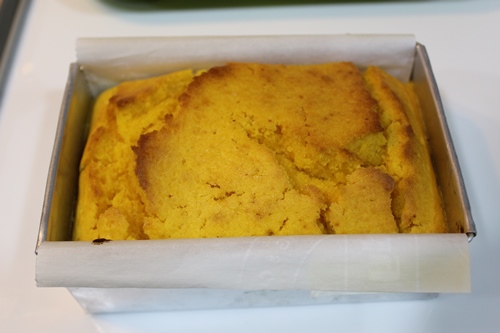 Pin
16)Remove and cool completely. Slice and serve.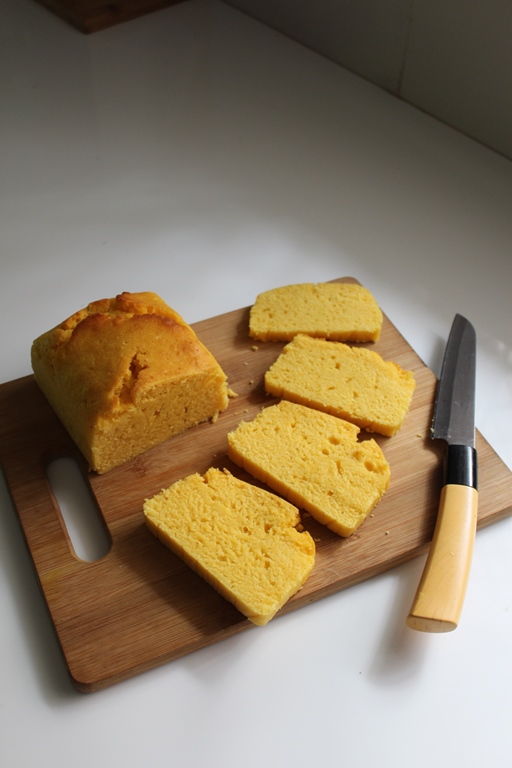 Pin
Frequently Asked Questions
Why is it called loaf?
The modern English word loaf is derived from the Old English word hlaf, which is derived from the Proto-Germanic *khlaibuz.
Why is custard powder used in cakes?
With its characteristic flavour, custard powder is often used as a raw material to overwhelm the fishy taste of eggs in some cakes and create a delicious, attractive flavour. - Mix into flour: Custard custard is often mixed with ingredients to make cakes of some cakes such as banana bread, chips, cakes, bread or egg.