Introduction
Vegetables are essential to everyone's diet. They are full of nutrients and have plenty of benefits for our bodies. Everyone should incorporate them into daily meals, whether you are young or old.
Compared to the traditional method, cooking vegetables in the Instant Pot can be super quick and easy. Also, the benefit of cooking veggies in the Instant Pot is that it preserves the texture, color, and nutrients. In most cases, you can simply steam them in the Instant Pot in less than 5 minutes. You can cook pretty much any veggies or combination of them in the Instant Pot.
I am a professional chef, and I simply love utilizing my Instant Pot, especially when it comes to cooking veggies quickly. Most of the time, I simply drizzle some olive oil with some seasoning over them, and quickly cook for a few minutes in the pressure cooker.
Another benefit of cooking ingredients this way is that you can cook frozen veggies as well. The cooking time will increase by a few minutes, but the end result will be the same – healthy and hearty veggies.
In the list below, I will share with you some of 9 essential vegetables that you can easily and quickly cook in the Instant Pot. You can rotate between them during the month, and pair with your favorite dish.
A little bit about me…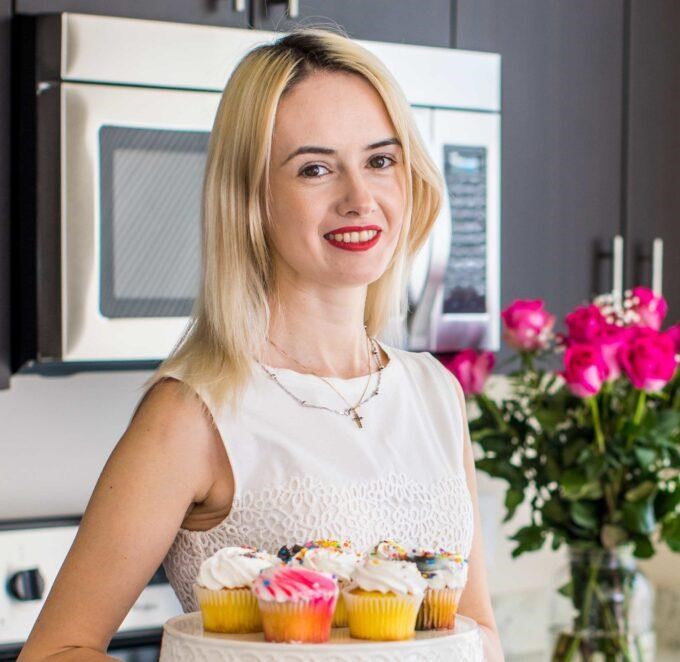 Pin
My name is Catalina Castravet, and I am the owner of Sweet and Savory Meals. I am a professional chef and food blogger who is always on the lookouts for tasty and delicious recipes. Over the past 10 years, my team and I have created well over one thousand recipes, starting from quick breakfasts, to delicious dinner meals. All the recipes are shared for free with our beloved followers and readers.
First, what is an Instant Pot?
An Instant Pot, also known as an electric pressure cooker, is a multifunction and multipurpose cooker. It is basically a multi-function kitchen tool where you can slow cooker, sauté, steam, pressure cooker, and warm ingredients. It is a handy tool to have especially for busy families. The food is usually cooked at a fraction of the time in it, making it convenient and a must-have accessory for busy families.
What Veggies Can I Cook in the Instant Pot?
As stated above, you can cook pretty much anything in it. Starting from fruits and veggies all the way to frozen meats. In this post, I will share with you 9 veggies that you can quickly and easily cook in the Instant Pot.
Instant Pot Mashed Cauliflower
Instant Pot Mashed Cauliflower is a healthy and delicious side dish you can enjoy year-round. Cauliflower is naturally high in fiber and antioxidants, so it is a perfectly healthy side dish. Also, when cooking it in the Instant Pot, you basically preserve all the nutrients and its benefits because no frying is involved. All you need is fresh cauliflower, water, some seasoning, and olive oil. Also, this dish is ready in 5 minutes, so it is perfect for busy families.
Instant Pot Sweet Potatoes
If you are looking for a great way to prepare them, then Instant Pot Sweet Potatoes are the best option! When you make them in the pressure cooker, you end up with tender and fluffy potatoes that are healthy and delicious! Just like cauliflower, this recipe only requires sweet potatoes, water, and some seasoning. It is a quick and healthy dish that pairs well with pretty much anything!
Instant Pot Chickpeas
Instant Pot Chickpeas is another quick and easy recipe to make in the Instant Pot. This is a great alternative to the canned chickpeas, and much healthier! By making it at home on your own, you know exactly what goes into it, and is guaranteed to be healthy!
You can serve them as a side dish. I personally like to incorporate them into a salad or make a homemade hummus out of them by simply grinding the chickpeas.
Instant Pot Steamed Artichokes
Many consider artichokes to be a superfood. It is loaded with nutrients and vitamins. Also, it helps to regulate blood pressure and lower cholesterol, among many other things. This Instant Pot Steamed Artichokes recipe is probably one of the best to make in less than 30 minutes. I love to use fresh artichokes when they are in season, mainly between the months of March to May. However, you can also use frozen ones, and easily cook in the Instant Pot.
Instant Pot Beets
Making Beets in the Instant Pot is quicker and easier than boiling. The cooking time is drastically reduced, while it preserves the nutrients intact. Beets are rich in fiber and have plenty of vitamins. I love to incorporate them into salads or simply drizzle with some olive oil, and serve as a main dish. They are yummy and worth cooking!
Instant Pot Corn on the Cob
Making Instant Pot Corn on the Cob is fun and easy. You do not need to worry about boiling water, timing, and guessing about the end result. By cooking the corn in the pressure cooker, you are worry-free. Also, it is ready in literally 2-3 minutes! So next time you have spontaneous guests, give this recipe a try. It is super quick and equally delicious!
Instant Pot Weight Loss Soup
If you are looking to incorporate more hearty and healthy veggies into a single dish, then this  Instant Pot Weight Loss Soup is the perfect recipe to try. It is super healthy and hearty, and perfect for colder weather. Also, it is a vegan dish and quite flavorful!
Instant Pot Minestrone Soup
Just like the Weight Loss soup, this Instant Pot Minestrone Soup is hearty and nutritious. It is full of veggies. What is great about this recipe is that you can incorporate and swap some of the veggies based on your liking.
Instant Pot Roasted Potatoes
These  Instant Pot Roasted Potatoes are the perfect side dish to any meals. They are crispy on the outside and tender on the inside. I like using baby potatoes due to their texture and color. They look festive and perfect for any occasion!
The Takeaway
As you can see from the list above, there are many easy and delicious ways to incorporate veggies into your daily diet. With the help of the Instant Pot, the cooking process is now easier than ever. The meals are quick and easy to make and ready in no-time. We hope you can give them a try, and incorporate them into your rotational meal plans!