Last Updated on May 22, 2018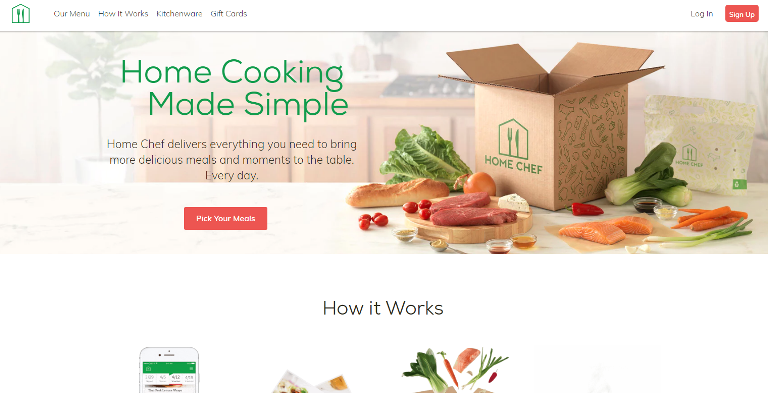 Pin
Have you ever used a meal delivery service before? For those of you who did not, here's a quick rundown: A meal delivery service is a program that allows you to pick your meals each week and delivers the ingredients right to your doorstep.
While the business model is still relatively new, there are dozens – if not hundreds – of meal services out there. All of them are a bit different in terms of the meals they offer, the number of meals you can pick, how long you have to pick your menu, so on and so forth.
Enter Home Chef Meal Delivery
The service we are talking about today – Home Chef – allows you to select three meals each week and is perfect for people who don't have enough time to prepare a healthy meal on a regular basis. You see,each of the meals they offer takes less than half an hour to prepare.
The service offers a wide variety of meats to pick and even a few vegetarian options. And if you're trying to decrease your calorie intake, this is possibly the best service for you. As this review of Home Chef points out, every meal the service offers has less than a 1000 calories. However, we should point out that some of their meals are a bit high in sodium.Basically, you should definitely read the nutritional information before you chose a meal. Nonetheless,we're going to present some of their most popular recipes in order to familiarize you with it and show you why so many people are opting for it…
Top 10 Home Chef Recipes

Wood-Fired BBQ Chicken Pizza
Price: $9.95 per meal
Ingredients: Soy, Milk, Wheat, and Eggs
Overview: While this is not exactly the healthiest meal Home Chef has to offer, it's one of the mostpopular for a good reason. Not a lot of people can resist the combination of BBQ chicken and cheesy cheddar. And top it off with a dip of ranch dressing and you have one of the tastiest low-cal meals.
Feta and Herb Crusted Salmon
Price: $9.95 per meal
Ingredients: Fish, Milk, and Vegetables
Overview: If you ever tried salmon, you already know just how tasty it is. However, the combination of fresh veggies and salty feta give the fish a flavor boost that takes the tastiness to a whole another level. Plus, the crispy Greek salad gives you that energy enhancement you need to start your day off properly.
3. Beef-and-Sherry Steak Diane
Price: $9.95 per meal
Ingredients: Fish, Soy, Wheat, and Milk
Overview: This particular dish was named after the Roman goddess of hunt. While the traditional version of the steak uses venison, Home Chef's version uses flat-iron stakes. The meat is also bathed in Sherry-spiked cream sauce that contains mushrooms and a tiny bit of Dijon mustard.
4)New England-Style Fish Cakes
Price: $9.95 per meal
Ingredients: Soy, What, Fish, and Eggs
Overview: If you want to add something more exotic to your seafood diet, then you really need to try Home Chef's fish cakes. The tilapia is mixed with panko breadcrumbs and fresh parsley, which give these lemony cakes a distinctive, zesty flavor.
5)Home Chef Frutti Tutti Smoothie
Price: $4.95 per meal
Ingredients: Milk and Fruits
Overview: Finally, we have something for all of those among you who are trying to lose some weight.The mixture of oranges, fresh strawberries, and pineapple juice will help you get up quickly and prepare for the day ahead. The best thing about it is that it only takes five minutes to prepare.
6)Blue Cheese-Crusted Pork Chop
Price: $9.95 per meal
Ingredients: Tree Nuts, Milk, Meat, and Vegetables
Overview: The meal beautifully blends green onions with blue cheese to create a crust, which compliments the juicy pork chops. The pork chops are meant to be served with cherry tomatoes, green beans, and almonds. This light meal is perfect for evenings.
7)Neapolitan Pizza Margherita
Price: $9.95 per meal
Ingredients: Wheat, Milk, and Eggs
Overview: As it seems, Home Chef subscribers really like their pizzas. The classic Margherita contains fresh mozzarella, cherry tomatoes, and a tasty marinara sauce. You also have the arugula, which serves as an extra topping or a side salad.
8)French Onion Chicken with Arugula Salad
Price: $9.95 per meal
Ingredients: Meat, Vegetables, Wheat, and Milk
Overview: Who doesn't like French onion soup? Home Chef took things a step further and combined all of the ingredients of the popular soup with a fresh chicken dinner. The Swiss cheese top and caramelized onions melt to perfection in any oven and cover the seared chicken breast to give you an appetizing lunch.
9)Farmhouse Fried Chicken
Price: $9.95 per meal
Ingredients: Soy, Wheat, Eggs, and Milk
Overview: if you want to indulge yourself a little, we can't recommend this country classic enough. Fried chicken along with sweet corn and mashed potatoes provide that unique, crispy comfort. And while there's nothing wrong with KFC, only home-prepared chicken can really transport you to an idyllic prairie farmhouse.
10)Parisian Bistro Steak with Green Beans
Price: $9.95 per meal
Ingredients: Meat, Vegetables, and Milk
Overview: The last meal we have will transport you to the charming streets of Paris and allow you to completely relax. Although the meal takes around 30 minutes to prepare, trust us, when you take the first bite of the steak, you'll see its more than worth it.
Final Thoughts on Home Chef
If you're always on the move, then Home Chef will suit you perfectly. Their recipes easy to follow and the pre-prepared ingredients cut the meal-preparation time to a minimum. What's more, with Home Chef, you won't have to worry about eating too much fast food ever again. If you're tired of ordering pizza and eating Chinese every other night, this meal service is worth the subscription.
With that, our article is done. We hope the recipes we presented above seem delicious and that this article will motivate you to improve your diet. If you have any additional questions, feel free to leave a comment in the comment section below and we'll answer them as soon as possible.