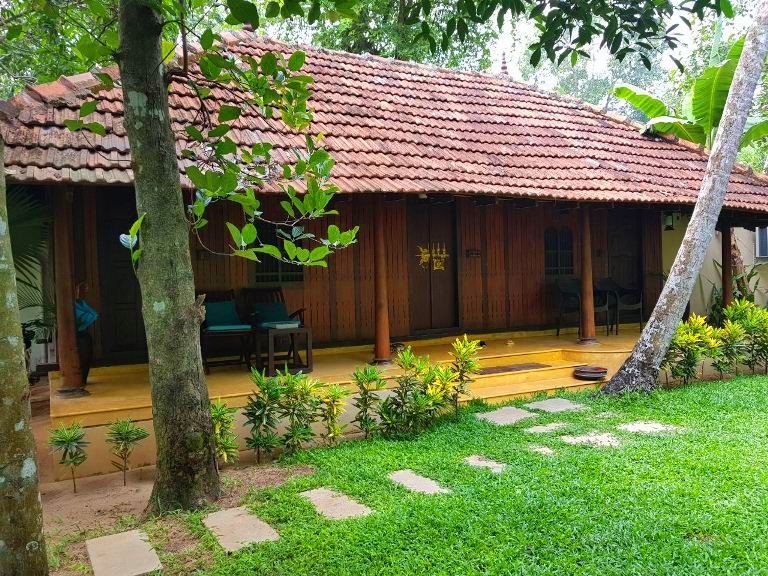 Pin
Check out my part 1 with marari villas, lotus cottage.
This is the part 2 of my stay with marari villas. On second day we stayed in hibiscus cottage.
Hibiscus' is a 100 year old traditional Keralan wooden house that has been restored to provide a real sense of Keralan life, with a few added luxuries! The vila has a cool oxide floor and is well furnished with a kingsize bed, desk, library and TV/DVD. There's a semi open-air bathroom with a rain shower and a kitchenette with space for 2 extra beds for children.  Glass doors open onto a dining terrace and, beyond, a beautiful walled garden with private pool, surrounded by an abundance of tropical plants.
This is is the entrance of the cottage.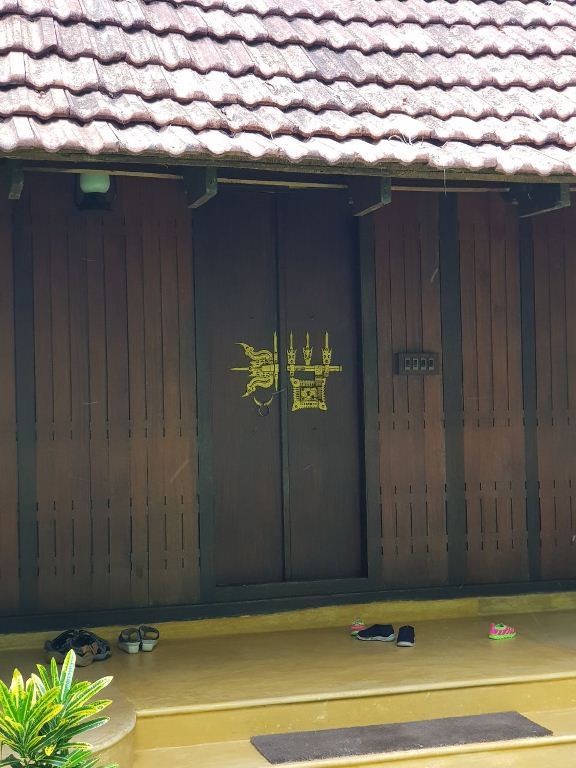 Pin
The cottage itself is amazing. It is completely surrounded with wooden walls. Such a cozy bedroom.
https://www.yummytummyaarthi.com/2018/05/marari-villas-alappuzha-lotus-review.html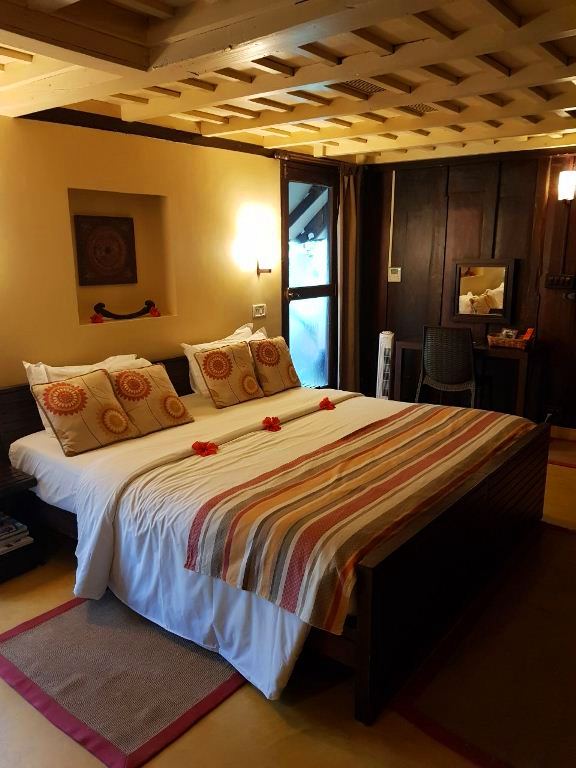 Pin
The room has a LCD TV and it has a small library with few book collections.
Pin
The other side is a small vanity area.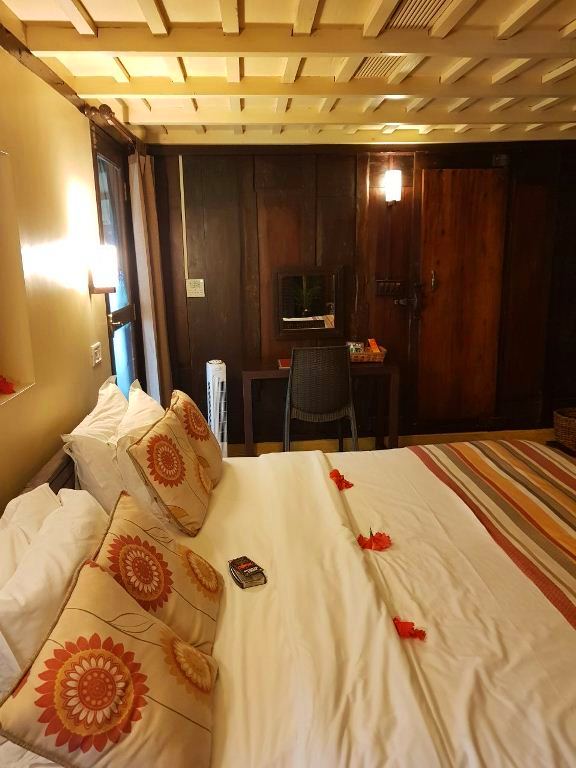 Pin
This is the small kitchenette inside the bedroom which has this lovely mirror.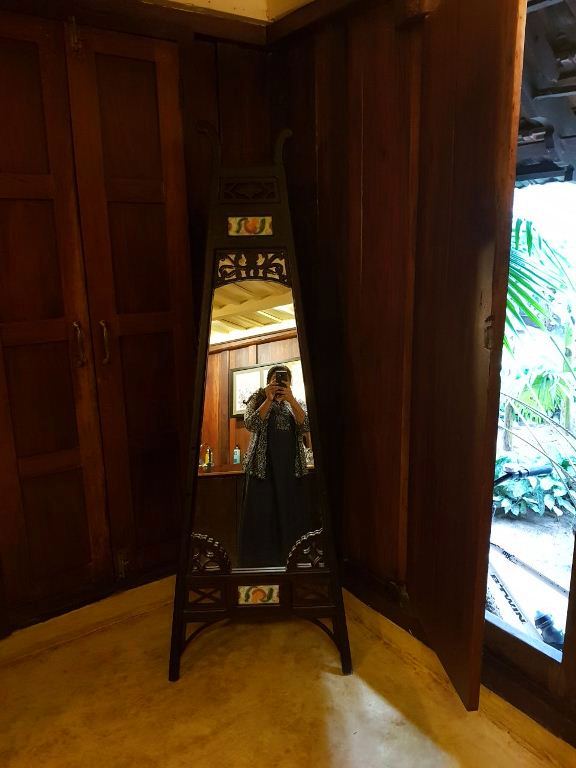 Pin
The spacious cabinet.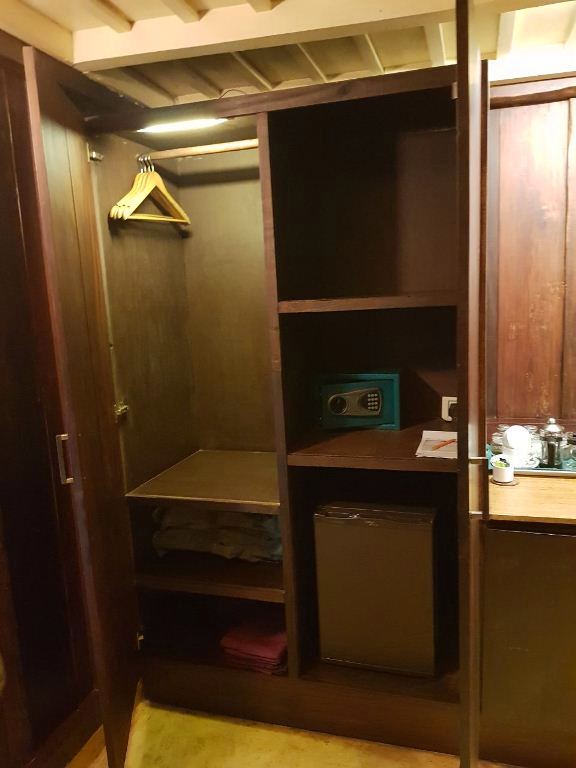 Pin
This is small kitchen, which has a sink. It has basic cutleries, cutting board and knife.
This is the coffee and bevarage area. They had options like green tea, masala tea and coffee. There were kettles, tea diffuser and coffee press. They had a small fridge which had supply of water bottles, wine, beer and other bevarages. Except tea, coffee and water, other beverages are not complimentary.
The cottage is 100 years old and we can definitely see that. There were lots of tiny doors and window all around the villa.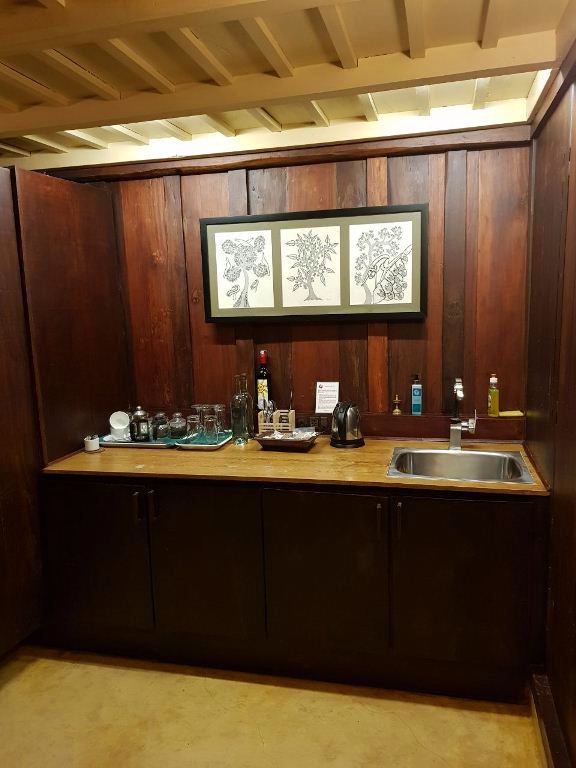 Pin
The bathroom is a semi open bathroom.
The bathroom had all necessary supplies like hair dryer. The whole resort is eco friendly and no plastic is used.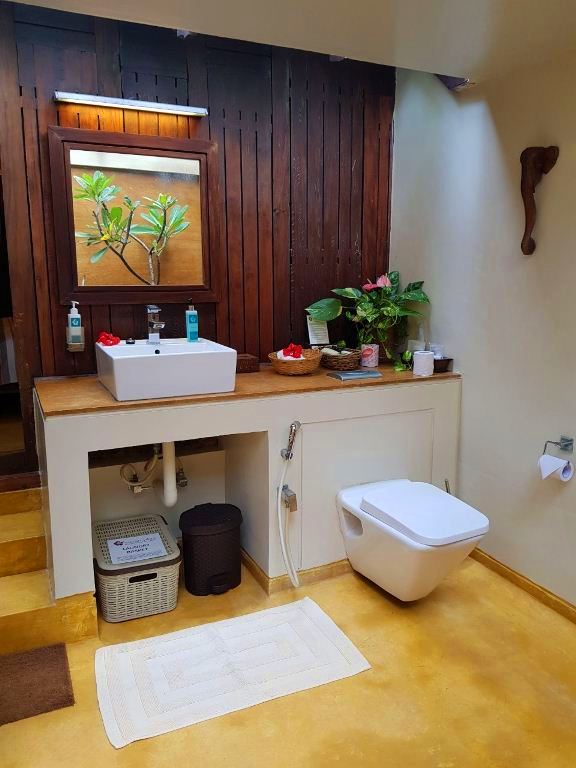 Pin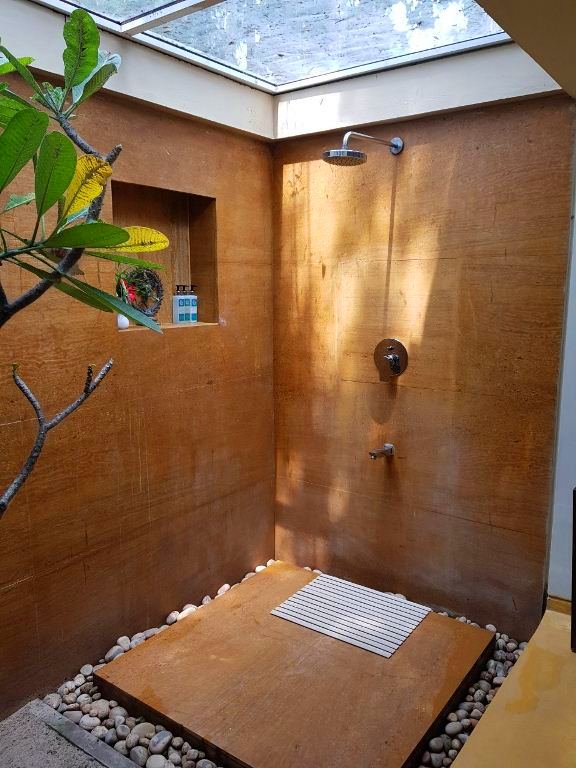 Pin
This is the open outdoor dining area. I loved this place. I can spend hours here looking at the view.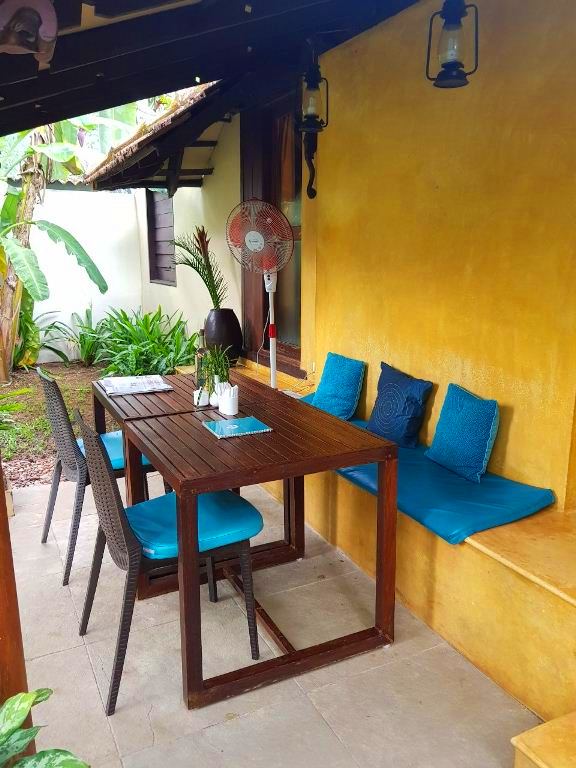 Pin
They gave a bell, so if we need any help we have to ring this bell and the nearby staff will do the needful.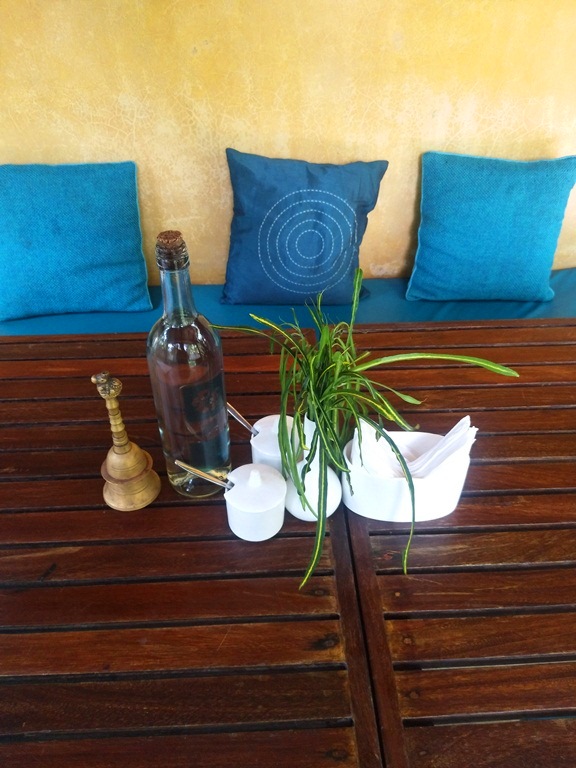 Pin
This is the view which i was talking about.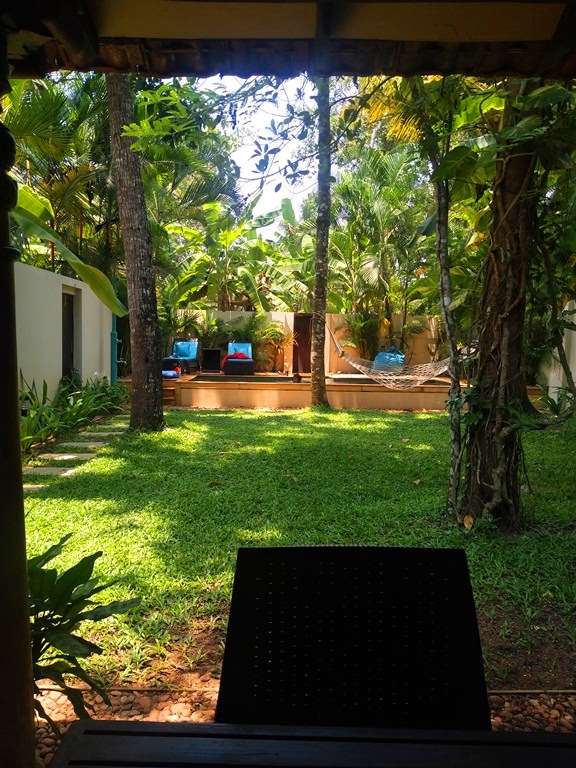 Pin
This is the private pool. Maha spend hours in this pool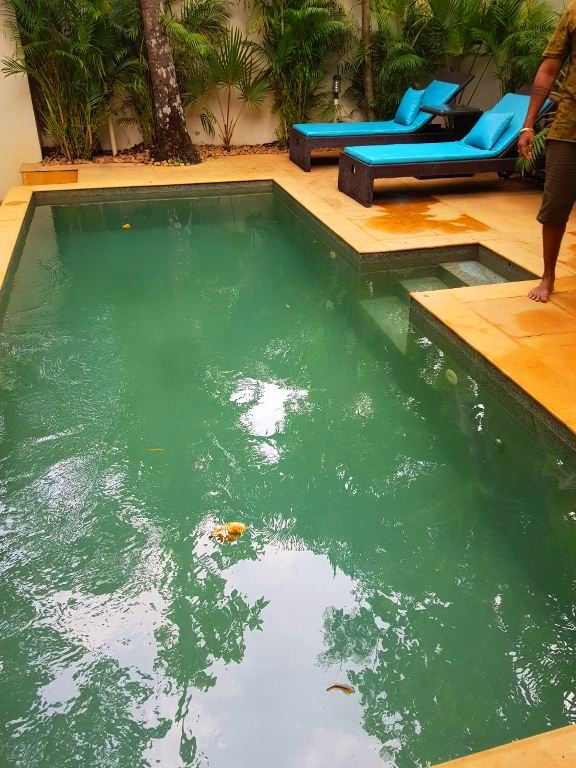 Pin
A lovely place to hangout with the family.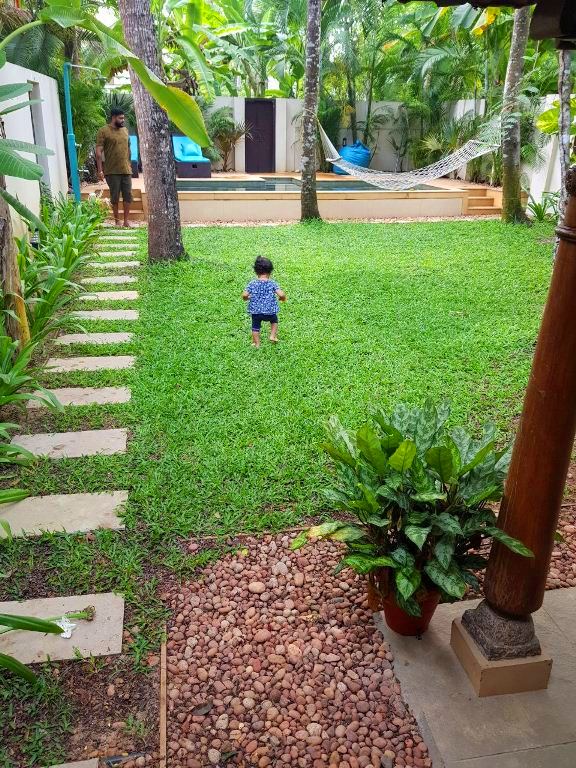 Pin
This is the view of the villa from the pool.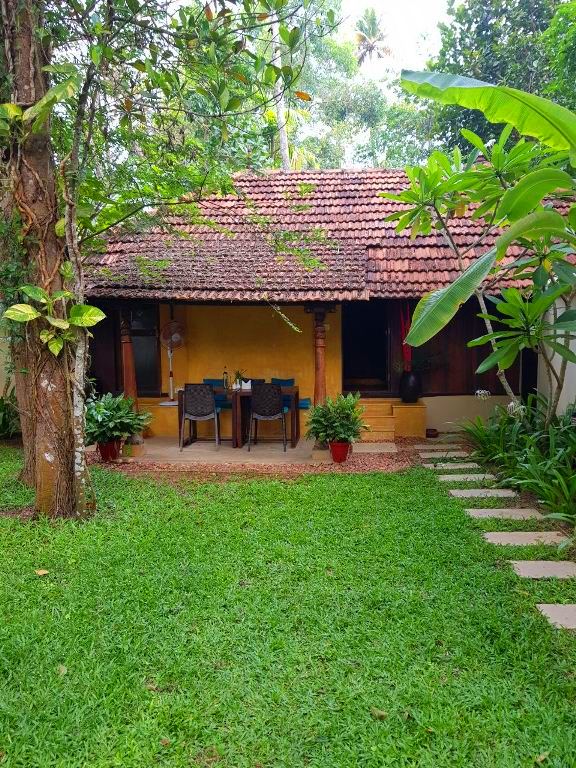 Pin
This is around the villa.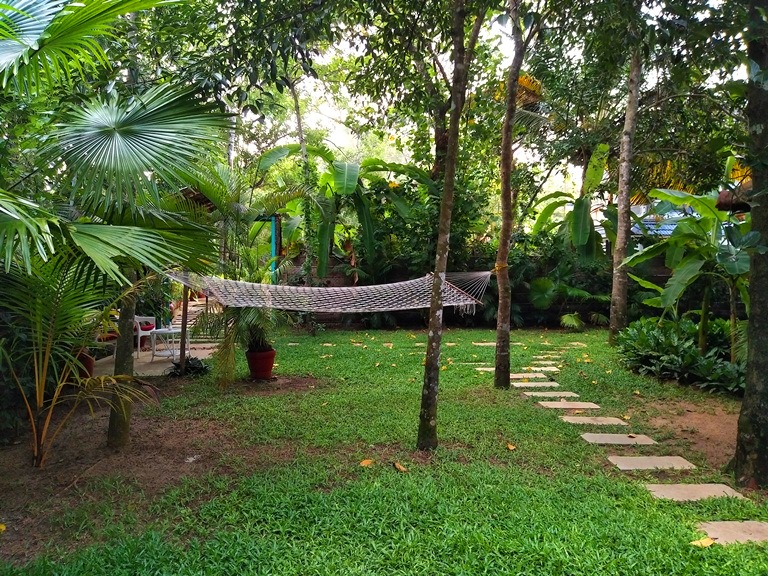 Pin
A small seating area to leisure and have a lovely chit chat.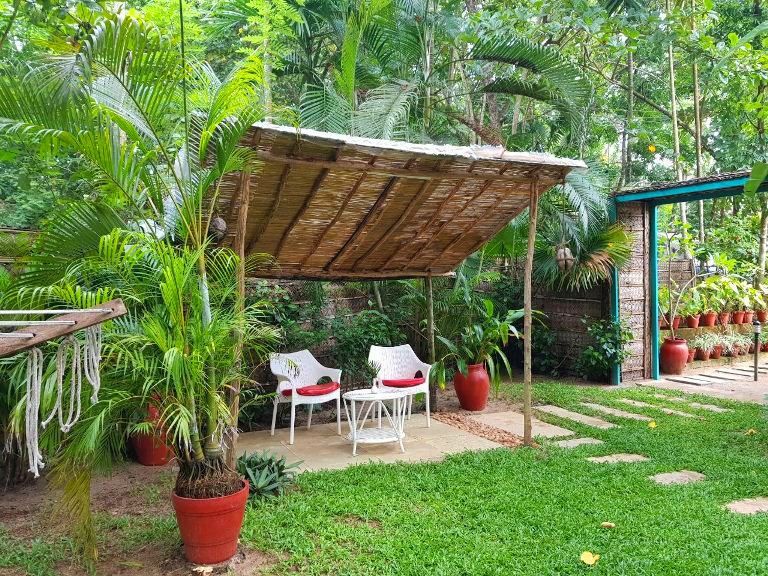 Pin
We took a short walk to the beach. The beach is like a 5 to 10 mins walk from the villa.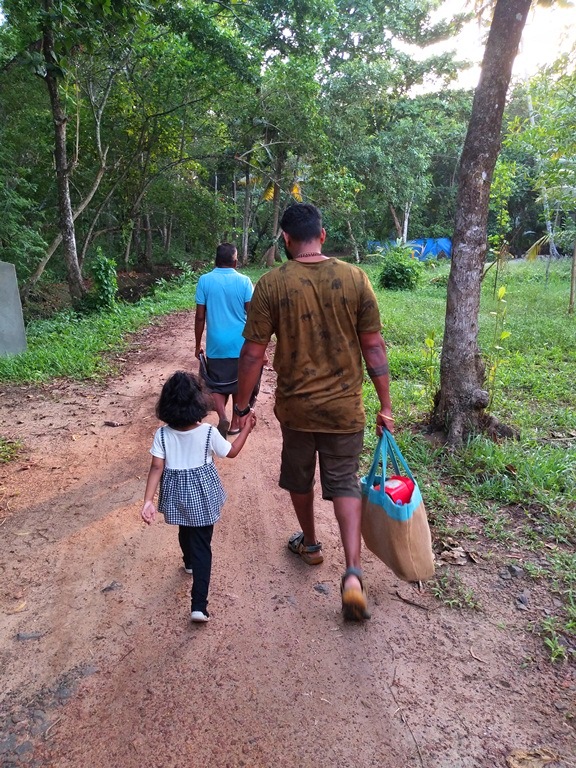 Pin
Such a beautiful beach with white sand. Very lovely. If you would have followed me on instagram you must have seen maha and mahi having a blast in this beach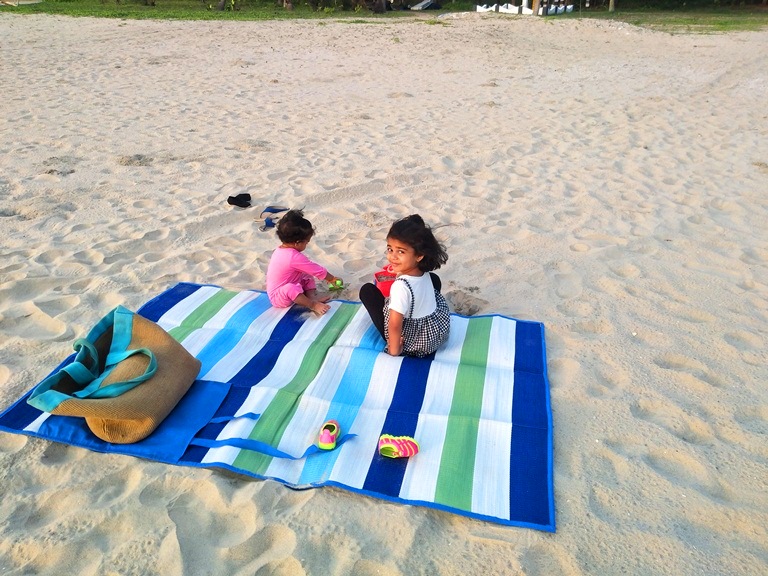 Pin
We watched the sunset and had a great time in this beach. They provide all beach accesories for you like beach mat, beach bag, beach toys.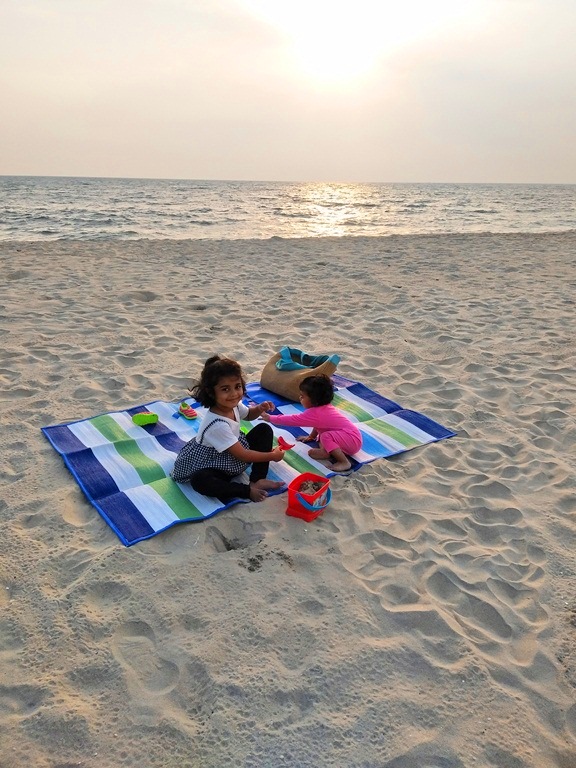 Pin
Now lets talk about the food. Yes we ordered french fries for maha. The french fries is not storebought or frozen. It was freshly made, hand cut and fried fries. And it was yummy with a glass a cold rose wine.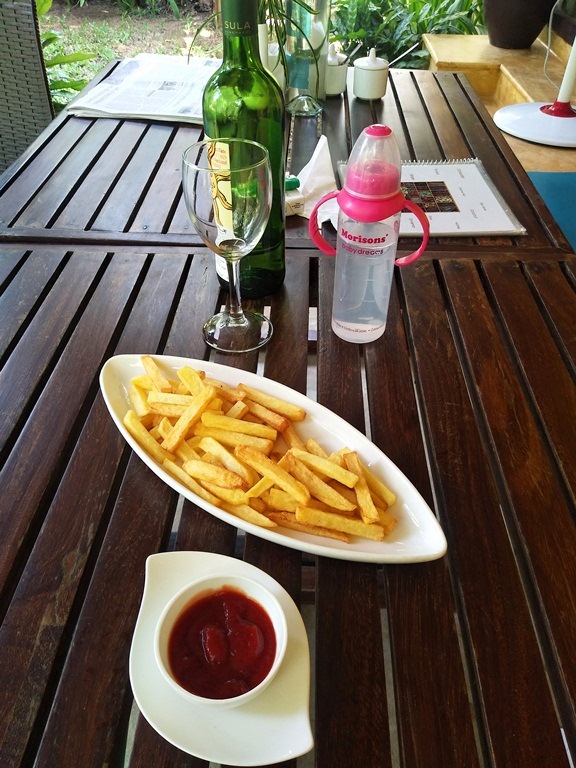 Pin
Again we ordered the thali, this time we ordered kerala matta rice. The fish curry today was coconut based and it was so good. The fish fry was delicious today. It was spicy and tangy and yummy.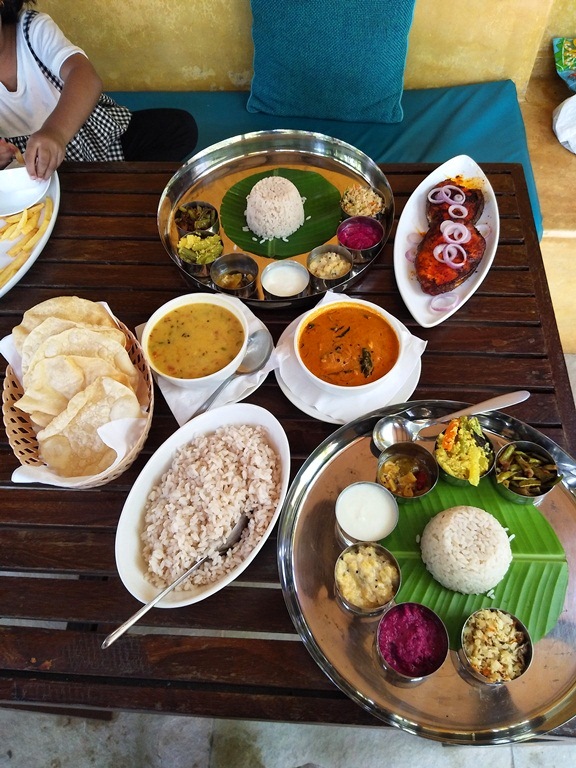 Pin
I am drooling over this pictures. YUM!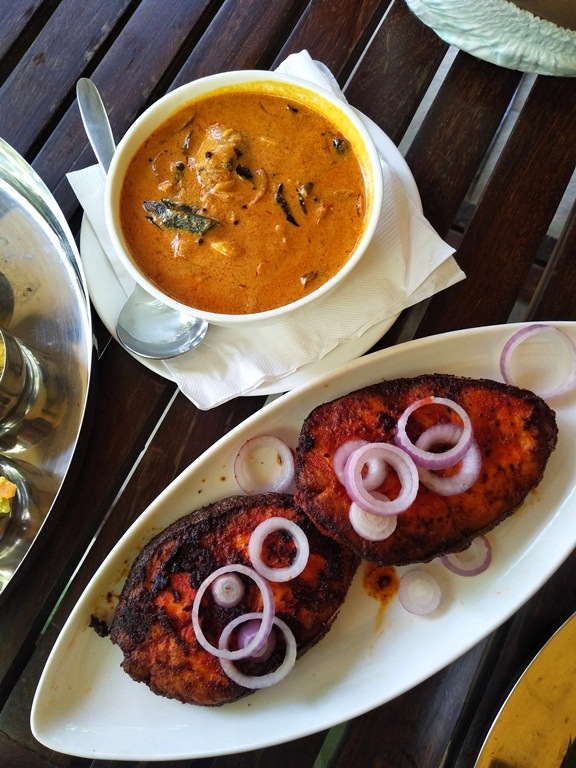 Pin
We lunched with a view.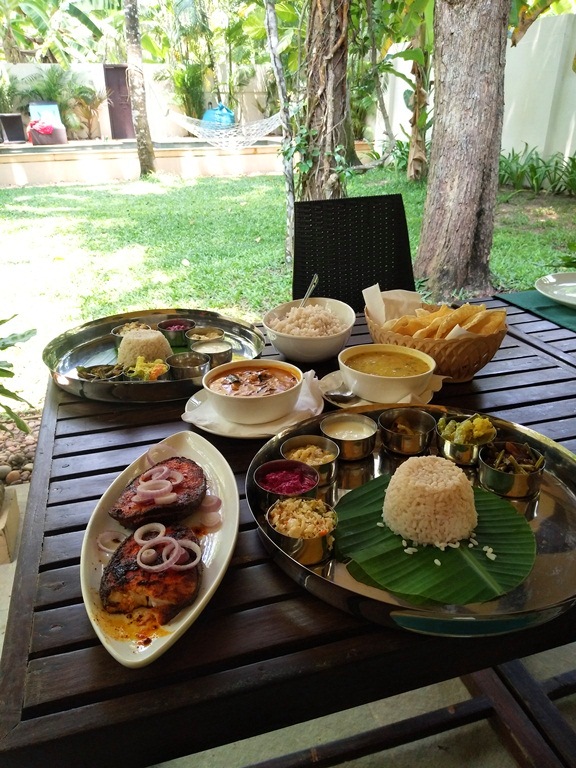 Pin
We ordered something different for dinner. The staff jeevan set the table beautifully for us.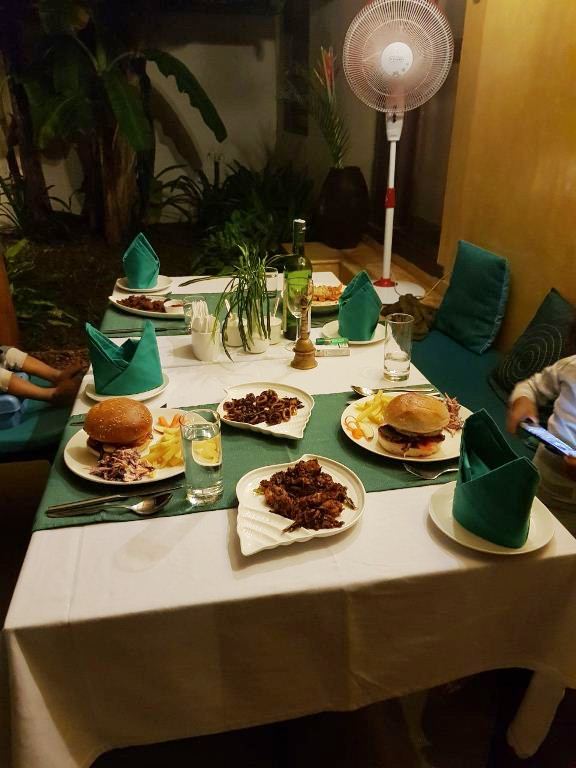 Pin
We ordered indian style calamari roast and prawn fry.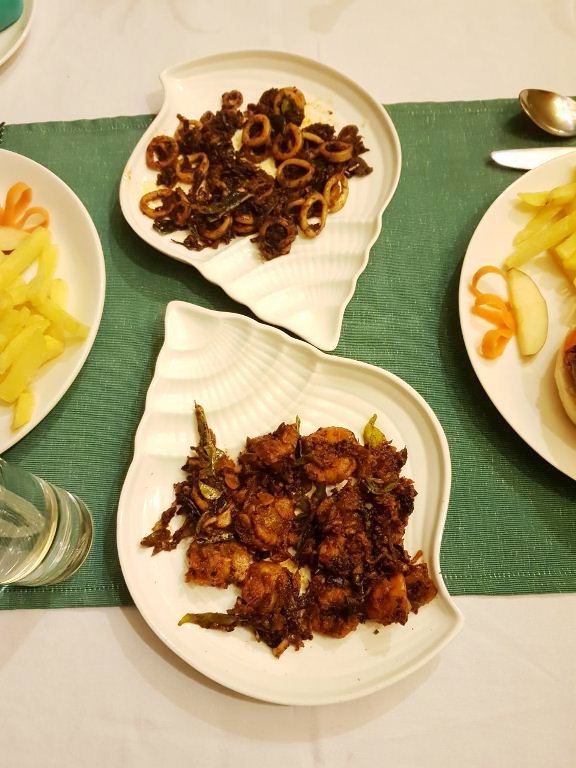 Pin
Yummy and Juicy Chicken Burgers. All of these tasted homemade!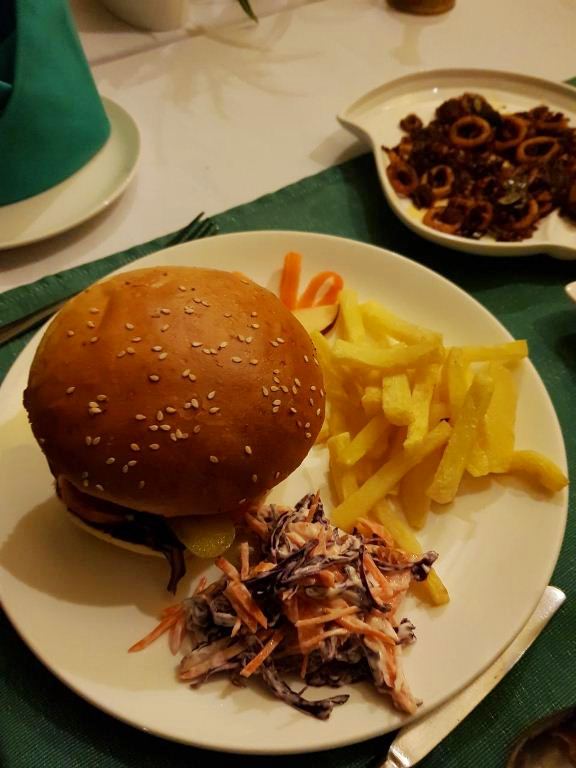 Pin
Chicken goujons for us!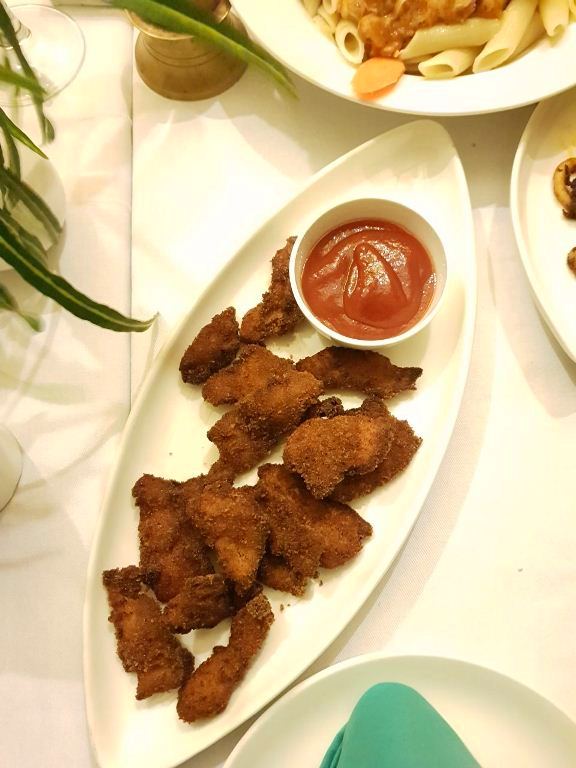 Pin
Penne topped with tomato chicken sauce. I was drooling over this!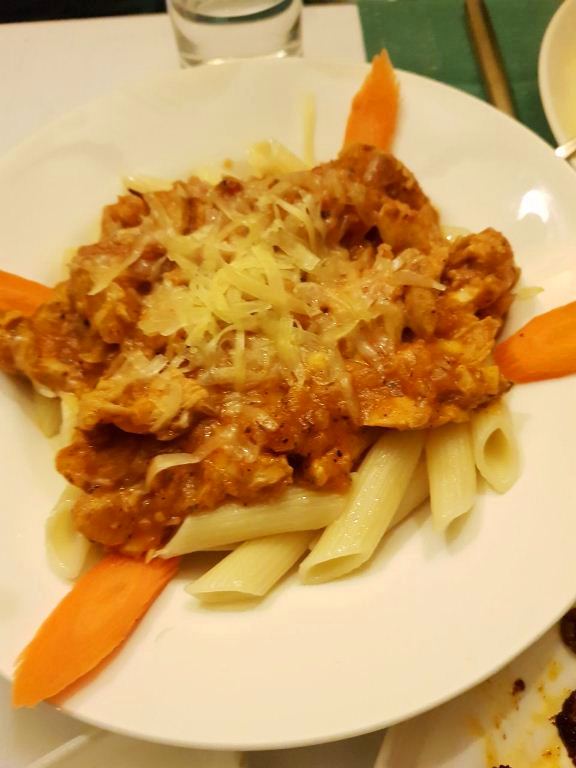 Pin
Overall this was a great place, check out part 1 of this review, which was about the lotus cottage which we stayed.
The resort has a well maintained property and their staffs were very friendly and respectful. Their service was good and rooms were maintained well. The foods were delicious. I would definitely recommend this resort for everyone.
My Rating:
Food - ⅘
Ambience - ⅘
Service - 5/5
Kids Friendly & Entertainment - ⅘
Address: Marari Villas, Vadakethayil House, Pollathai P.O., Allapuzha – 688522, Kerala, India
You can book it from their website or contact them directly through whatapp +91 99479 48707
P.S: This is not a paid post, We paid for our trip. I am just sharing my own thoughts here. If you want to stay or going to book, just tell them that you referred YUMMY TUMMY.