Molasses Cookie Bar Recipe with Step by Step Pictures. Delicious buttery cookies with ginger and cinnamon flavour. Taste so yum.
Pin
Molasses cookie bar recipe which taste very caramely and taste amazing. This cookies has a snap to it which makes it crispy and tasty. I will share a version of cookies which is chewy and soft.
I used store bought molasses. But you can use homemade ones. Check this link for treacle recipe or you can make homemade molasses here. I have already shared a molasses cookies recipe. This one is a cookie bar which has chocolate chips in it.
About Molasses Cookie Bar Recipe
After baking, Cookie bars are made from batter or other ingredients that are poured or pressed into a pan (sometimes in multiple layers) and cut into cookie-sized pieces. In British English, bar cookies are referred to as tray bakes. Brownies, fruit squares, and bars like date squares are all examples. Molasses is a liquid, it makes baked
goods moister and chewier. Always keep this in mind when making baked goods that need to be dry or crunchy. Molasses is a dark brown substance that will darken the appearance of your baked goods.
Check out other recipes to
Sprinkle Cookies
Cornflakes Cookies
Chocolate Fudge Cookies
Coloured Ghee Cookies
Glazed Chocolate Cookies
Dates Cookies
Pin
Ingredients for Molasses Cookie Bars Recipe :
Unsalted Butter  :
Unsalted butter allows you to completely control the flavour of your recipe. This is especially important in baked goods that rely heavily on the pure, sweet cream flavour of butter (butter cookies or pound cakes). When it comes to cooking, unsalted butter allows the true, natural flavour of your foods to shine through.
Molasses :
Molasses main role in cookies is to add a lot of flavour! It also adds sweetness (although sugar is also a part of this recipe). Molasses, as one of the wet ingredients in the batter, also contributes to the rich brown colour.
Cinnamon Powder :
Ground cinnamon is added to dry mixtures, quick-cooking recipes, and recipes that call for a stronger flavour. Its simple to swap ground cinnamon for cinnamon sticks, but be careful not to overpower the dish.
Pin
If you have any questions not covered in this post and if you need help, leave me a comment or mail me @[email protected] and I'll help as soon as I can.
Follow me on Instagram, Facebook, Pinterest ,Youtube and Twitter for more Yummy Tummy inspiration.
IF YOU MAKE THIS RECIPE OR ANYTHING FROM YUMMY TUMMY, MAKE SURE TO POST IT AND TAG ME SO I CAN SEE ALL OF YOUR CREATIONS!! #YUMMYTUMMYAARTHI AND @YUMMYTUMMYAARTHI ON INSTAGRAM!
Molasses Cookie Bars Recipe
Molasses Cookie Bars Recipe with Step by Step Pictures. Cookie bars has chocolate chips dotted all over it and taste so crispy and buttery.
Ingredients  
Unsalted Butter - 170 grams

Baking Soda / Cooking Soda - 1 ½ tsp

Brown Sugar - ½ cup

Sugar - ¼ cup

Vanilla Extract - 1 tsp

Molasses - ¼ cup

Egg - 1

Cinnamon Powder - 1 tsp

Ginger Powder - 1 tsp

Cloves

powder - ¼ tsp

All Purpose Flour / Maida - 2 ¼ cup
For Cinnamon Sugar:
Sugar - 3 tblsp

Cinnamon Powder - 2 tsp
Instructions 
Preheat oven to 180 degree c.

Beat butter, brown sugar, sugar and vanilla and mix well.

Add in egg and mix well.

Add ginger, cinnamon and cloves and mix well.

Add in baking soda and mix well.

Add in flour and knead well.

Add in chocolate chips and mix well. Spoon this into baking pan lined with parchment paper.

Take cinnamon and sugar in a bowl and mix well.

Top over the bars.

Bake for 30 mins.

Remove and cool.

Slice and serve.
Molasses Cookie Bar Recipe Step by Step Pictures
1)Take butter and brown sugar in a bowl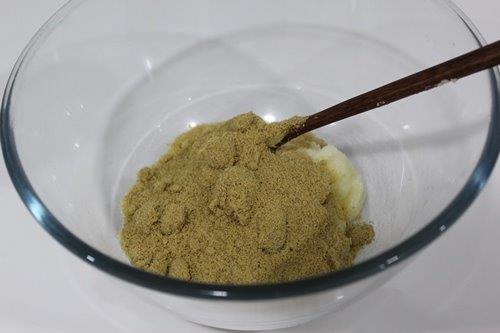 Pin
2)Add vanilla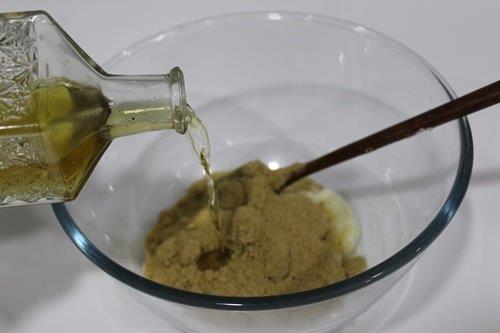 Pin
3)Add in sugar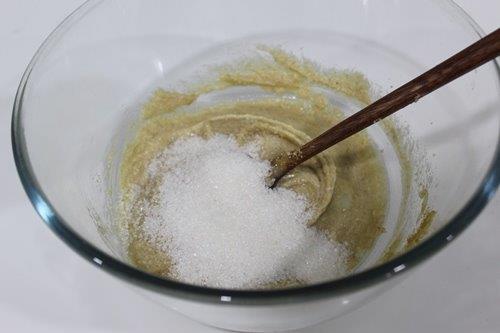 Pin
4)Add in molasses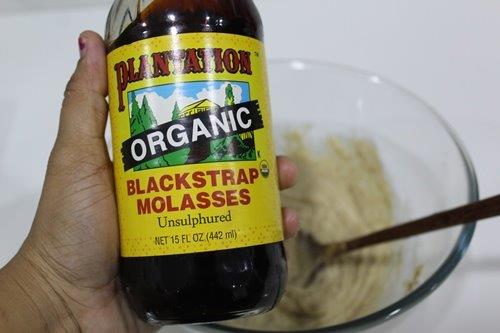 Pin
5)Add it in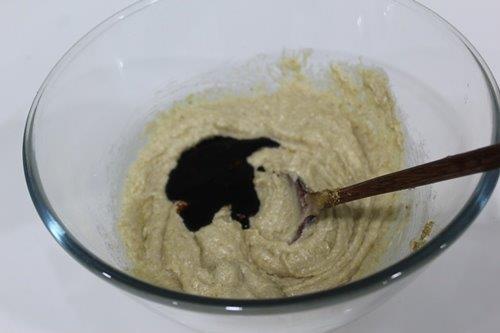 Pin
6)Add in egg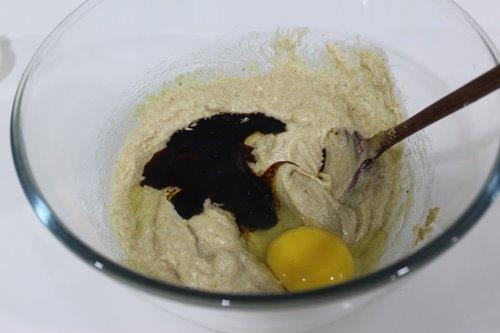 Pin
7)Mix well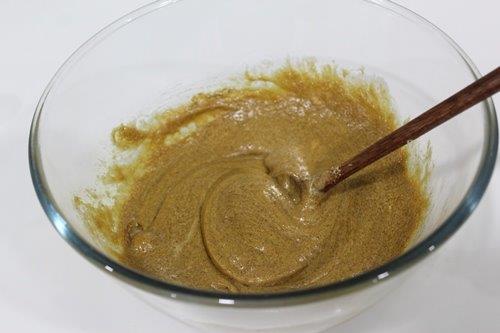 Pin
8)Add in cinnamon, ginger, cloves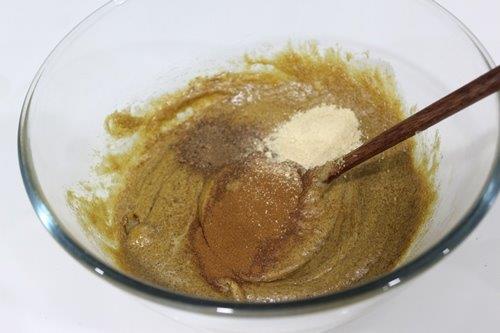 Pin
9)Mix well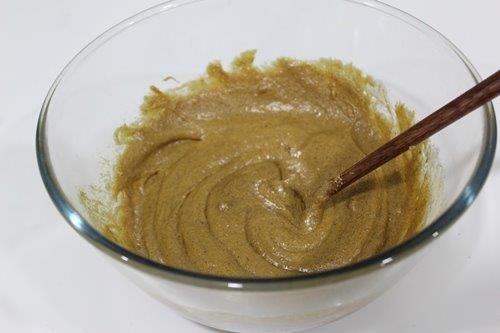 Pin
10)Add salt and baking soda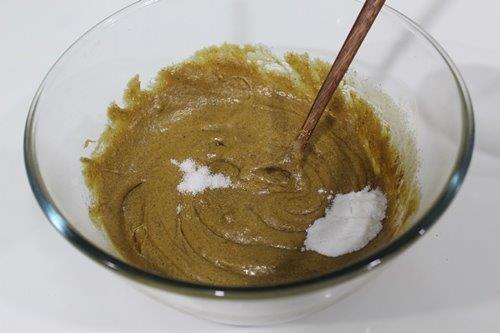 Pin
11)Add in flour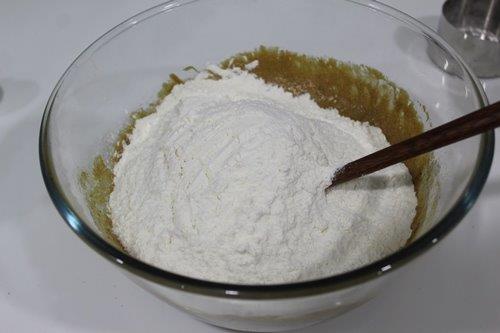 Pin
12)Knead well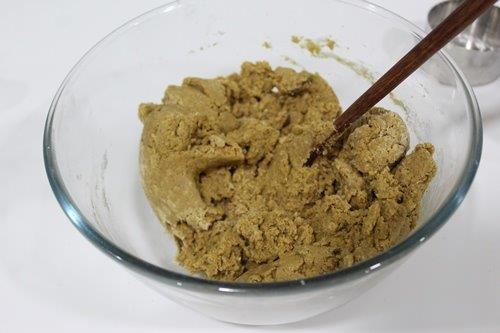 Pin
13)Add chocolate chips
Pin
14)Knead well
Pin
13)Now make cinnamon sugar. take sugar in a bowl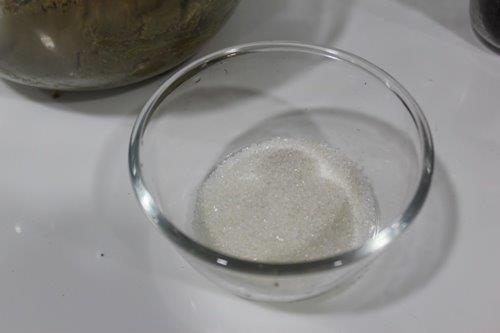 Pin
14)Add in cinnamon powder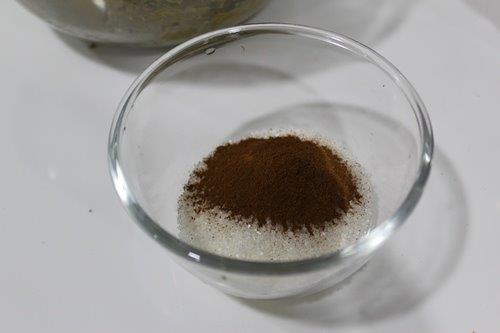 Pin
15)Mix well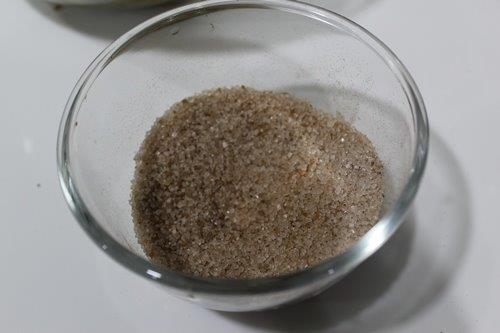 Pin
16)Take cake pan and line baking paper
Pin
17)Spoon batter in
Pin
18)Spread evenly
Pin
19)Add in cinnamon sugar
Pin
20)Bake till done
Pin
21)Serve
Pin
Frequently Asked Questions
What is the origin of molasses cookies?
It began in Marblehead, Massachusetts, where a fisherman named Uncle Joe lived near a large frog pond. People called Uncle Joe's molassses cookies Joe Froggers because they were as plump and dark as the fat little frogs in the pond.