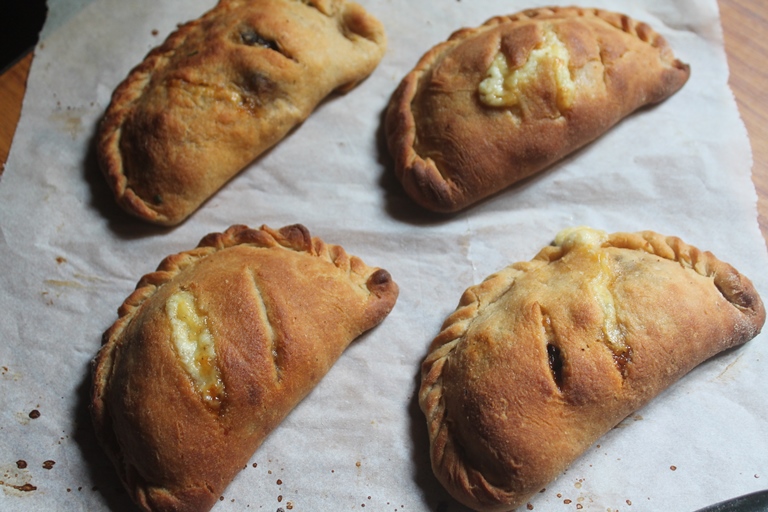 Pin
Mushroom & Cheese Calzone Recipe with step wise pictures
Pizza, Calzones = Kids favourite, not only kids even adults go crazy. Making it at home is super easy and affordable than you think. I have shared like so many calzone and pizza recipes on my blog so far. The first stage of making pizza or calzone is forming the crust. You can use some of my favourite pizza crust recipes on my blog.
This time i made mushroom calzone. Some people use raw mushroom in this, but i like to cook the mushrooms before hand and use it. I made a flavourful mixture by sauteing mushrooms, onions in olive oil and then adding spices like oregano, parsley and chilli flakes. It was yummy.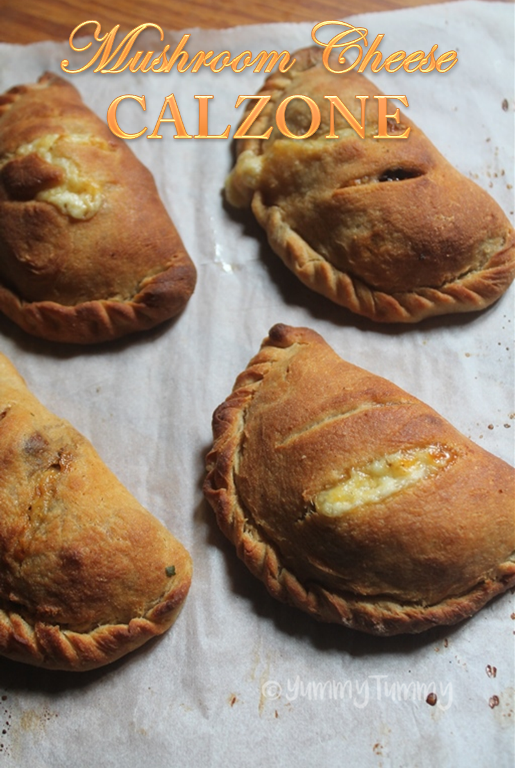 Pin
I just used the mushroom filling alone. But you can go further and top with raw sliced bell peppers, onion slices, olives and tomatoes for more filling and tasty toppings. If you are not a fan of mushrooms you can add paneer or chicken instead of mushrooms or check out the other pizza which i have on my blog.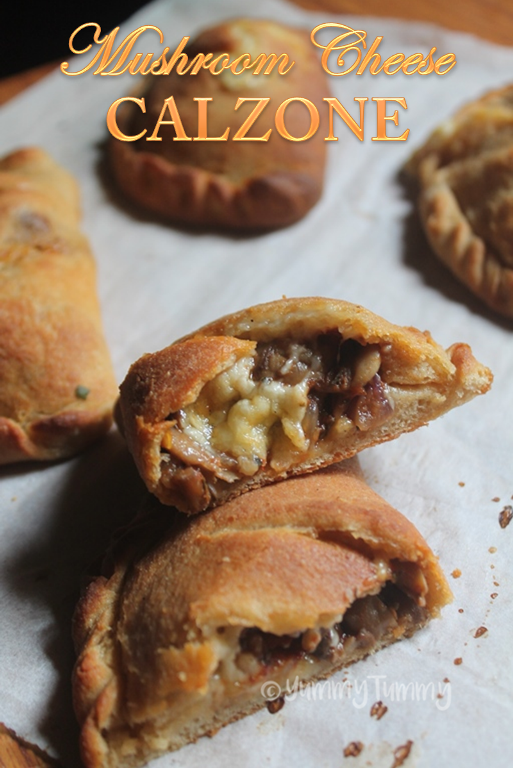 Pin
Hope you will give this a try and let me know how it turns out for you.
https://www.yummytummyaarthi.com/2017/05/mushroom-pizza-recipe-whole-wheat.html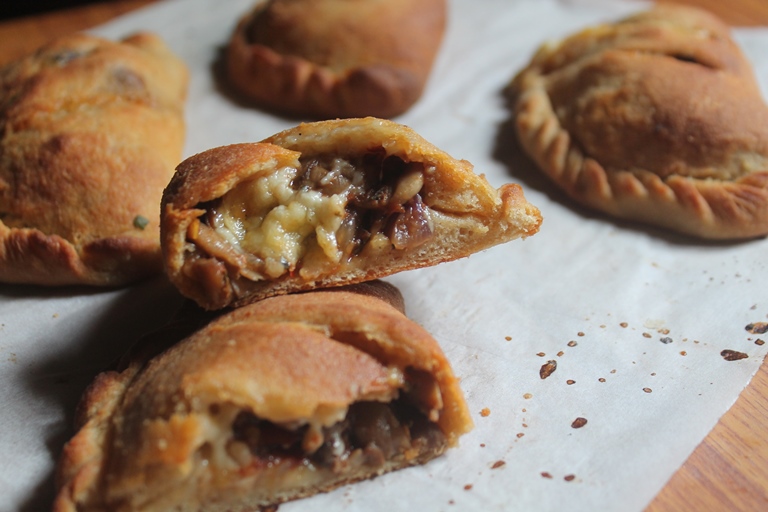 Pin
📖 Recipe Card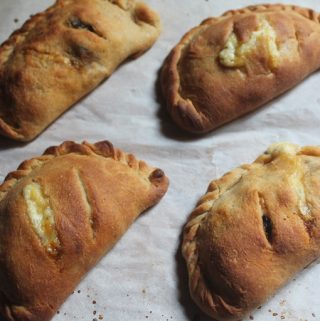 Mushroom & Cheese Calzone Recipe
Simple & delicious mushroom calzone which is super easy to make and taste so delicious and cheesy.
Print
Pin
Rate
Servings:
6
to 9 servings
Ingredients
Whole Wheat Pizza Dough - 1 batch

Olive Oil - 1 tblspn

Mushrooms - 2 cups sliced thinly

Onion - 1 small chopped finely

Pizza Sauce or Tomato Sauce as needed

Oregano - 1 tsp

Chilli flakes - 1 tsp

Dried Parsley - 1 tsp

Salt to taste

Mozzarella Cheese as needed grated
Instructions
Start by making pizza dough and set aside to rise.

Preheat oven to 250 degree C. Set oven to heat with bottom rod only. So the bottom gets crispy when baked.

Heat oil in a pan, add in onions and mushrooms and saute for 5 mins or so till cooked.

Add in oregano, salt, chilli flakes and parsley.Mix well. Filling done.

Take dough, spread it evenly. Top with tomato sauce, mushroom filling, top with oregano, chilli flakes and cheese.

Bake for 15 to 20 mins.

Serve.
Join us on Facebook
Follow us on Facebook
Share by Email
Share on Facebook
Pictorial:
https://www.yummytummyaarthi.com/2011/11/whole-wheat-pizza-dough-low-fat-healthy.html
1)Start by making whole wheat pizza dough, you can check recipe here. This dough is wonderful, it is soft and makes perfect pizza or calzone.
2)Start by making your toppings, slice onions and mushrooms thinly
3)Heat olive oil in a pan, add your onions and mushrooms and saute them
4)Saute them for few mins on high heat.
5)The water from mushrooms will start to leave from mushrooms, keep mixing and cook till all the water dries up.
6)Now it is all browned and cooked.
7)Add salt to taste
8)Add oregano
9)Add in chilli flakes
10)Add in some dried parsley
11)Mix well and cook on high heat
12)Add in tomato sauce or ketchup.
13)Mix well, now the filling is done.set this aside.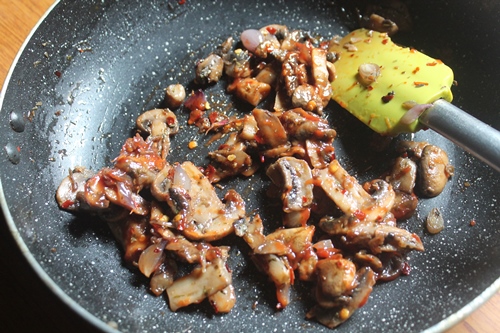 Pin
14)Now take your pizza dough, it has risen. Knead the dough well.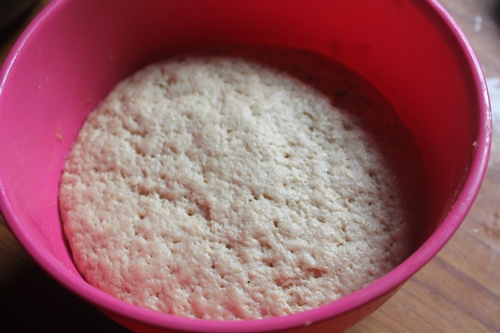 Pin
15)Divide it into small balls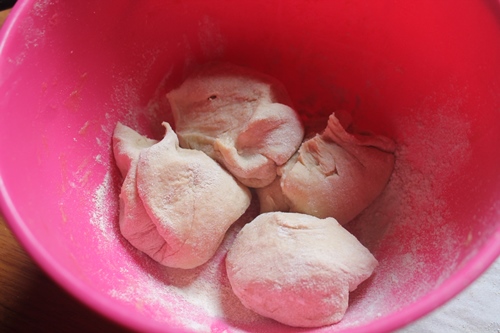 Pin
16)Take a dough and flatten it like this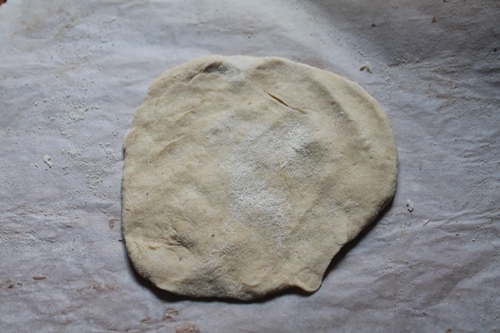 Pin
17)Spoon some mushroom filling in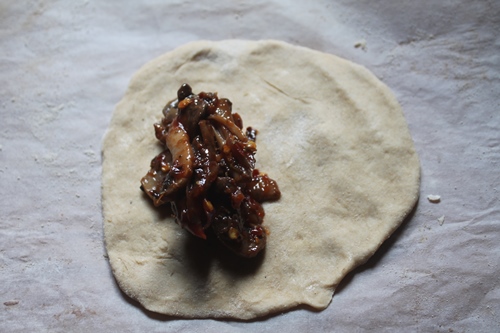 Pin
18)Top with cheese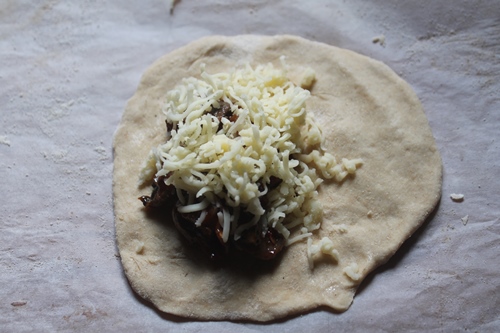 Pin
19)Cover it like this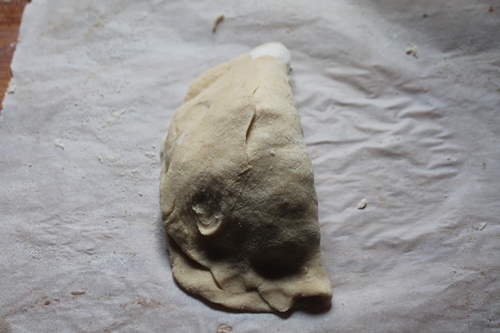 Pin
20)Seal the edges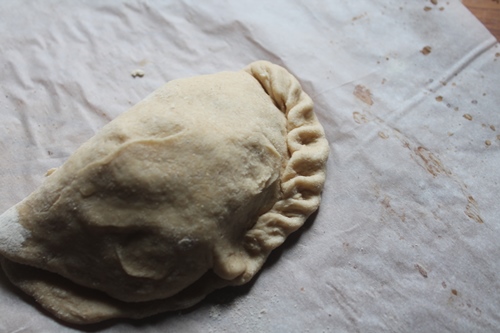 Pin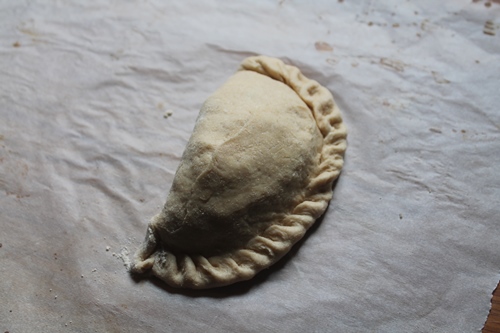 Pin
21)Make slashes on top so the air can escape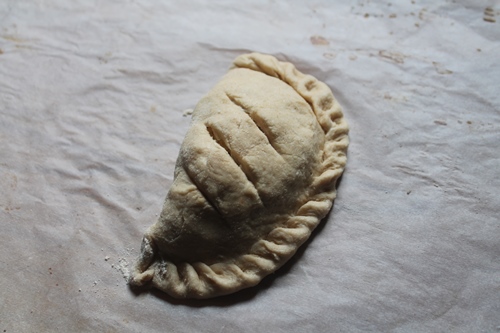 Pin
22)Place it in a greased foil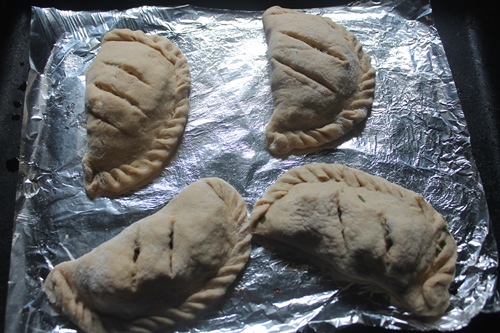 Pin
23)Brush top with some oil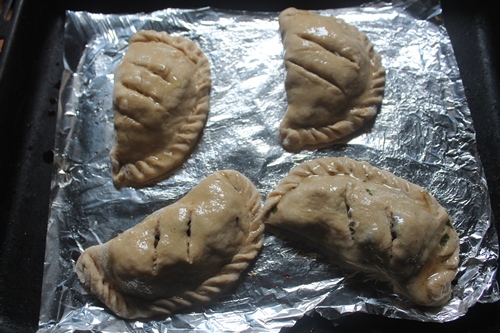 Pin
24)Pop this tray in a 250 degree C preheated oven. The oven should be heated with both rod on. So you get a nice crispy crust . The calzone should be baked for 12 to 18 mins.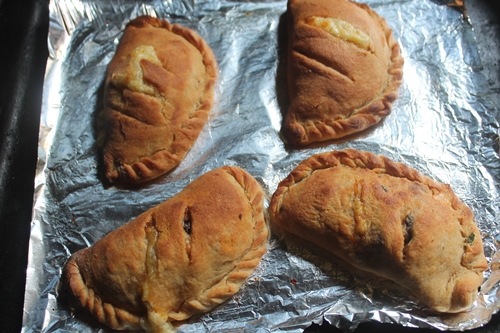 Pin
25)Serve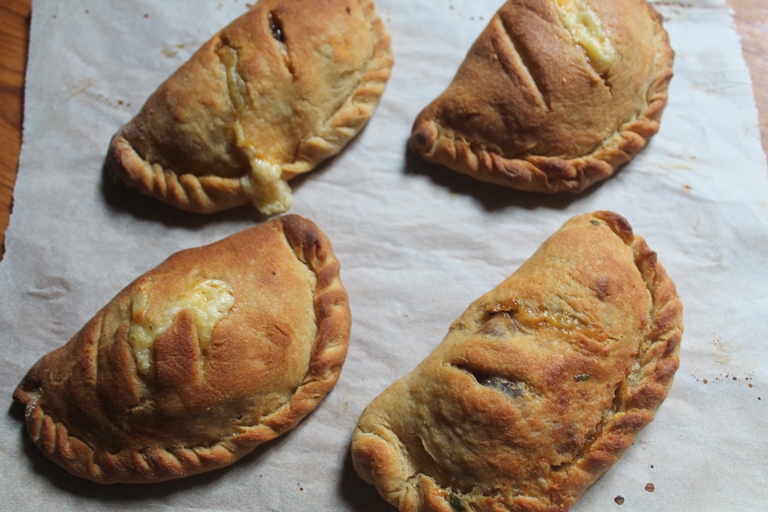 Pin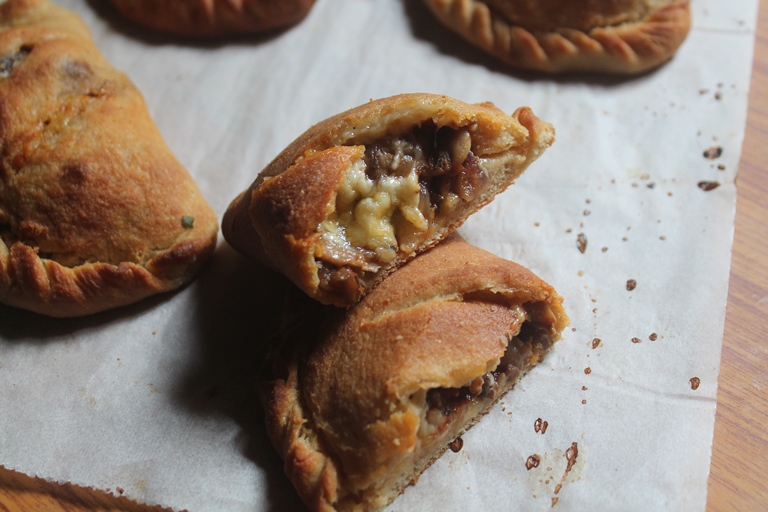 Pin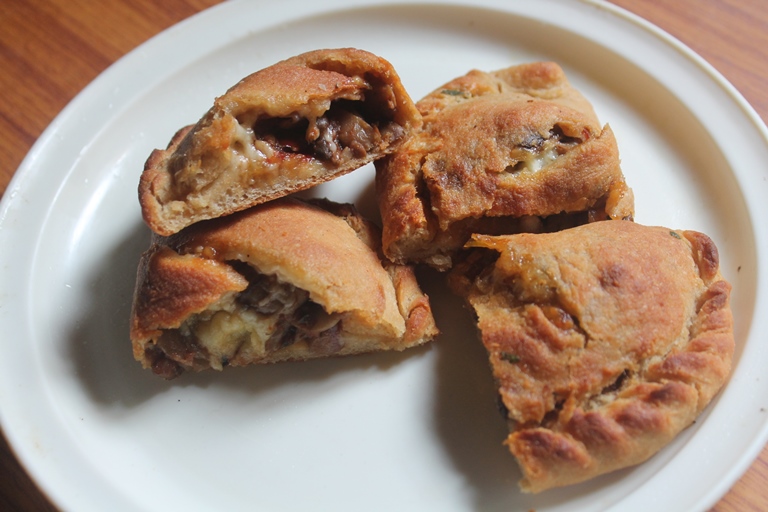 Pin