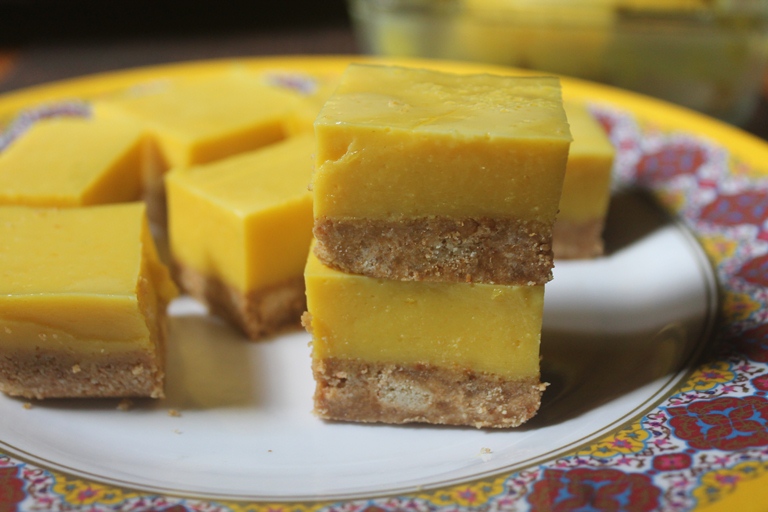 Pin
No Bake Mango Bars Recipe + Tredyfoods.com Review
Super easy and delicious mango bars which requires no baking at all. This mango bars are creamy and taste ever so delicious.
This is a delicious super easy  mango bars which can be made without baking. It is perfect for parties and taste really delicious. The topping is so sweet and has a sweet mango tasty and the base is buttery and yummy.
Similar Recipes,
Cheerio Bars
Wheat Bran Bars
Almond Chocolate Bars
Oatmeal Chocolate Bars
Peanut Butter Bars
Lemon Bars
Semolina Bars
Chocolate Shortbread
Strawberry Oatmeal Bars
Peanut Butter chocolate chip energy bars
Leftover Cakebars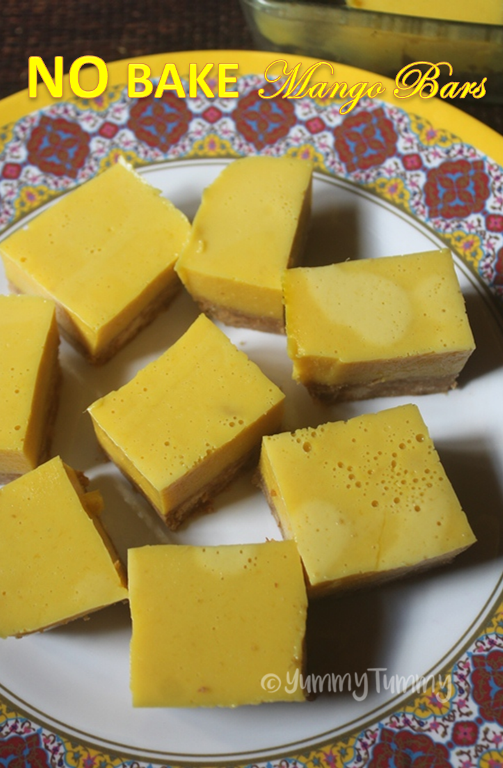 Pin
https://www.yummytummyaarthi.com/2017/01/no-bake-lemon-bars-recipe.html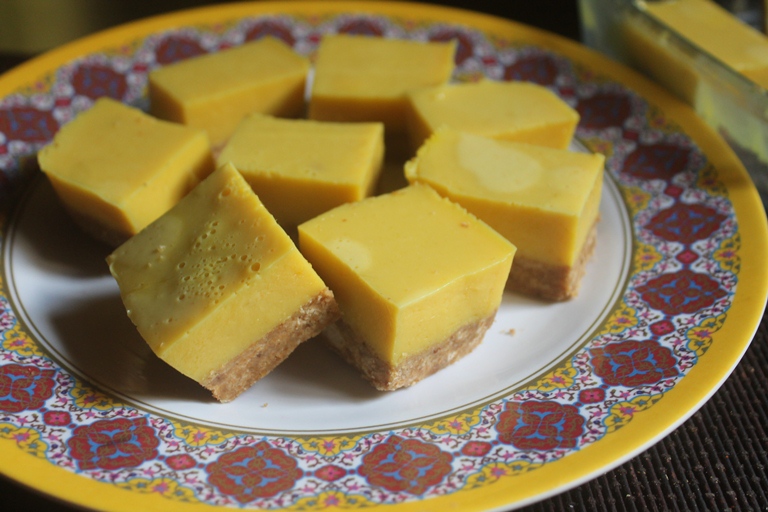 Pin
Hope you will give this a try and let me know how it turns out for you.
https://www.yummytummyaarthi.com/2012/12/lemon-bars-lemon-squares.html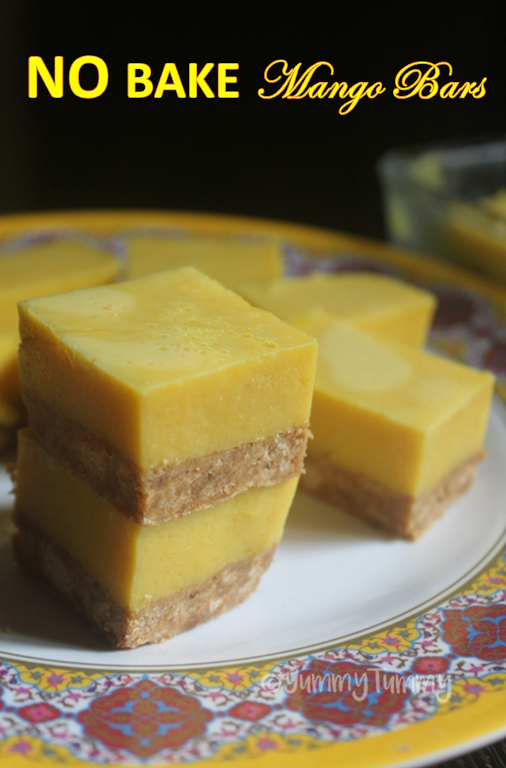 Pin
Now coming to the review of tredyfoods.com.
Tredy foods is a online food delivery website. They deliver snacks, sweets, herbs,spices, health products and many more. Traditional, native and unique snacks, sweets and healthy bites that are available over different parts of our country are delivered at your doorsteps with ease and elegance.
I browsed through their site and found that they deliver even few international sweets like baklava and other too. They also have tradtional cookwares in their collections too. I have been eyeing on this brass dabara set and brass coffee filter.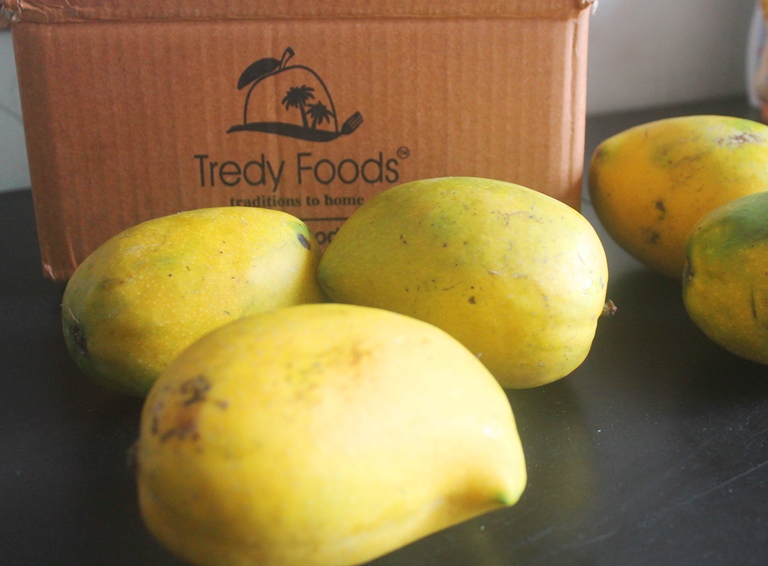 Pin
They were kind enough to send me some mangoes and some readymade masalas to try.
The packaging was spot on and the products got delivered in just couple of days.
The mangoes were semi ripe and instructions were given with the box to make the mangoes ripe in our home. I took all the mangoes and placed it over some hay which came along with the box. The mangoes should be kept upright so the stem part faces upwards.
The mangoes got beautifully ripen in just a couple of days. I was so excited to see it. The mangoes tasted so sweet and the aroma of it just filled my whole kitchen when it was ripening. Such a fruity smell.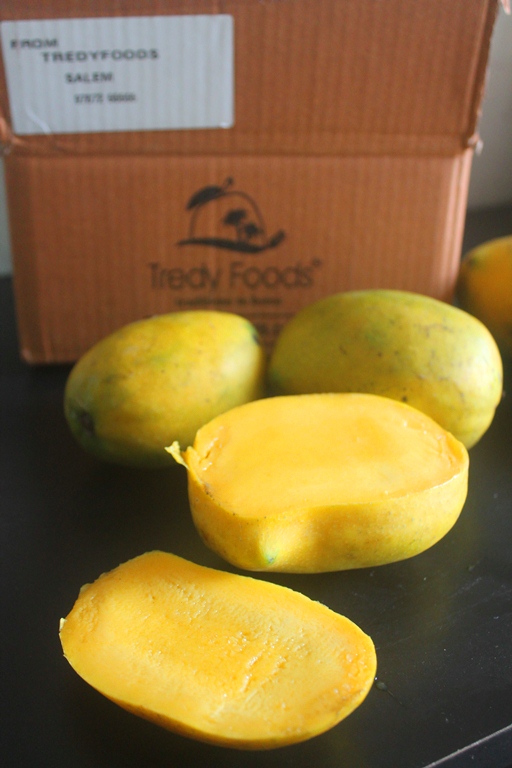 Pin
I used the mangoes to try out few recipes and one of it is this one.
They send me few ready to cook masalas like kadai, pepper and chettinad.  All you have to do is add chicken or veggies in this and the curry is done. I tried it with chicken and paneer and they turned out so yummy. You can have them in your cupboard and use them on those busy days.
This is the pepper chicken which i made, it was so good. I served it with some hot phulka and it was delicious. This is how i made it,
1)Heat a pressure cooker with some coconut oil.
2)Since i used 500 grams chicken, i used two packets of tredy foods pepper masala.
3)Stir fry it for 2 mins.
4)Add chicken in and sear it well.
5)Add little water, cover and pressure cook for 2 whistle.
6)Open the cooker when pressure is released completely. Add in salt if needed and i also added ½ cup milk for creaminess.
7)Thats it, your delicious pepper chicken masala is done.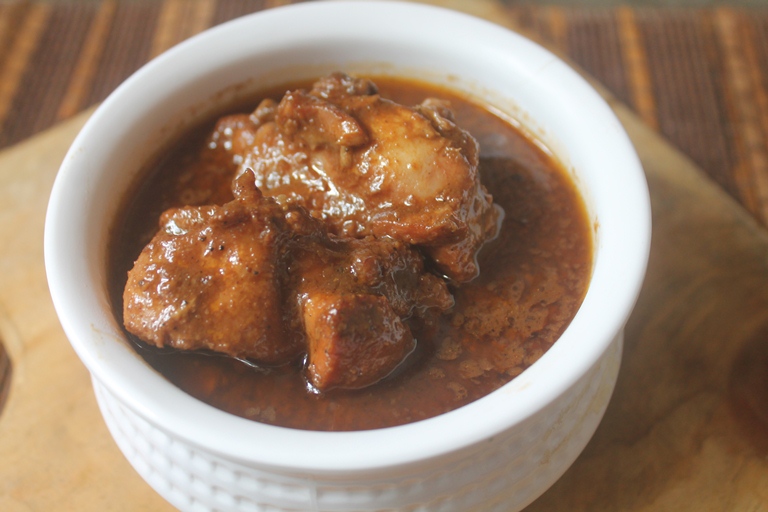 Pin
You can browse all their products and shop from here. They even ship internationally, check their international store here.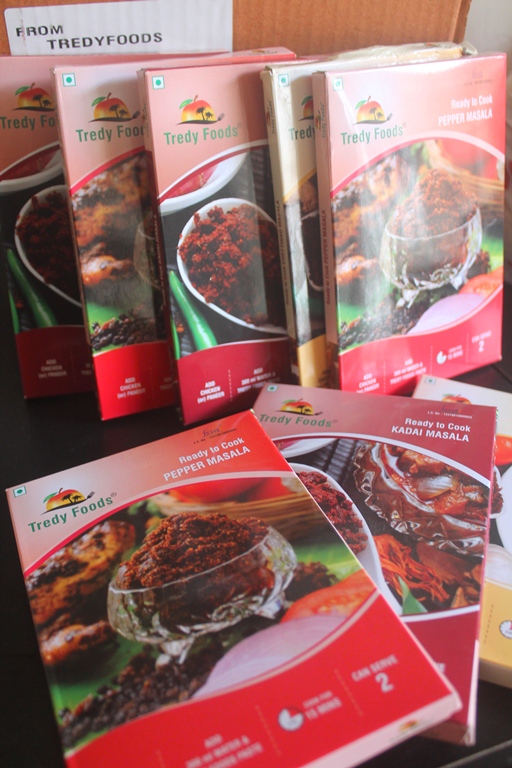 Pin
📖 Recipe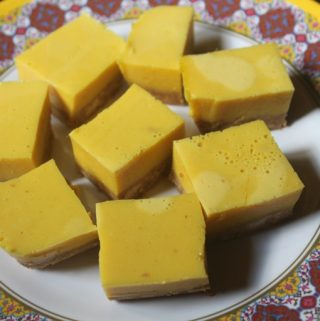 No Bake Mango Bars Recipe + Tredyfoods.com Review
Super easy and delicious mango bars which requires no baking at all. This mango bars are creamy and taste ever so delicious.
Print
Pin
Rate
Servings:
10
to 12 pieces
Ingredients
Mangoes -2 peeled and pureed

about 2 cups puree

Digestive Biscuits - 200 grams

Butter - 50 grams melted

Gelatin - 1 tblsp

Water - ¼ cup

Sweetened Condensed Milk - 1 can

Yellow food colour a pinch

Mango Extract few drops

optional
Instructions
Take biscuits in a blender and powder coarse. Take it in a bowl.

Add melted butter and mix well.

Spoon it into the pan and press gently.

Now take gelatin in a sauce pan, add water and let it soak for 10 mins. Now heat it gently so it melts.

Now add condensed milk, mango puree, food colour and extract. Mix well.

Pour it into the pan and chill for few hours.

Slice and serve.
Join us on Facebook
Follow us on Facebook
Share by Email
Share on Facebook
Pictorial:
1)Take some digestive biscuits in a blender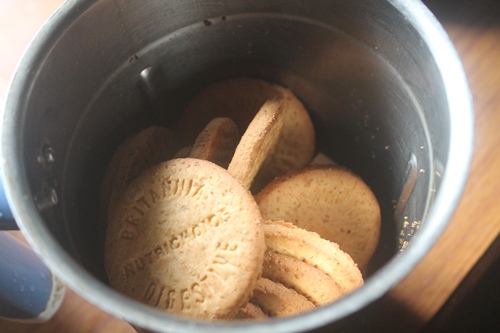 Pin
2)Powder till fine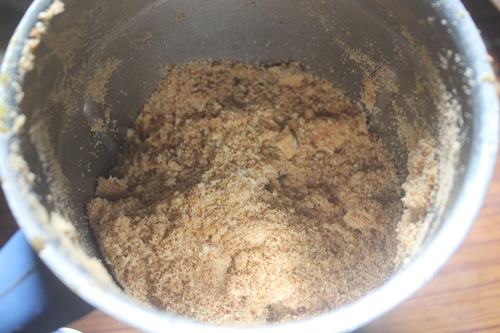 Pin
3)Take it in a bowl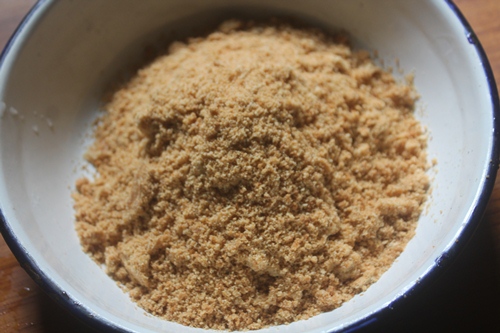 Pin
4)Add in some melted butter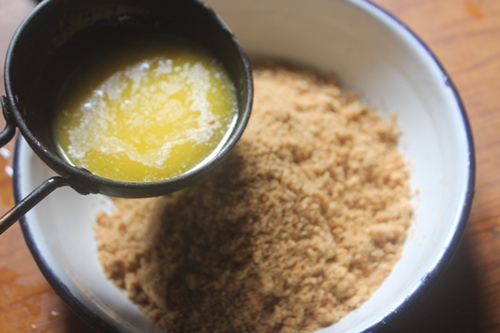 Pin
5)Mix well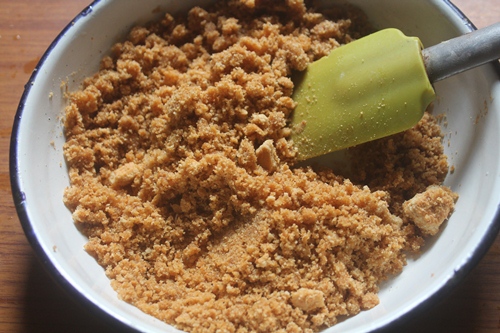 Pin
6)Spoon this into the pan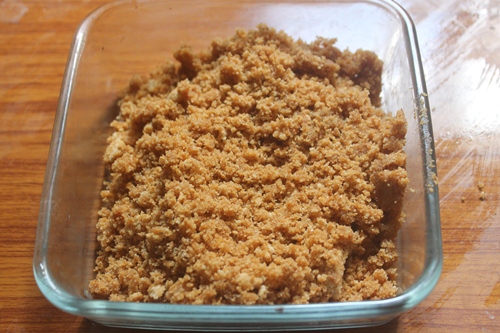 Pin
7)Press to flatten it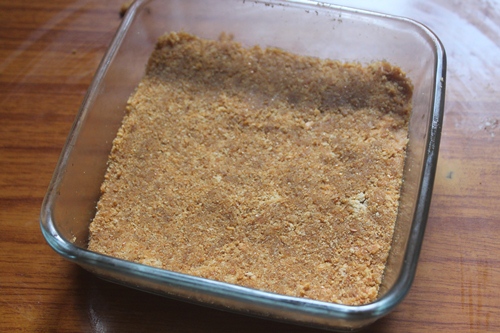 Pin
8)Take mango pulp in a blender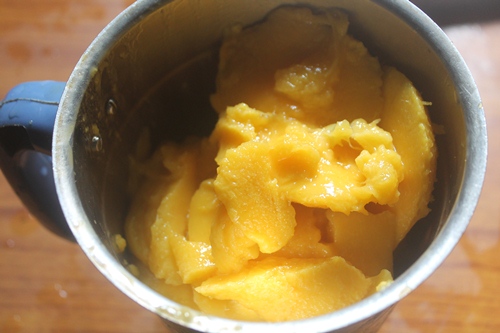 Pin
9)Puree till smooth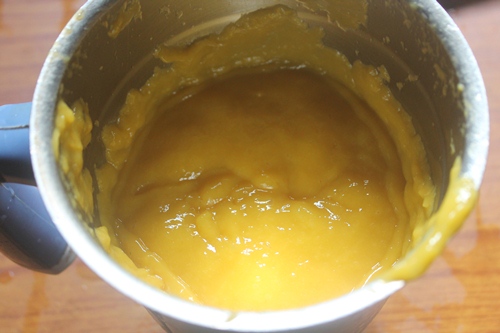 Pin
10)Take gelatin in a sauce pan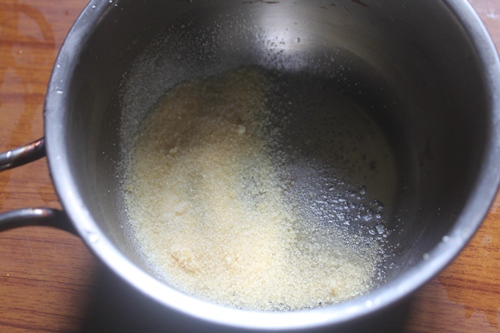 Pin
11)Add some water and let it sit for 5 mins. Now heat it gently so the gelatin dissolves.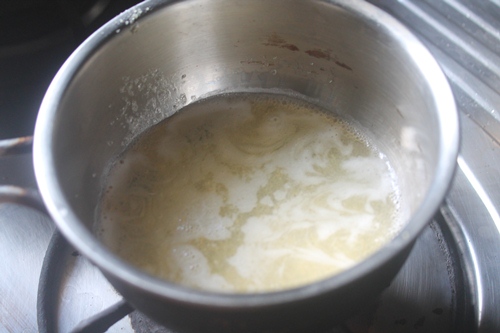 Pin
12)Add in sweetened condensed milk.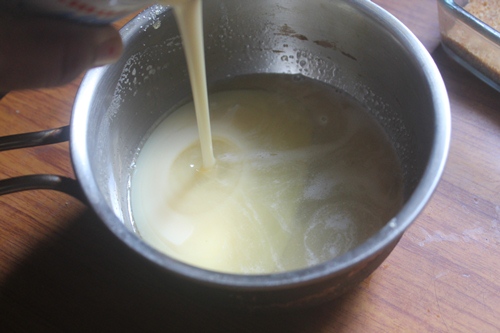 Pin
13)Mix well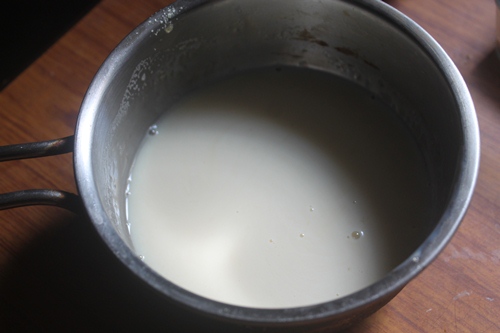 Pin
14)Add in mango pulp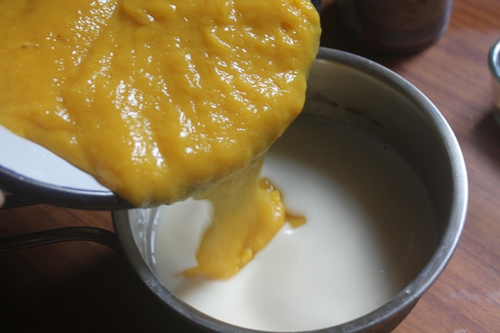 Pin
15)Mix well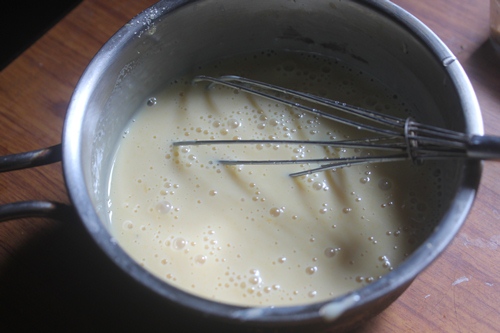 Pin
16)Add in some food colour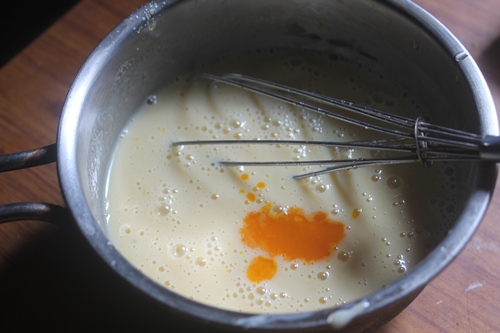 Pin
17)Add few drops of mango extract if you have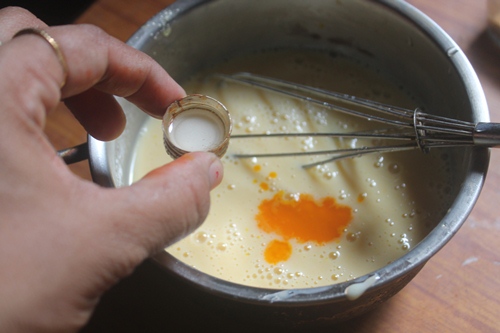 Pin
18)Whisk well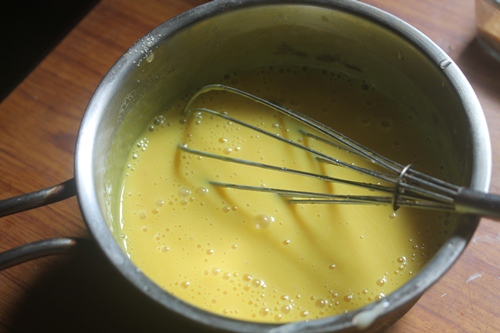 Pin
19)Pour it in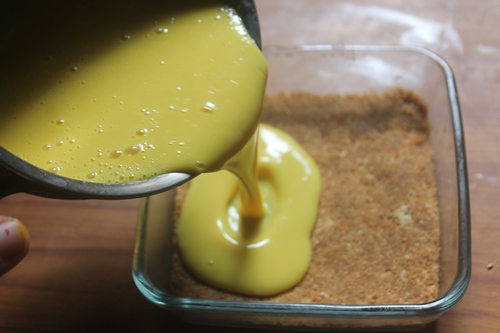 Pin
20)Chill this for few hours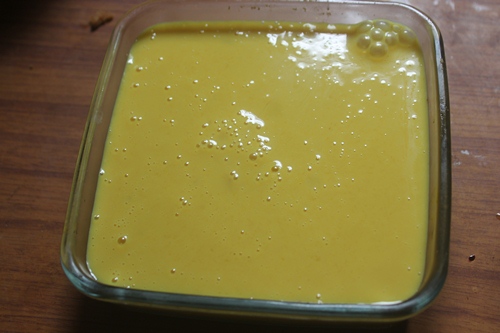 Pin
21)Now it is set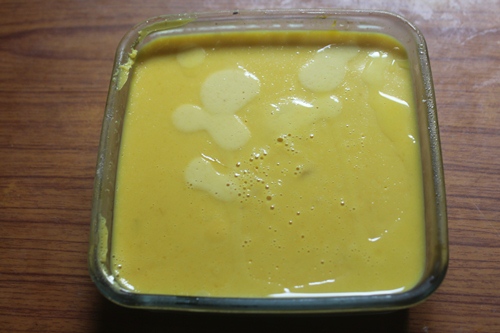 Pin
22)Slice and serve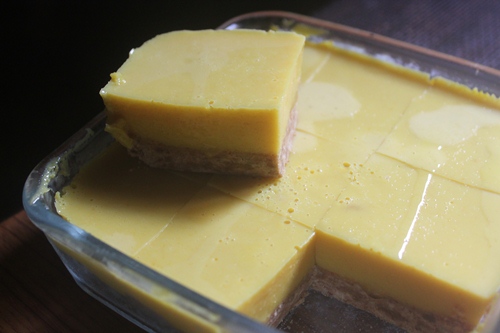 Pin
23)Enjoy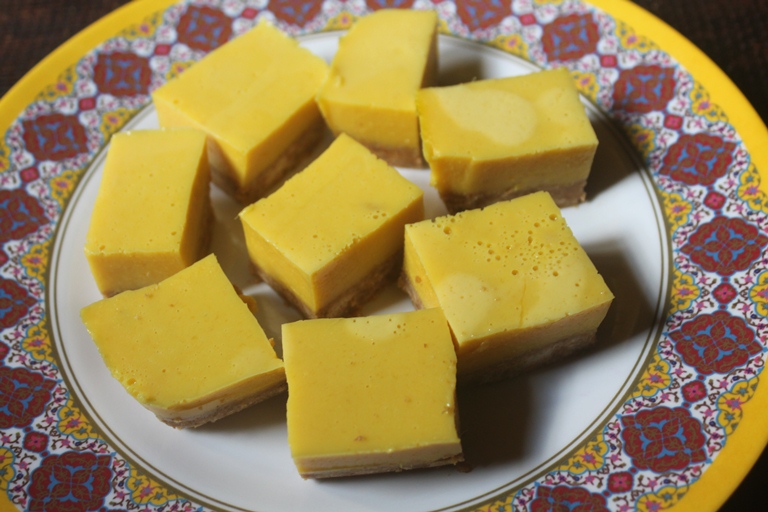 Pin