Last Updated on September 10, 2017
This recipe is from
Contemplation and Rumination
by Karen..She posted this recipe yesterday,As soon as I checked this I thought of trying this.I had every ingrediants on hand.so I made this yesterday…I made a little modifications as usual,still it cameout great.I used peas also in this dish.Then instead of frying the paneer,I boiled it in hot water and used,the paneer turned so soft.In her post she mentioned that we can use milk instead of cream,I tried that it worked really well.I served this with hot chappati and it was heavenly..Thanks Karen for the recipe…Hope you all give this a try and let me know what you think...
Ingrediants:
Paneer-1 packet chopped
Onion-1 sliced
Tomato-1 chopped
Green chilli-2
Capsicum-½ chopped
Green peas-1 cup(I used frozen)
Red chilli powder-1 tblspn
Turmeric powder(manja podi)-1 tsp
Coriander powder(malli podi)-1 tblspn
Cumin powder(jeeraka podi)-1 tsp
Cinnamon(pattai)-1 inch piece
Cumin seeds(jeerakam)-1 tsp
Oil-2 tblspn
Milk-1 cup
Coriander leaves-for garnishing
Method:
In a pan add water and boil it..After it reaches boil add in the chopped paneer cubes and let it sit in the hot water till it is ready to use.
In a kadai add oil and heat it up...Crackle cinnamon,then add in the onions and sauté till golden.
Add all the spice powders and mix well.Throw in the tomato and cook till everything is mushy.
Let it cool and grind this into a smooth paste.
Add oil to the same kadai and crackle some cumin seeds,Then pour in the grinded masala and mix well.
Add in the capsicum,peas,green chilli and mix well.
Pour in some water and let it come to a boil.Now add in the strained paneer cubes and mix well.
Add milk and mix well.Let it come to a boil once.Garnish with fresh coriander leaves.
Serve hot with paratha or chappati.
Pictorial: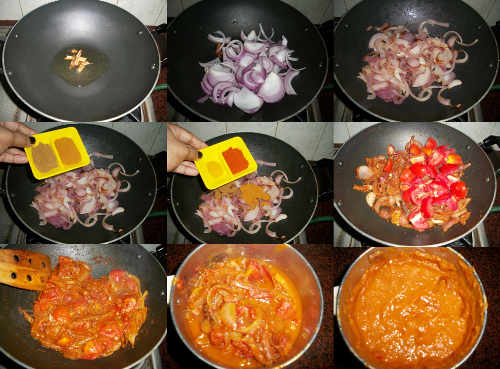 Pin
Saute onions with spices and tomatoes..Make a smooth paste out of it
Crackle cumin seeds in oil and add the paste in ...Add peas,capsicum and paneer pieces..Add in milk and coriander leaves