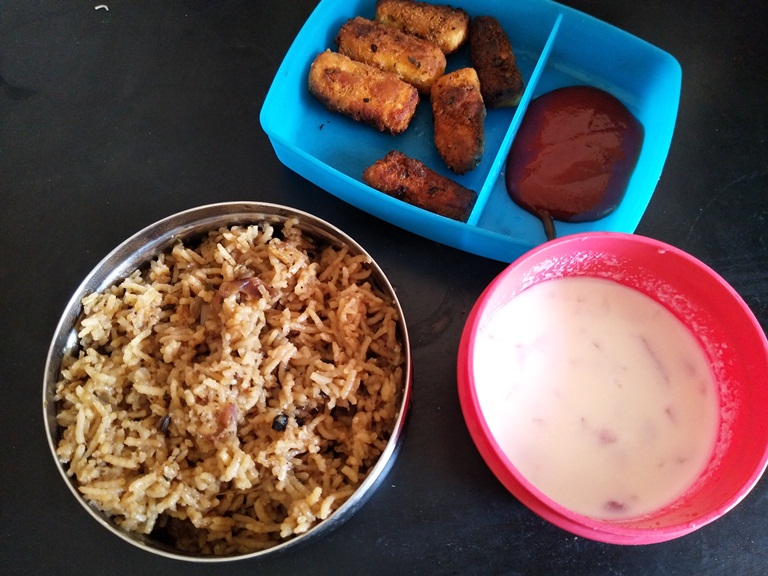 Pin
Pulao with Raita & Paneer Fingers - Kids Lunch Box Ideas 16
Easy pulao and raita lunch box. The pulao is not at all spicy and kids will surely enjoy it.
Today's lunch box
--->Simple pulao with onion raita
Snacks box
--->Paneer fingers with ketchup

Yesterday I made biryani and she seemed to enjoy it. I asked maha whether I can pack biryani on her lunch box. She told me to make onion raita as well. I am hoping she will at least eat a little.
Making pulao on easy. I ground a small piece of ginger, garlic, mint and onion in a blender. Heat a pan, add ghee and some cumin seeds. Now add the ground masala and saute for 5 mins. Add soaked rice and water. Season with salt and cook till done. I added ½ cup rice and 1 cup water. 
https://www.yummytummyaarthi.com/2018/07/beetroot-idiyappam-recipe-kids.html
Today's menu has carb, fat, calcium and protein. 
KIDS LUNCH BOX IDEAS,
Cajun Pasta Lunch Box, BabyCorn Pulao with Gravy, Veggie Wrap & Grapes, Beetroot Rice with Brinjal Fry
Check this link for many more lunch box ideas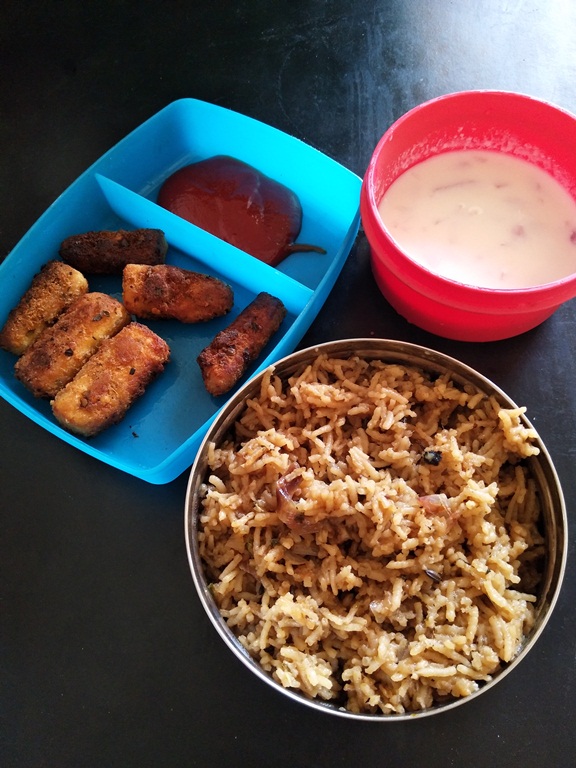 Pin
#yummytummyaarthi #yummytummysnackboxideas
#yummytummylunchboxideas #whatipackformaha
#kidslunchideas#kidslunches #kidslunchboxideas