Hope you guys had a great weekend and are getting ready to enjoy your week. Mondays always seems to be a rush in my house, it is hard for me to get over from the weekend hangover and prepare for my week. Monday mornings are always a tough one, I can never
think of making a breakfast, for those time pancakes are my saviour, because I
can prepare the batter the night before and make some delicious pancakes on the
mornings.
I have started making different types of pancakes to start my day like this
chocolate and cherry pancakes
. This one is my favorite. Because it was so yummy. This is my first halloween recipe for you guys, try this out for halloween breakfast, you will love it. I
have tons of
pumpkin puree
leftover, I will post many more recipe using that soon. So keep checking on.
This pancakes are best had hot with lot and lots of honey or good maple syrup. And lets not
forget lots of butter. So hope you will love it.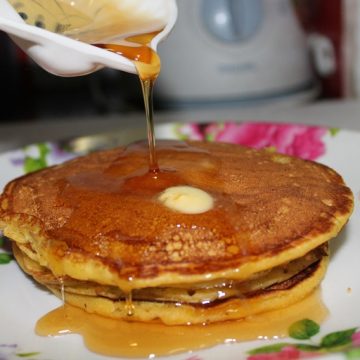 Pumpkin Pancakes - Halloween Special Recipes
Ingredients
All Purpose Flour / Maida - 1 cup / 120 gms

Buttermilk - ¾ cup

Pumpkin Puree - 1 cup

Click here for recipe

Sugar -2 tblspn

Baking powder - 1 tsp

Baking Soda- ½ tsp

Cinnamon - 1 tsp

Salt - ¼ tsp

Egg - 1

Butter - 2 tblspn melted + for making pancakes
Instructions
Take flour, baking powder, baking soda, salt, cinnamon in a bowl and mix well. Set this aside till use.

Now Take a large mixing bowl, add egg, buttermilk, sugar, pumpkin puree,melted butter to it and

mix well.

Now add in the flour mixture and mix well to combine. Don't over mix the batter.

Now heat up a frying pan. Spread some butter over it. Use a paper towel to wipe the excess butter so that the pan is nicely seasoned.

Ladle some batter over the tawa and let them cook till you see small bubbles on top.

Flip this over and cook on other side too.

Place this pancake on a serving plate. Place a knob of butter on top. Place another pancake with

another knob of butter. Repeat this till you wish. I went for 3 pancakes.

Add another knob of butter on top of the pancake. Drizzle lots of honey or maple syrup and serve

immediately.
Pictorial: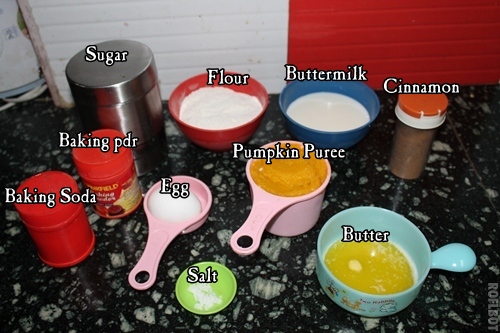 Take all your ingredients
Measure your flour in a bowl
add in baking powder, baking soda, salt, cinnamon in it
and mix well
Crack open a egg in a bowl
add buttermilk to it
sprinkle your sugar in
add in pumpkin puree
add melted butter in and mix well
now throw in the flour mixture
and mix well
pour a ladleful of batter on a hot tawa
cook till you see small bubbles
flip over and cook on other side too
transfer this to a plate
top with a blob of butter...This is a must
now place another pancake over this
and top with another blob of butter
place another pancake over it..Continue this till how much you can consume
and last pancake should also have a blob of butter
Now drizzle some honey or maple syrup and enjoy