Microwave Chicken Curry Recipe with step by step pictures. Delicious bachelor chicken curry which can be made in a microwave.
Everyone thinks that making curries is going to be the most time consuming thing to make. But I am going to give you a recipe for the most simplest chicken curry which can be made in approximately 30 mins. In addition to that, it is going to be a microwave version. So you don't have to worry what is happening in the pan and stirring it standing near by..This is a very basic form of curry, but it taste so fresh and yummy.
This gravy is best when served with rice. You can make this gravy thick or add more water and make it little soupier. You can even dip some crusty bread into the sauce and have it. I hope you will love it and tell me if you try it.
About Microwave Chicken Curry Recipe
Chicken curry, also known as curry chicken, is a dish from the Indian subcontinent. It is widespread in the Indian subcontinent, Southeast Asia, the United Kingdom, and the Caribbean. A typical Indian subcontinent curry consists of chicken stewed in an onion-and- tomato-based sauce flavoured with ginger, garlic, tomato puree, chilli peppers, and a variety of spices, which may include turmeric, cumin, coriander, cinnamon, and cardamom. Outside of South Asia, chicken curry is frequently made with curry powder, a pre-made spice mixture.
Microwaving certain foods may reduce the formation of harmful compounds. Microwaving has the advantage of not heating up the food nearly as much as other cooking methods, such as frying. Typically, the temperature does not rise above 212°F (100°C), which is the boiling point of water.
Is it safe to cook in microwave oven?
Food cooked in a microwave oven is just as safe and nutritious as food cooked in a conventional oven.
Pin
Ingredients for Chicken Curry Made In Microwave
Onion:
Onions are considered a basic ingredient or the foundation of Indian cooking and are used to make any gravy, curry, or bhuna dish. The flavour and aroma of onion transforms any ordinary dish into a mouthwatering and delectable one.
Turmeric Powder :
The turmeric root is quite bitter, but has an almost citrusy taste, compared to the powder. Turmeric also has something of a sweet taste, and it is quite earthy. When you use the powder, you're unlikely to notice the texture unless you use a substantial amount, but it is somewhat gritty.
Coriander Powder :
Coriander Powder is a flavouring agent used in a variety of cuisines. It is one of the oldest known herbs and spices. Coriander is mentioned in the Bible, and seeds from the plant have been discovered in ruins dating back to 5000 B.C.  
Garam Masala Powder:
The whole spices in the Garam Masala blend have already been toasted before being ground. As a result, it is not necessary to cook it. If the garam masala is added too soon, it will become overcooked and lose its flavour. Garam masala aromatics require only a small amount of heat to release their aroma and flavours.
📖 Recipe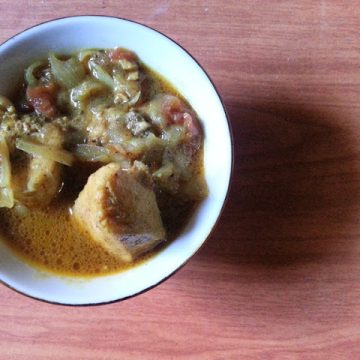 Microwave Chicken Curry Recipe
Microwave Chicken Curry Recipe with step by step pictures. Delicious bachelor chicken curry which can be made in a microwave.
Ingredients
Chicken - 300 gms chopped

Onion - 1 large sliced

Tomatoes- 2 large chopped finely

Turmeric powder / Manjal podi - 1 tsp

Coriander powder / Malli podi - 1 tblspn

Pepper Powder - 2 tsp

Garam Masala powder - 1 tsp

Salt to taste

Oil -1 tblspn
Instructions
Take a microwave safe bowl. Add oil in it.

Now throw in the onions and microwave for 3 mins. Now they will be translucent.

Now add in the spice powders and tomatoes to it and mix well.

Microwave again for 5 mins.

Take it out and mash it well.

Now add in chicken and mix well with the masala.

Pour some water and cover the bowl with a lid.

Microwave for 30 mins.

Remove it from the oven and serve.
Microwave Chicken Curry Recipe Step by Step 
Take all your ingredients
Take oil in a microwave safe bowl..Add onions to it
and microwave for 3 mins
till they tun translucent
add in spice powders and tomatoes
and microwave for 5 mins
they will turn mushy
add chicken
and mix well
pour some water
and mix well
cover with a lid
and microwave for 30 mins on half the power
chicken curry done
Serve