Last Updated on May 18, 2017
SO far i thought that i have already shared dinner rolls recipe with you all, but i haven't shared a basic recipe yet. I found out this just a few days back and thought of sharing it with you all. Since thanksgiving is around the corner and i have been creating recipes for thanksgiving, so i thought to share this in this perfect timing.
Similar Recipes,
This recipe is very basic and gives you the best soft dinner rolls ever.
More Thanksgiving Recipes,
Cranberry Sauce
Turkey Coconut Roast
Turkey Gravy
Chicken and Leek PIe
Pear Cherry Crumble
Mango Crumble
Apple Pie
Pineapple Pie
Banoffee Pie
Apple Galette
Apple Crumble
Rustic Apple Pie
Shortcrust Pastry
It is pretty easy to make and very basic. I will share a post for different shapes of dinner rolls which you can create in another recipe.
Hope you will give this a try and let me know how it turns out for you..


Preparation Time : 10 mins
Resting Time : 2 hours
Baking Time : 25 mins
Serves: 4 to 6


Ingredients:
All Purpose Flour / Maida - 2 cups + more / 240 grams
Salt - 1 tsp or to taste
Milk - ¾ cup / 180 ml
Butter - 4 tblspn
Dry Yeast - 1.5 tsp
Egg - 1
Sugar - 2 tblspn
(My 1 cup measures 240 ml)


Method:
Take all purpose flour, salt in a bowl and mix well. Set aside.
Take butter in a sauce pan, melt it on low heat till it is molten, add in milk and set aside to cool. It has to be luke warm. Now add in sugar and sprinkle over yeast and set aside for 5 mins to the yeast activates.
Now once the yeast is activated, add in a egg and mix well.
Pour this into the dry flour mix and mix well. The dough will be little sticky, but thats okay.
Now cover with plastic wrap and set aside for 1 hour so the dough doubles in size.
Now punch the air out and add more flour and knead for 2 mins.
Now divide the dough into small balls and arrange it in a greased baking pan and set aside for another 30 to 45 mins.
During the last 10 mins or proofing time, preheat oven to 200 degree C.
Now brush the top with some milk and bake for 25 mins.
Remove and serve warm.
Pictorial:
take butter in a sauce pan
make sure the mixture gets very luke warm
once it is warm, sprinkle over yeast
let it sit for 5 mins to activate
pour this into the flour mix
the dough will be pretty sticky
cover with plastic wrap and set aside to rise
sprinkle more flour and knead for 1 or 2 mins
now divide it into equal portions
roll it into a smooth ball
arrange it in a oiled baking pan
brush the top with some milk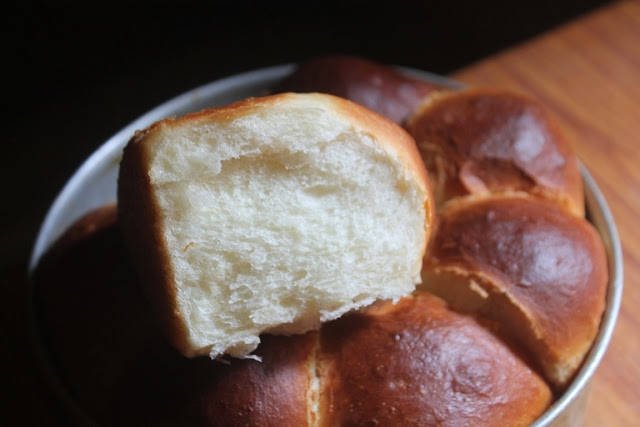 Pin