I have a good news and bad news for you..First the Bad News…. My camera is broken.These photos are taken from one of my friends camera..I am not used to that camera so when I finished taking pictures I found that the flash was not on(OH!!!it was very annoying),so the pictures came very dull,So I went and started editing the pictures and unluckily it became a disaster,I forgot to save my old file(which I usually do)..so the pictures ended up like this.OOPS!!!
Now the Good News..I ordered a oven from BigBazaar a couple of weeks ago.And I got it on last Friday.The packing was really good and price is really cheap…and it is a OTG oven…The temperature control is upto 250 degrees.It has rositerri function and timer upto 1 hour….and it is completely worth the money.If anyone wish to buy this please check here.First I made cupcakes in it and it turned out pretty good.Yesterday I made Tandoori Chicken and it cameout perfectly.
Tandoori chicken is traditionally cooked in a tandoor…But we can make a perfect tandoori chicken in a oven also.Since we are cooking chicken in oven,we want the chicken to be so tender so I ended up using baking powder as a meat tenderizer and it worked really well.Try to use thick curd in this recipe so that the marination holds on the chicken well.I used chopped vegetables to line the tray so that the chicken does not stick to the foil and also it comes out more flavourful.I served this with
mint chutney
and cucumber raita.To find the recipe for mint chutney check
here
.I will post the recipe for cucumber raita soon.So hope you will try this and let me know what you think.Please leave comments….
Ingrediants:
Chicken-1 whole chicken cut into 4 pieces
Baking Powder-1 tsp
Oil-1tblspn
Vegetables for lining tray(carrots,potato,onion,cauliflower)
For Marination:
Curd-1 ½ cups
Chilli powder-2 tblpsn
Pepper-1 tsp
Cumin powder(jeeraka podi)-1 tsp
Garam masala powder-1 tsp
Coriander powder(malli podi)-1 tblspsn
Chat masala-2 tsp
Kasuri methi leaves-1 tblspn
Red food colouring-1 tsp
Ginger Garlic paste-1 tblspn
Salt to taste
Lemon juice to taste
Method:
Clean the chicken and make slashes so that the chicken cooks evenly.Add a tsp of salt,chilli powder,baking powder and mix together.Let it marinate for 15 min.
In a Bowl add Curd and all the ingredients given for marination and mix well.Pour this over the chicken and let it marinate for 2-4 hours.
Preheat the oven to 200 degree for 10 min.Now take a Baking tray and line it with foil,Place all the chopped vegetables as a layer,this forms a kind of vegetable bed.
In a small bowl mix oil and lemon juice and keep this aside.This is the lemony base for the chicken.
Now place the marinated chicken in it and drizzle with a tsp of oil.place this in the center rack of the oven and cook for 20 min.Now turn the chicken and cook for a further 15 min.For every 10 min just apply the lemony base over the chicken so that the chicken does not get dry.
Now set the oven to broil and place the tray on the top rack,grill for 10 min,so that you will get the char marks.
Remove the chicken in a plate and pour all the pan juices along with the vegetables into a kadai and heat it with whatever spices you want..This makes a lovely gravy.
Serve the Tandoori chicken with
mint chutney
and cucumber raita.
Pictorial: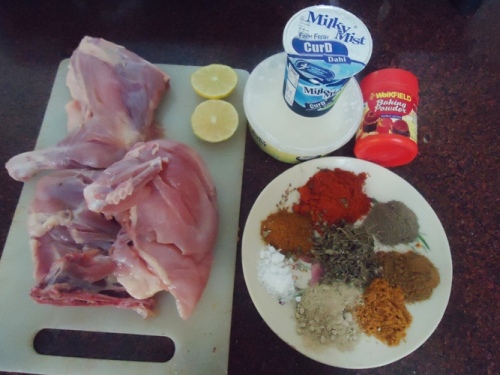 Ur ingrediants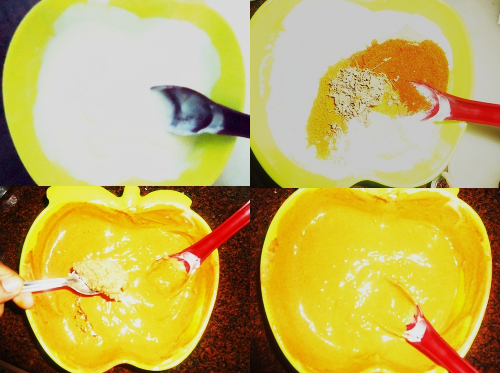 make marinate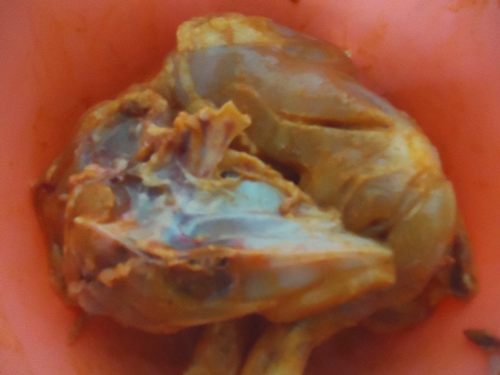 Cut slashes in chicken and marinate it with salt,baking powder,lemon juice and chilli powder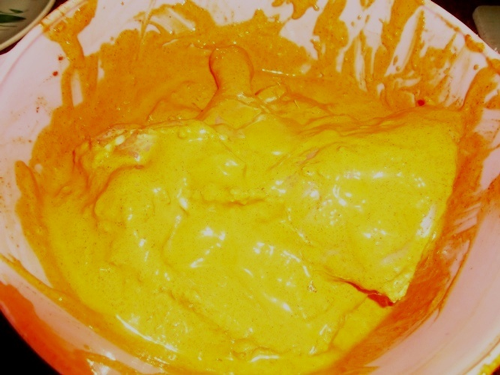 Now pour in the second marinate which we prepared…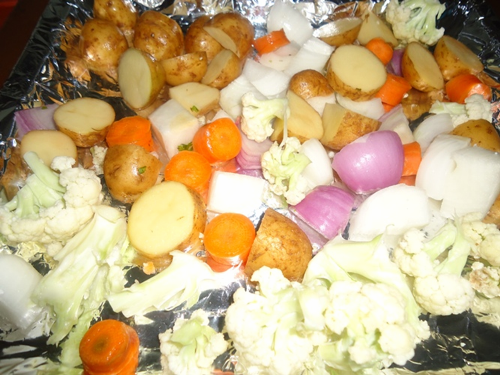 Lay vegetables in a tray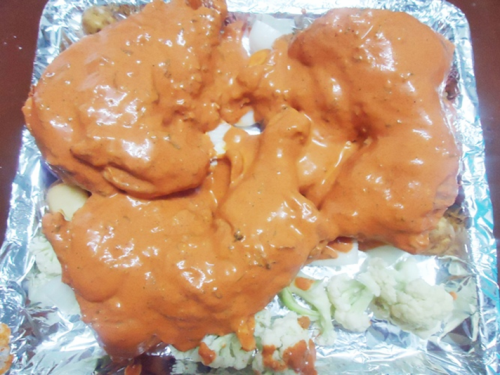 Arrange the chicken…and bake it in the oven…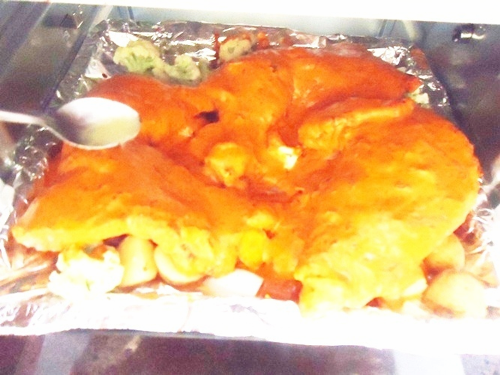 Now base it with the lemon juice and oil…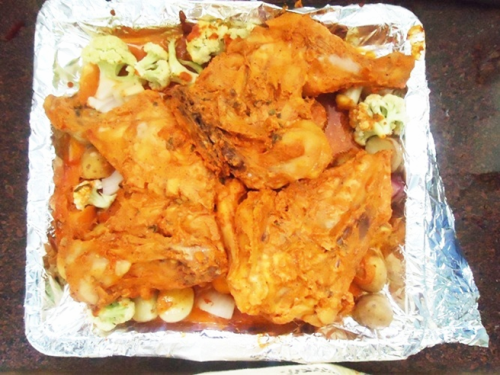 Turn it over and cook on the other side too….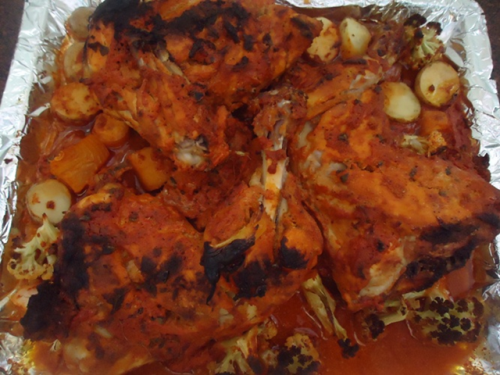 all grilled and done…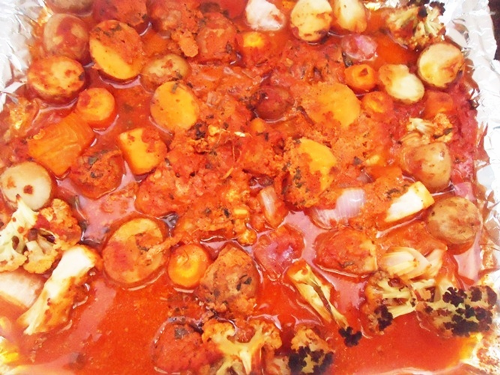 What will you do with this…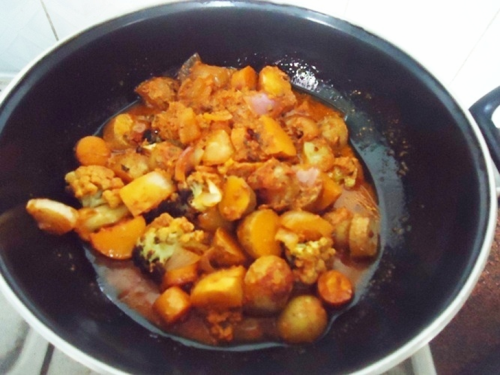 Heat it in a kadai…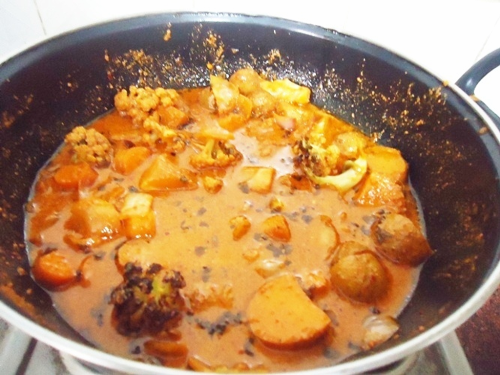 add some water to this..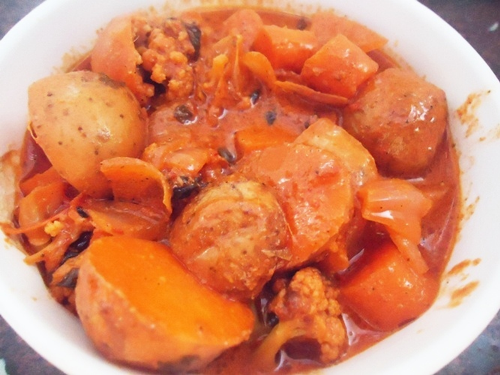 Serve it with chicken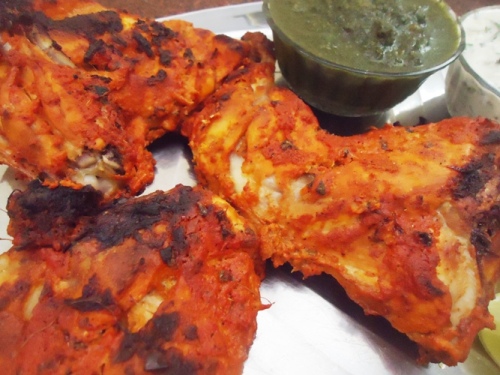 SERVE with mint chutney and raita