"Top 21 Grilled Chicken Recipes - BBQ Chicken Recipes - Roasted Chicken Recipes for your weeknight"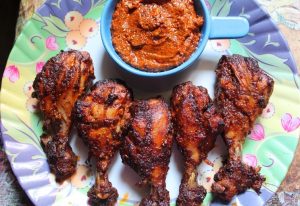 I love roasting and grilling chicken in oven rather than frying..Because they are healthy when you cook them in oven, and also they turn out so moist and juicy and you dont have to worry about baby sitting them after you put them in oven..
Here are few of my collections of recipes which are either roasted, grilled or baked with a whole lot of different and unique marination like honey lemon, thai red curry and many other.
Tip for Juicy Chicken :
1)Use dark meat for juicy chicken.
2)If you are using breast, then cook it little less.
3)Don't over cook chicken else it will get dry.
4)Marinate the chicken for atleast 2 hours or overnight for best result.
5)Bring chicken to room temperature before cooking.
6)You can marinate the chicken for upto 2 days.
7)Store marinated chicken in freezer upto a month. Thaw it in fridge overnight before cooking.
HERE IS ALL THE CHICKEN RECIPES WHICH YOU CAN MAKE IN A BBQ OR OVEN