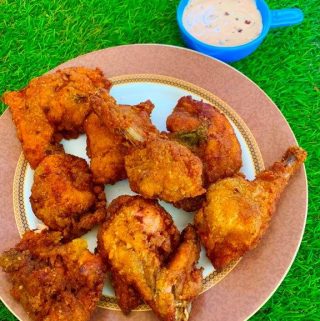 Fried Chicken using Readymade Fried Chicken Mix
If you are looking for a quick dinner or if you want to make fried chicken in a instant. Then this is the answer.
Chicken - 1 cut into 10 pieces.

Thillai's Crispy Chicken Fry Mix - 1 packet
Take half of thillais chicken mix in a bowl. Add water and make batter.

Take remaining flour mix in a bowl.

Take chicken and dip chicken in the batter. Coat in the dry flour.

Now drop in hot oil and fry till golden and cooked. Fry on medium hot oil.

Drain and serve hot.