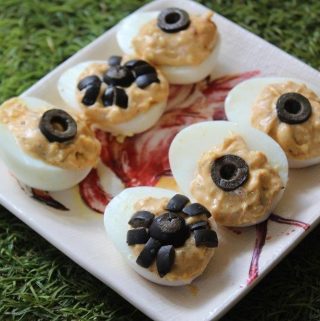 Peri Peri Evil Deviled Eggs
Peri Peri Evil Deviled Eggs makes a great appetizer which has a halloween decoration on top like spider. This makes a great addition to your halloween table.
Hard Boiled Eggs - 6

Sugar - 1 tsp

Apple Cider Vinegar - 2 tsp

Mayonnaise - ½ cup

Peri Peri Spice Mix - 1 tblsp

Black Olives as needed
Take sugar, vinegar, peri peri mix, mayo and mix well.

Slice hard boiled eggs, remove the egg yolk and add it into the mayonnaise.

Mix well till creamy.

Take boiled egg white in a plate. Spoon egg yolk mix into the egg white shells.

Place olives over the yolk mix, decorate it like spider.

Chill in fridge for few hours.

Serve immediately.