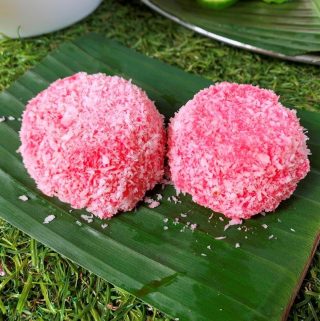 Kuih Sago Recipe - Malaysian Sago Cake Recipe
Kuih Sago and Malaysian Sago Cake is a chewy and easy rose flavored cake which is very popular dessert in malaysia.
Sago - Sabudana - Javvarisi - ½ cup

Water - 2 cups

Rose Syrup - 4 tblsp

Sugar - 2 tblsp

Pandan leaf - 1

Desiccated Coconut - ½ cup
Wash and soak sago for 30 mins.

Take water in a pan, add in sago and mix well. Add in pandan leaf.

Cook on a low heat for 10 to 15 mins. keep mixing. Cook on low heat till sago is cooked.

Add in sugar and rose syrup and mix well.

Cook till thickens.

Now spoon this in a greased silicon mould and leave to set in fridge for few hours.

Now remove it from mould. Coat in desiccated coconut.

Serve cold.