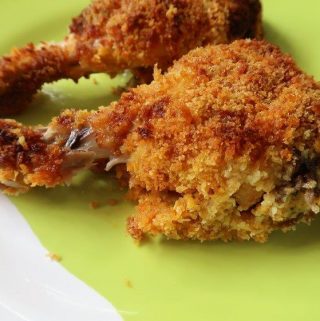 Air Fryer Fried Chicken
Air Fryer Fried Chicken is super easy to make and taste so juicy and flavourful. This is a healthy fried chicken made in air fryer.
Chicken Drumsticks - 6

Salt to taste

Black Pepper to taste

Lemon Juice or Vinegar - 1 tblsp

Chilli Powder - 2 tsp

Turmeric powder - 1 tsp

Garam Masala Powder - 2 tsp

Oil - 2 tblsp

Ginger Garlic Paste - 1 tblsp

All Purpose Flour / Maida - 2 tblsp

Breadcrumbs - 1 cup
Preheat air fryer to 190 degree C for 10 mins.

Take chicken in a bowl, add all ingredients except breadcrumbs.

Now coat the chicken in breadcrumbs.

Place chicken in air fryer and bake for 25 to 30 mins.

Remove and serve.