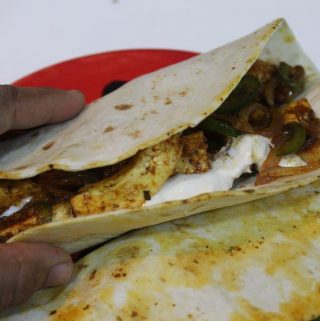 Soft Paneer Tacos Recipe
Delicious soft paneer tacos is a easy and delicious dinner or breakfast recipe. This tacos will be your kids favorite.
Oil - 2 tblsp

Onions - 1 large sliced thinly

Capsicum - 1 large sliced thinly

Paneer - 200 grams

Peri peri spice mix as needed

Salt to taste

Tortillas as needed

Mayonnaise or Garlic Sauce as needed
Heat oil in a pan. Add in onions and capsicum and mix well. Cook for few minutes.

Now add in paneer and saute them well. Add peri peri mix and mix well.

Warm some tortillas.

Spoon filling in and spoon garklic sauce or mayo.

Serve.