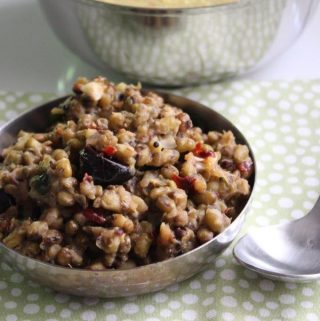 Green Gram Stir Fry
Green gram or Cheru Payar Tossed with a spicy onion and garlic mixture which goes well with plain kanji or broken rice porridge.
FOR SEASONING:
Coconut Oil - 3 tblsp

Mustard seeds / Kaduku - 1 tsp

Urad dal / Ulundu paruppu - 2 tsp

Cumin seeds - 1 tsp

Curry leaves a handful

Dry Red chillies - 2
coarsely crush onion, garlic, chillies.

Pressure cook green gram for 1 whistle and set aside.

Heat oil, add seasoning ingredients and let them sizzle.

Add ground paste and saute for a min.

Add cooked beans and mix well. Season with salt and mix well.

Serve with kanji.