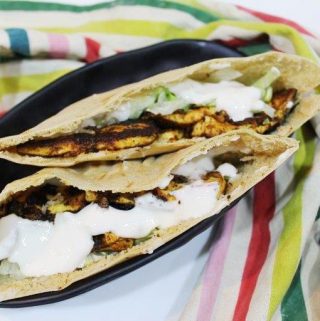 Paneer Shawarma Recipe (Vegetarian Shawarma Recipe)
Delicious paneer shawarma which taste so delicious and is easy to make. This makes a great vegetarian shawarma.
FOR MARINATE:
Olive Oil - 3 tblsp

Lemon Juice - 2 to 3 tblsp

Red Chilli Flakes - 2 tsp

Oregano - 1 tsp

Cumin Powder - 2 tsp

Chilli Powder - 2 tsp

Salt to taste

Black Pepper Powder - 1 tsp
Mix all the ingredients for marinate. Add paneer and mix well.

Pan fry the paneer slices till golden brown. Remove and set aside.

Cut open pita bread. Spread garlic sauce. Add lettuce. Place paneer slices and pour more garlic sauce.

Serve,.