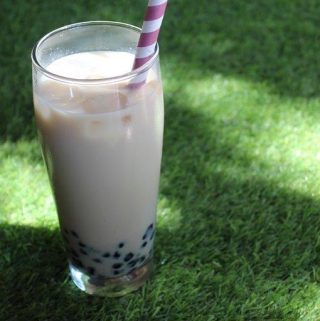 Brown Sugar Boba - Bubble Tea
Bubble Tea is a popular drink which is very refreshing as well. Brown sugar boba is my favorite and taste simply delicious.
Tapioca Pearls - ½ cup

Water - 4 cups

Cold Milk - 2 cups

Brown Sugar - ½ cup

Ice Cubes as needed
Bring water to a boil. Once it boils. Add tapioca pearls and boil till it floats on top. Reduce the flame and cook for further 5 mins.

Drain and set aside in a bowl. Add brown sugar and mix well so it gets syrupy.

Spoon half of it in a glass, tilt the glass so it spreads evenly.

Now top with ice cubes and cold milk and mix well.

Serve.