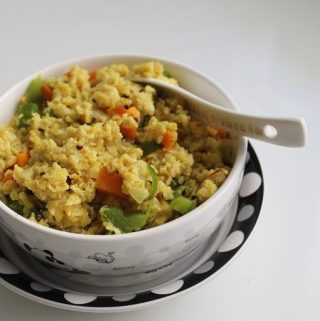 10 Mins Oats Breakfast Recipe
Instant oats upma is a healthy and nutritous way to start your day. It is easy to make and takes less than 15 mins.
Oil - 1 tblsp

Mustard seeds - 1 tsp

Urad dal - 1 tsp

Asafoetida / Hing / Kaya podi a pinch

Curry leaves a sprig

Onion - 1 chopped finely

Green Chillies - 2 chopped

Carrot - 1 chopped

Beans - 6 chopped

Capsicum - ½ chopped

Salt to taste

Turmeric powder - 1tsp

Salt to taste

Instant Oats - 2 cups

Water - 2 cups

Ghee - 2 tsp
Heat oil in a pan. Add mustard, urad dal, curry leaves and asaofetida.

Add in onions and veggies and chillies. Saute for 2 to 3 mins.

Add in salt, turmeric and oats and toss well.

Add in boiling water and mix well.

Cover and cook on low heat for 5 to 6 mins.

Fluff up and serve.