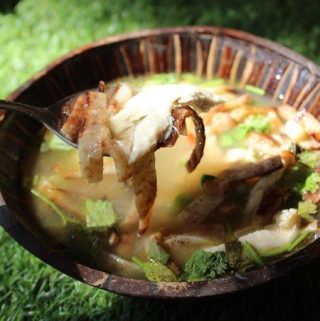 Tortilla Soup Recipe
Tortilla Soup is just awesome, it is a popular mexican recipe which is quite comforting. Tortilla soup has become one of my favorite soup of all time.
Tortilla - 1 cut into strips

Oil - 1 tblsp

Chicken Stock - 3 cups

Cumin Powder- 1 tsp

Salt to tastee

Green Chillies - 1 chopped finely

Onion - ¼ cup chopped finely

Garlic - 2 chopped finely

Cooked Chicken - 1 cup shredded

Coriander leaves for garnishing
Take tortillas, cut into strips. Heat oil in a pan, add strips and cook till golden. Drain and set aside.

Take all the other ingredients except chicken and coriander leaves and mix well.

Bring it to a boil and simmer for 5 mins.

Add in tortillas and mix well.

Take it off the heat and add in chicken and mix well.

Spoon this into a bowl.

Top with strips and coriander leaves.