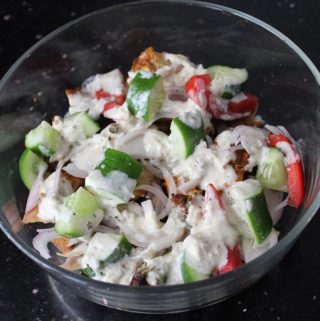 Pita Bread Salad Bowl Recipe
This pita bread salad bowl is filling and taste amazing. It has all the elements you need. The pita bread is crunchy and the veggies are fresh and the sauce is tangy.
FOR SAUCE:
Mayonnaise - ¼ cup

Yogurt - ¼ cup

Garlic - 2 tsp grated

Salt to taste

Cumin Powder - 1 tsp

Pepper Powder - ½ tsp
Mix all sauce ingredients. Set aside in fridge till needed.

Take pita bread. Cut into triangles. Pop that in a baking sheet and bake in a 150 degree C oven for 12 to 15 mins till it is golden. Set aside to cool.

Now take the pita chips in a bowl, top with onions,cooked chicken, tomatoes and cucumber and pour some sauce on top.

Serve immediately.