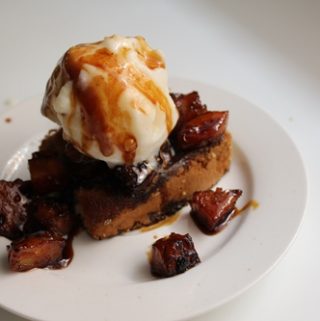 Pineapple Upside Down Sundae Recipe
Different type of dessert made using pineapples and cake slices. This dessert is not only delicious but is very easy to put together as well.
Vanilla Cake 2 slices

Butter - 1 tblsp + 1 tblsp

Pineapple - 1 cup chopped fiinely

Brown Sugar - ¼ cup

Water - 2 tblsp

Vanilla Extract few drops

Salt a pinch

Vanilla Icecream few scoops
Melt 1 tblsp butter in a pan. Place cake slices and toast till golden on both sides. set aside in a serving plate.

Heat butter in a pan, add pineapple slices. saute for 2 mins.

Add brown sugar and mix well. Add water and bring it to a boil.

Add in vanilla, salt and mix well.

Spoon this over the cake and top with vanilla icecream.

Serve.