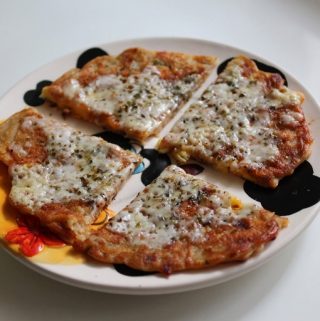 Pizza Pancakes Recipe - Kids Friendly Breakfast Recipes
Delicious kids friendly pizza pancakes which taste amazing when served hot. This is perfect for kids as a breakfast or as a after school snack.
FOR PANCAKES:
Wheat Flour - 1 cup

Baking Powder - ¼ tsp

Salt to taste

Pepper to taste

Onion - 2 tblsp chopped finely

Capsicum - 2 tblsp chopped finely

Mozzarella Cheese - 3 tblsp grated

Pizza Sauce or Tomato Ketchup - 2 tblsp

Oregano - ½ tsp

Basil - ½ tsp

Parsley - 1 tblsp chopped

Sweetcorn - 2 tblsp

Water as needed
Mix everything given for pancakes to a smooth batter.

Heat oil in a pan. Pour batter and make a pancake.

Cover and cook, flip over and cook.

Top with sauce, cheese and oregano.

Cover and cook.

Serve,.