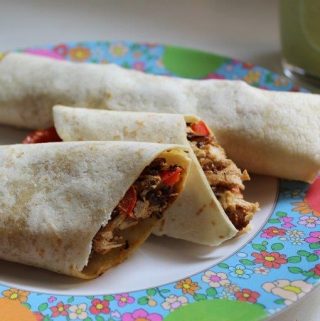 Cheesy Chicken Wrap Recipe
This is a quick lunch box wrap recipe which you are put in your kids box. It is not only easy to make but is so tasty too.
Oil - 1 tblsp

Garlic - 4 cloves chopped

Onion - 1 large sliced

Capsicum / Bell Pepper - 1 sliced

Red Chilli Flakes to taste

Pasta Seasoning to taste

Cooked chicken - 2 cups shredded

Cheese Spread - ½ cup

Salt to taste

Chapati or Tortilla as needed
Heat oil in a pan, add in garlic and saute for a min.

Add in onions and peppers and saute for 1 min.

Add cooked chicken, salt, red chilli flakes, pasta seasoning and mix well.

Add cheese spread and mix well.

Take a chapati and spread with this mix and roll it.

Serve.