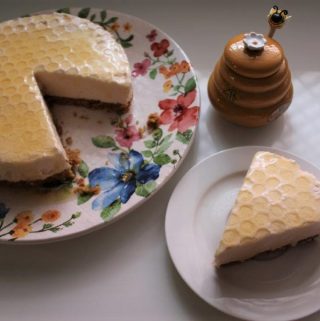 Honey Cheesecake Recipe
Delicious creamy honey cheesecake which is not only delicious but taste so yummy. Serve with a drizzle of honey or any fruit compote you are in heaven.
Take biscuits in a blender. Powder coarse.

Add melted butter and mix well. Spoon this into the round spring form pan. Press gently and chill in fridge for 30 mins.

Whip cream till thick.

Take cream cheese, honey, icing sugar and vanilla in a bowl and whisk till creamy.

Add in whipped cream and fold gently.

Spoon this into the pan and spread evenly.

Refrigerate overnight.

Slice and serve with compote.