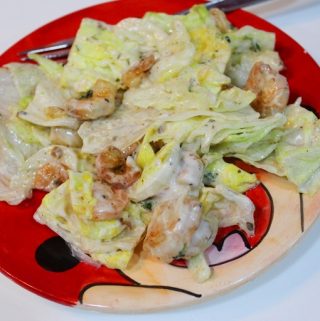 Creamy Prawn Salad Recipe
Delicious salad made using prawns and tossed with crispy lettuce and creamy dressing. Taste so yummy and is very easy to make.
FOR DRESSING:
Mayonnaise - ½ cup

Cream or Milk - ¼ cup

Mustard powder - 2 tsp

Salt to taste

Sugar to taste

Black pepper to taste

Vinegar to taste
FOR SALAD:
Prawns - 300 grams

Iceberg lettuce as needed

Garlic - 4 cloves chopped finely

Cayenne Powder - ½ tsp

Salt to taste

Pepper to taste

Coriander leaves - 3 tblsp chopped finely

Olive Oil - 2 tblsp
Mix prawns with salt, pepper, garlic, coriander leaves, cayenne. Heat olive oil and cook till prawns is done. Set aside.

Mix all ingredients for dressing and set aside.

Mix lettuce with prawns and dressing.

Serve immediatelty.