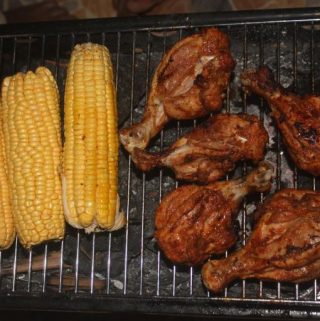 Charcoal Grilled Chicken Recipe
Delicious and moist grilled chicken which taste so delicious and it is a fun recipe to try with your friends and family.
Chicken 1 whole chicken cut into 10 pieces

Onion - 1 large chopped roughly

Garlic - 10 cloves

Chilli powder -1 tblsp

Pepper Powder -1 tblsp

Cumin powder - 1 tblsp

Red Chilli flakes - 2 tblsp

Sugar - 1 tblsp

Salt to taste

Lemon Juice or Vinegar - ¼ cup

Oil - ¼ cup

Oregano - 1 tblsp

Cayenne pepper powder - 1 tsp
Take all ingredients in a blender except oil and chicken.

Grind to a smooth paste.

Take it in a large bowl, add oil and mix well.

Put chicken in the marinate and mix well.

Leave to marinate for atleast 4 to 6 hours. overnight is best.

Cook on a charcoal grill till done.

Serve.