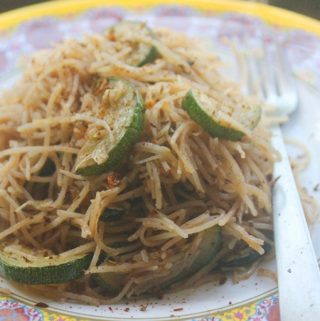 Brown Rice Spaghetti Stir Fry
Delicious brown rice spaghetti which is so healthy, gluten free and is highly nutritious. So nutritious and filling for lunch box.
Brown Rice Spaghetti - 1 packet

Olive oil - 3 tblsp

Garlic - 6 cloves chopped finely

Zucchini - 1 chopped

Salt to taste

Red Chilli Flakes - 1 tsp

Oregano - 1 tsp
Bring water to a boil. Add salt to it. Add in brown rice spaghetti and cook till tender. Drain and set aside.

Heat oil in a pan, add garlic and saute for a min.

Add in zucchini and mix well.

Add salt, red chilli flakes and oregano. Mix well.

Add in the noodles and toss well.

Serve hot.