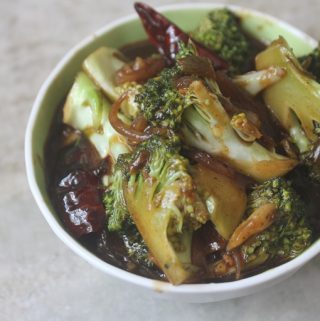 Broccoli in Garlic Sauce
Simple and delicious chinese style garlic broccoli which taste amazing and healthy with some fried rice or noodles.
Broccoli - 3 cups cut into florets

Oil - 2 tblsp

Garlic - 4 tblsp chopped finely

Dry Red Chillies - 2

Onion - 1 sliced thinly

Soy Sauce - 2 tsp

Green Chilli Saute - 1 tblsp

Tomato Ketchup - 2 tblsp

Vinegar - 1 tsp

Cornflour / Cornstarch - 1 tsp

Salt to taste

Pepper to taste

Sugar - ½ tsp
Heat oil in a pan, add garlic and chillies and saute for a min.

Add in sliced onions and toss well.

Add in broccoli and toss well. Cook for 4 to 5 mins.

Now add in sauces and mix well.

Add salt, sugar and pepper.

Mix well.

Serve.