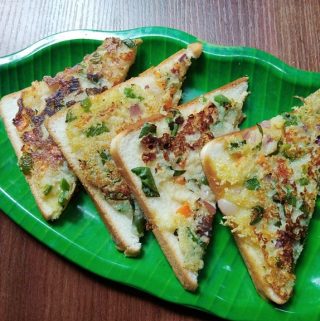 Sooji Toast Recipe
This is a quick and easy snack to make made using bread. This sooji toast not only taste delicious but is healthy too.
Sooji - ½ cup

Yogurt - ¼ cup

Water as needed

Onion - 2 tblsp chopped finely

Capsicum - 2 tblsp chopped finely

Carrot - 2 tblsp chopped finely

Green Chillies - 1 chopped finely

Curry leaves - 5 leaves chopped finely

Salt to taste

Oil for pan frying

Bread Slices- 4
Mix all ingredients except oil and bread.

Spread this over one side of the bread.

Heat oil in a tawa. place bread sooji side down and cook for 5 mins on low heat. Flip over and cook.

Serve.